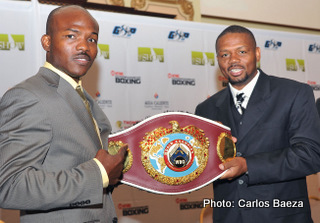 One day after meeting with the media at The Show at Agua Caliente Casino • Resort • Spa, here is what Bradley, Campbell, the promoters and other camp members had to say at a press conference Wednesday at The Langham, Huntington Hotel and Spa, Pasadena, Calif.:
NATE CAMPBELL – "I have a lot of respect for Tim. He's a nice guy with a real good family. He keeps his shoes tied. He wears his pants above his waist. He is going to fight his fight on Aug. 1, but he has never fought anybody like me, and there is nothing he can show me that I haven't already seen.
"Who's he fought to get the kind of experience it will take to prepare for a hard-working, blue-collar guy like me? I've fought all kinds. I'm a physical guy and he's never fought a guy at 140 that punches like me..
"Tim's trying to make a name for himself but he's going to get some on-the-job training against me and I am going to take that zero of this record.
"I love fighting undefeated guys and taking away their 'ohs.' I think I have defeated them all except one – and the one I didn't get credit for came against Issac (Hlatshwayo) on a split decision in a fight I thought I won.
"Tim is a great little fighter who may one day become a great champion. But he's going to have to do it after losing to me.
"After I beat Juan Diaz to win the three lightweight belts, I could never enjoy the thrill or turn the victory into a series of big paydays because I could not get fights. Then, making 135 became impossible.
"But it's a new day and on Aug. 1, there will be a new champion.''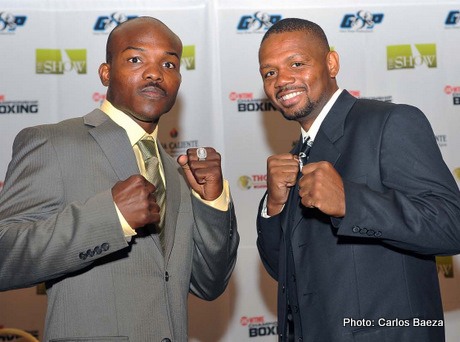 TIMOTHY BRADLEY
"Expect fireworks – a total train wreck — between two hungry, determined fighters who come to fight. There will be no excuses. I know I'll be ready, and I know Nate will be ready.
"But on Aug. 1, I am going to be making me some Campbell's soup.
"I really want to thank Gary Shaw, Thompson Boxing, my promoter from the beginning, SHOWTIME, Aqua Caliente and everyone responsible for making this fight possible.
"I didn't have to choose Nate; I could have fought a far lesser guy. But I did it because I wanted a challenge to see what I could do and, like I've said, I want to make a statement that I am the best in the world at 140 pounds.
"I'm always willing to fight the best, any time or any place, but if I can't beat Nate Campbell then I can't fight Manny Pacquiao or any of the top 140-pounders.
"Fighting before a full house in front of family, friends and fans in my backyard is going to be a tremendous experience. But, in my heart, I do not feel any pressure at all. If I can go to England and beat one of their own, Junior Witter, I can deal with anything.''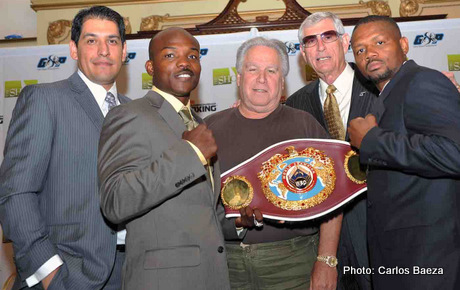 PROMOTER GARY SHAW
"These are two great champions.
"It's special treat that we just announced another fight yesterday, the WBC 140-pound world title between Devon Alexander and Junior Witter. Ironically, Tim gave up that title through the politics of boxing.
"These are going to be two great world title fights."
"Tim chose to fight one of the top three fighters in the 140-pound division in Nate Campbell."
"We can't control the politics of boxing, but there's a good chance we'll see a unification fight between the winners of these two world championship bouts.
"The winners will do what's best for their careers, but we always like to see unification fights.
"I promoted Nate early in my career and I know how tough he is and how good he is.
I do believe the best should fight the best. When you fight the best it raises your game, it raises your level.
"As evidenced by this fight, Nate is willing to fight the best out there. Timothy is willing to fight anyone. He traveled to England to win a world title and he traveled to Canada to defend it.
"You've got two fighters willing to fight anyone, anywhere. Nate is going to Tim's backyard for this one. You have to respect fighters like that. They're good for the game.
"I do worry about the fight. Nate Campbell is enough to worry about. I also worry about bringing a fighter back to his hometown. In Tim's case, I believe he is mature enough now to be able to handle it.
"I'm confident Tim will be able to handle the pressures of fighting in his hometown. There will be some added pressure, but I think we'll be in the right place at the right time.''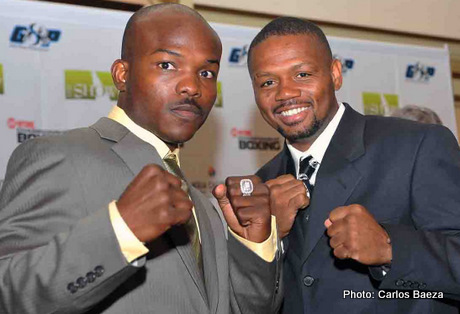 PROMOTER KEN THOMPSON
"We've got another fabulous night of boxing."
"We have our homegrown world champion going against a three-time world champ in Nate Campbell."
"It's a night to remember and something the Coachella Valley has been looking forward to for a long time.
"We're happy to have SHOWTIME broadcast this fight across the country for all fight fans to see. They're going to get a real treat on Aug. 1."
ALEX CAMPONOVO (GENERAL MANAGER, THOMPSON BOXING)
"Timothy started here in California and moved on to bigger things because he had a dream to be a world champion. Now, he has another dream and that's to become a legend, but he's got to go through a tremendous fighter in Nate Campbell to become one.
"Neither fighter had to take this fight, but they wanted to fight the best in the world. That's what you'll see on Aug. 1, two of the best fighters going at it."
TERRY TREKAS (CO-PROMOTER, CAMPBELL)
"What's going to take place on Aug. 1 is actually bigger than the fight. We've got two of the best at 140 pounds taking a big risk to fight each other. A fight like this from a fan's perspective is refreshing.
"When you wear a world title, you're ready. It's time for champions to take fights like this. I respect Timothy for taking on a guy like Nate, the former unified champion of the world."
Unbeaten World Boxing Organization (WBO) 140-pound champion Timothy "Desert Storm'' Bradley (24-0, 11 KOs) of North Palm Springs, Calif., and challenger and former unified lightweight belt-holder Nate "The Galaxxy Warrior" Campbell (33-5-1, 25 KOs) participated in the second of back-to-back press conferences Wednesday to discuss their eagerly awaited showdown on Saturday, Aug. 1, live on SHOWTIME® (9 p.m. ET/PT, delayed on the west coast).
The Bradley-Campbell scheduled 12-rounder will follow a second 140-pound world title fight on SHOWTIME CHAMPIONSHIP BOXING.
In the first half of a world championship doubleheader, undefeated, No. 2-rated Devon Alexander "The Great'' (18-0, 11 KOs) of St. Louis will face No. 3 Junior Witter (37-2-2, 22 KOs) of England for the World Boxing Council (WBC) strap that Bradley voluntarily relinquished.
The biggest boxing event in the history of The Coachella Valley in Southern California will emanate from The Show at Agua Caliente Casino • Resort • Spa in Rancho Mirage, Calif. It will be promoted by Gary Shaw Productions and Thompson Boxing Promotions in association with Don King Productions and Agua Caliente Casino • Resort • Spa.
Tickets go on sale July 3, at 10 a.m. (PT) and will be available for purchase online at www.HotWaterCasino.com/TheShow or by calling (800) 585-3737.