23.06.09 – By Shaun Murphy: I admit, being a relative youngster, the 1990's have a magical appeal to me. After all, apart from the fact, most spent the decade waiting for the year 2000 and the predicted computer crisis. Arguably, the 1990's was the greatest decade for heavyweight boxing in history. In most people's opinion, Lennox Lewis was the best of this talent-rich age. I agree, however, Lennox wasn't alone, luminaries such as Mike Tyson, Evander Holyfield, Riddick Bowe, Michael Moorer and George Foreman created a division that would be competitive with any era. Also, without a doubt, this auspicious age produced one of the most interesting characters boxing's ever known: Tommy ''The Duke'' Morrison..
Picture this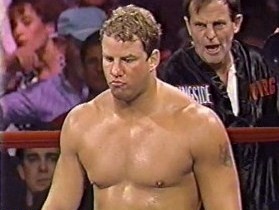 Picture this, you've just done a drug deal with some local members of the Irish mob and it's gone wrong.
You hear a knock on the door.
''Who is it,'' you ask, while you think of a plan to escape or defend yourself.
''I'm coming,'' you shout, while opening the door.
Terrifyingly, you see a 6'2, 200-pound teenager looking directly at you. You take a look at his granite face, his massive shoulders and digger-bucket hands at the end of his powerful arms and you steel yourself for the inevitable.   
Forget what happens next, it doesn't matter. That teenager was Tommy Morrison, and he was an enforcer for the Irish mob, his boss was his Dad…
Southern Boy and Southern Roots
Tommy Morrison was born, on the 2nd of January, 1969, in the tiny town of Gravette, Arkansas. The progeny of a Native-American mother and an Irish-American dad; Morrison attributed this mixed lineage to his love of both drinking and fighting. A fighter from birth, the young Morrison was encouraged by his mother to take up boxing and had nearly 300 fights as an amateur. Although, Tommy's real apprenticeship in the rough-and-tumble of organized fist fighting was far removed from the niceties of the unpaid code…
Tommy's childhood was impoverished: his mother was frequently left alone and he lived in trailer parks with, sometimes, three people to a room.  Although Tommy's mother, Diana Morrison, a career nurse, tried her best to support her children alone, times were hard. Perhaps fortunately, for the future WBO Champion, this blue-collar upbringing cultivated a ruthless mean streak that'd serve him in his chosen profession. At 13, seeking adventure, Morrison run away from home and drank in bars, worked in construction and fought grown men in the notorious Toughman Circuit with a 49-0-1 record. Amazingly, all of this came before the age of 19.
Ray Mercer and the Turning Pro
John Wayne, Hollywood's toughest cowboy, was Tommy Morrison's uncle, and the young Morrison wanted to follow in his footsteps. However, Morrison's mother suggested he pursued his fighting career, and he meet an ex-soldier called Ray Mercer in the Olympic trials. Although Mercer beat ''The Duke'' on points; he decided to turn pro under the auspices of the legendry Bill Cayton. It was obvious, from the start, Morrison had a lot of things going for him: he had a natural left hook, good looks, the killer instinct and he was marketable.
From the start of Morrison's career his speed, power, marketability and kill-or-be-killed fighting style attracted a following from every corner of the globe. ''The Duke'' steamrolled through fringe-contenders like Pinklon Thomas, and came to the attention of Sylvester Stallone for Rocky V, playing a streetwise young prospect called Tommy Gunn.
   
Rocky and the Big Time
I've heard a theory, it's this, inside every famous athlete lurks a frustrated actor and vice versa. Tommy Morrison was no different, and he counts playing the fearsome, pugnacious Tommy Gunn as one of the highlights of his life.  Later, Morrison said he ''was just the white guy who got lucky.'' I think differently: subjectively, I thought Tommy Morrison showed real acting talent and it's something he could do successfully in the future. Nevertheless, after ''The Duke's'' flirtation with the big screen, there was business to be done. The film had risen Morrison's profile, and he was maneuvered into a challenge for Ray Mercer's WBO Heavyweight Title.
 
Mercer's nickname was ''merciless,'' and this former soldier's big punch, hardest of chins and street fighting attitude perhaps overstated the only thing you could call him.  Surprisingly, when the inexperienced young Morrison entered the ring on the 18th of October 1991 he was the favorite. Going for a knockout, from the first round, Tommy Morrison threw a fusillade of extremely hard punches at Mercer and punched himself out. By the 5th rd Morrison was exhausted, and he was cornered while Mercer sinisterly landed punch-after-punch onto his unconscious skull, many people believe it was the worst knockout in heavyweight history.
 
When Morrison lost to Mercer, ''The Duke'' went from the lauded position of the next big thing; to a scolded ''white hype,'' a joke unfit for serious boxing conversation.  However, after a series of rebuilding fights, Morrison engaged in a contest of pure barbarity against a sturdy, power punching Native-American called Joe Hipp and redeemed himself to his fickle supporters.
Against Hipp, the blond-haired Morrison battled through a broken jaw, fractured cheekbone and broken hand to TKO the iron-chinned Hipp in the 9th rd. If nothing else, ''The Duke'' proved he was incredibly tough and deserved another serious fight.
Morrison beat a faded Carl ''The Truth'' Williams, and then he was matched with a 44-year-old George Foreman for the vacant WBO Heavyweight Title. Morrison deeply respected boxing's Oldest Ever Champion, and sought his advice early in his career. Foreman told him, to build stamina, he should run for one hour flat and that advice became an integral part of Morrison's conditioning program. Promisingly, after ''The Duke'' steadily outboxed the still dangerous veteran, Foreman remarked, ''I was impressed by his determination.'' Thus, it seemed, now Morrison was the WBO champion, he could fulfill his early promise and scale the heights of superstardom.
Being the champion, a Drunk, Michael Bentt and Bedding Three Women a Day
Although my source isn't reputable, I once read a statement on a You Tube comments page from someone who claimed to have attended school with Gravette's most famous son.
The personal, ''little details'' he divulged indicated he wasn't lying when he wrote: ''Tommy always had the girls after him.'' As an adult, with the added attraction of his wealth and fame, ''The Duke'' became a world-class womanizer and bedded, a highly respectable, ''three women a day.''  Much worse, the Great White Hope also liked drinking more than skid-row royalty, and he would miss spells of training through his legendry hedonism.
Unsurprisingly, when the London-born underdog Michael Bentt entered the squared circle to challenge for Morrison's title he had a better chance than people thought.  An unprepared Morrison was caught early by Bentt's explosive right hand, and although the country boy tried to survive he lost his title in one round.  Again it was back to the drawing board, and ''The Duke'' fought a seriatim of confidence building bouts. Morison won all these fight, but scored a draw with the conqueror of today's Heavyweight Champion [Wladimir Klitschko] the unpredictable Ross Purity.  
 ''Razor'' Ruddock and Lennox Lewis
A huge amount of things created Morrison's popularity, but if he hadn't of possessed his patented left hook he wouldn't of gathered a shred of recognition. In, perhaps, the best fight of his career, on the 10th of June, 1995, ''The Duke'' threw one of the hardest left hooks ever seen.
From the opening bell, Morrison used his underrated boxing skills to fight the giant Canadian on the retreat. In the 6th rd disaster struck, ''Razor'' landed a right hand on Morrison's jaw causing him to skid across the ring on his heels. Then, from out of nowhere, Morrison threw an obliterating left hook on a defenceless Ruddock as he came in for the kill. The Canadian dropped like a felled steer, but managed to scramble his way to his feet on very unsteady legs. Instantly, smelling blood, Morrison landed a series of hard punches and the ref stopped the fight. From this, impressive, victory, ''The Duke'' became a natural challenger to the Undisputed World Heavyweight Champion Lennox Lewis.
The Lewis fight, on the 7th of October, 1995, became a showcase on how to neutralize an opponent's strengths through textbook boxing. Unfortunately, for ''the Duke,'' he was the person being neutralized and he lost the fight by 6th rd TKO. Interestingly, pre fight, Morrison had questioned Lewis' mental toughness, but left the fight with a new found respect for Lewis' undoubted abilities.
Retirement and why I've wrote this Article
Undoubtedly Morrison was outclassed by Lewis, but 'The Duke's'' career was far from finished. In the gym, according to Morrison, he was improving all the time, and at 27, he had plenty of time left to reach his goal of being undisputed champion.
However, tragedy struck when the most charismatic boxer of the 90's announced he was HIV positive. It was tragic, being so young, the boxing world knew a bright future could be waiting for many people's favourite heavyweight. But Morrison's life plummeted to an incredible low. After fighting, a non sanctioned bout, in Tokyo, Japan, against a human punchbag called Marcus Rhode, ''The Duke's'' career was effectively over.  Retirement is always hard, but the circumstances of Morrison's drove him to the depths of depravity; as ''The Duke'' languished for a year in a Maximum-security Prison and abused cocaine in seedy back alleys. Incidentally, in jail, Morrison was forced to knockout a member of the famous street-gang ''The Bloods'' in an unprovoked attack.
Incredibly, 10 yrs after his retirement, '' The Duke'' has claimed he was the victim of a wrong diagnosis and has returned to the ring. Morrison's medical condition is not for me to comment on, but I feel MMA is an avenue for ''The Duke'' to pursue if he's serious about fighting [Morrison's fought in MMA before]. From reports, Morrison's heavily into training, so I think he should enter an MMA training school and wage war; as no-one in MMA could take his punches. Recently, the 48-year-old Ray Mercer defeated the ex-UFC champion Tim Sylvia in 9 seconds. It's just a suggestion but, I believe, if ''The Duke'' entered the cage with half the skills of his prime, with grappling training he'd do serious things…