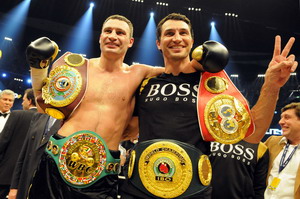 By Paul McCreath: Now that Wladimir Klitschko has finished his business with Ruslan Chagaev the question arises as to who he will meet next and also who will brother Vitali fight. It has been suggested that perhaps the brothers will meet each other. While this would be a huge fight it seems unlikely at least in the near future. Most of us I suspect would prefer that this fight never happens at all. The idea of two brothers fighting does not go down well with many fans and of course their mother as well.
So who are the most likely opponents for the two giants? With Wlad the answer comes fairly easily. He is mandated to fight his top IBF contender Alex Povetkin not later than this fall. Povetkin is a fine young fighter, a former Olympic champ with pro wins over top contenders Chris Byrd and Eddie Chambers as well as fringe contender Larry Donald. He is undefeated and surely deserves a shot at Wlad. They were matched once already but Alex had to pull out with an injury and Hasim Rahman took his place in the bout last December. Now Alex is ready and should get his chance very soon.This one is a no brainer unless someone gets hurt again..
After the Povetkin bout which Wlad will still be favored to win he faces another mandatory this time for the WBO title he also holds. American hope Eddie Chambers resurfaces this time in an eliminator with the big undefeated Ukrainian Alex Dimitrenko. The winner gets Wlad probably sometime in the new year. If David Haye still figures in Wlad's future he will probably have to wait at least a year if not more. The mandatories are likely to come first.
With brother Vitali there are more possibilities. Late last week the World Court of Arbitration for Sport ruled that Vitali does not have to meet Oleg Maskaev in a mandatory defense. Since the Gomez fight in March was considered a mandatory fight he should have lots of time to work in any fight he wants in the coming months.Probably the best bet would be David Haye who just pulled out of his scheduled fight with brother Wlad. There are differing opinions as to the real reason why Haye pulled out and they vary from "He chickened out" to a legitimate injury of some kind or more recently the financial problems at Setanta which may well have meant he would have been fighting Wlad for nothing. We may never know the truth but the facts are that 60000 people bought tickets to see Haye fight Wlad and it is reasonable to assume that a similar number would show up for a bout with Vitali. This makes Haye the most likely choice whether he deserves the fight or not as long as negotiations do not get ridiculous like they did with Wlad.
Many American fans would like to see Chris Arreola get a chance with Vitali and this cannot be counted out especially if negotiations with Haye prove to be difficult again. Chris has hardly earned a fight for the title yet but you can say the same for Haye. It will likely come down to which fight brings the most money for Vitali and have little to do with who should get the title shot although Arreola is #1 in the WBC ratings. Dimitrenko is #2 and Eddie Chambers #5 but they are meeting in a WBO eliminator so you can probably count them out. Maskaev has already been ruled out and he is #4. At number 3 is Ray Austin. Need I say more? There could of course be some form of eliminator ordered perhaps involving Austin and Maskaev but I would hope not.
You may wonder where the one remaining belt holder not named Klitschko fits in to all this. The short answer is that he probably doesn't. The WBA titlist Nicolai Valuev has been offered a chance to fight Wlad Klitschko and turned it down. Most people feel it is very unlikely that Don King will ever allow his fighter in the ring with either of the brothers. I suspect that Valuev will continue to defend against nobodies as long as he can and will be generally ignored by most heavyweight fans along with the WBA which he so poorly represents. Next up for him is probably John Ruiz for the third time. Pardon me if I yawn.
Any other opponents for either of the Kilitschkos would have to be considered extremely unlikely over the next year. Long term we could see names like Kevin Johnson or Denis Boytsov enter the picture but not yet at least.