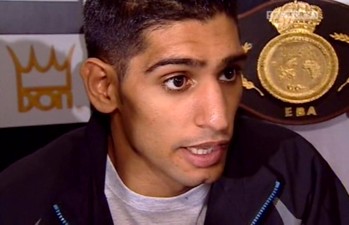 by James Slater – 22-year-old Amir Khan believes his fight with defending WBA light-welterweight champion Andriy Kotelnik will be the start of big things for him. Set to challenge the 31-year-old in his first crack at a world title, Khan has gone on record as saying he feels a win could even lead him into mega fights with the likes of Ricky Hatton and the winner of the upcoming July 18th showdown between Floyd Mayweather Junior and Juan Manuel Marquez.
Originally, when the subject of an all-British super-fight with Hatton was brought up, Khan said he'd prefer not to fight "The Hitman," because he'd rather remain friends with Ricky. Now, however, as revealed in an article in The Guardian newspaper, Khan is very much up for a fight with Britain's most popular fighter. Such a bout, should it ever come off, would be absolutely massive over here in the UK, and the amount of money the fight would make would be mind boggling..
Khan made it clear he is now open to fighting his long-time friend.
"It'd be a brilliant fight for the British fans to see," Khan said to the Guardian. "Our styles would make a brilliant fight. I'm a mover, I'm a boxer, whereas he [Hatton] is a pressure fighter. No matter what, if we do the fight it's going to be a tear-up, it's going to be brilliant. But we leave picking the fights and everything to the promoters. If the fight does come up one day then it comes. But if not, then it doesn't really bother me because there will be huge fights in the future."
A Hatton-Khan fight would bring back the capturing of almost the entire nation's imagination, just like the Nigel Benn-Chris Eubank battles did back in the 1990s. It wasn't just regular hardcore boxing fans who watched those two middleweight/super-middleweight showdowns; the man on the street knew all about this rivalry also. And it would be the same with the potential 140-pound domestic pairing. In short, no-one would want to miss the fight.
Still, Ricky has yet to decide if he will even fight again, and as such Hatton Vs. Khan is nothing more than a possibility at the moment. You can't fault Khan's ability to look ahead in grand style, though. Another, even bigger fight he has his eye on is him against the July 18th Mayweather-Marquez winner!
Khan says that after two or three more fights he will be ready for the likes of the two pound-for-pound stars.
"If you think of it I'm going to get onto the world stage, find a way of hopefully beating Kotelnik, becoming world champion and then making my debut in America this year some time," Amir continued. "So two or three fights down the line I'd be up against the likes of Marquez and Mayweather.
"Those guys already know who I am. I haven't hit my peak yet but in a couple more fights I think I'll be at my peak and I'll be getting experience . I'm at the right gym where I can pick that up from. So it'd be great to fight these legends in the sport."
The Kotelnik fight on June 27th is the fight Khan hopes will be the beginning of his dreams coming true. It seems almost a forgotten issue that the 22-year-old was destroyed inside a round by Breidis Prescott just nine months ago!