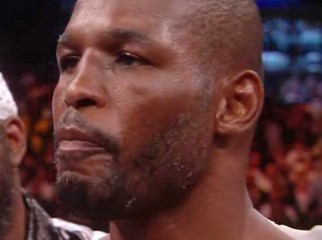 By Doveed Linder – Bernard Hopkins is among the last of his generation who is still competing at an elite level. Shane Mosley is once again at the top of the welterweight division, Roy Jones, Jr. has kept himself in the mix, and Vernon Forrest has a belt, but Hopkins is perhaps the only one of this bunch who has stayed on top and remained a serious factor throughout his career. Even when he lost to Jermain Taylor and Joe Calzaghe, the decisions were close and in the eyes of many, debatable (particularly the fights with Taylor). Having shut out Kelly Pavlik last October, Hopkins is looking to once again set up a meaningful fight that is financially rewarding. But given the state of the light heavyweight division where Hopkins has fought his last four fights, his options are limited.
The fight with Kelly Pavlik was the perfect situation for Hopkins. At the time, Pavlik was undefeated and he had just scored two big wins over Jermain Taylor who, on paper, had twice defeated Hopkins. Hopkins was an underdog going into this fight and he went in there and put on an absolute clinic, giving his best performance since his fight with Trinidad. Now that Hopkins wants to continue with his career, his best options might be Chad Dawson, Roy Jones, Jr., and Felix Trinidad who he is currently pursuing a fight with..
Chad Dawson is the young lion of the light heavyweight division. He's undefeated, he has a couple of good wins, and he's shown some promise. But he's still very much a work in progress and he's not a superstar by any means. If Hopkins took this fight and came out with a victory, it's likely that he would be accused of taking advantage of a fighter who is green and inexperienced. And given the fact that Dawson is not yet a household name, it's hard to imagine that this fight would generate a lot of excitement and publicity.
There was a time when the public was calling for a fight between Hopkins and Roy Jones, Jr. Jones defeated Hopkins back in '93, before Bernard had really come into his own. In 2002 when both fighters were at the top of their game, this could have been a big event. But today, this fight wouldn't have the same meaning that it would have had six or seven years ago. Jones has since suffered some devastating losses and if Hopkins fought and defeated him, the popular opinion would be that Jones was past his prime and that the win proves nothing.
A match-up with Felix Trinidad may prove to be the most commercially viable fight for Hopkins right now. Puerto Rican fans would likely come out and support their hero in his effort to avenge the most devastating loss of his career. And there was so much bad blood between the two fighters before, some in the boxing world would take an interest to see if some of the old tension is still there. But their fight back in 2001 was so one-sided that there was no demand for a rematch at the time and there's even less of a demand now. The buildup for this fight wouldn't be uninteresting, but pure boxing fans who want meaningful match-ups would not appreciate this fight.
Bernard Hopkins has had a great career. With 20 defenses of his middleweight titles and with wins over Felix Trinidad, Oscar De La Hoya, Antonio Tarver, Winky Wright, and Kelly Pavlik, he has one of the best resumes in the game. Based on his last performance against Pavlik, it's hard for anyone to argue that he's still one of boxing's best. But for his next fight, it's going to be hard for him to find a match-up that would please the boxing world and generate the kind of money he's looking for, as the light heavyweight division is not crowded with excitement. He could possibly go up to cruiserweight and fight for a title or maybe drop down to super middleweight where the action is hot, but the options that exist from 168 to 200 don't provide him with the opportunity to top what he's already done or generate the kind of money he's looking for at this point in his career.
Pacquiao vs Mosley: Fight Of The Year Candidate
Manny Pacquiao was recently called out by Shane Mosley to meet him at a catch weight of 142 pounds. The fight that fans have been calling for is a match-up between Pacquiao and Floyd Mayweather, Jr. Mayweather was the pound for pound king when he temporarily retired, a position that Pacquiao took over when he defeated Oscar De La Hoya. If Pacquiao and Mayweather fought, it would be the ultimate battle between the two best fighters in the world. But negotiations for a Pacquiao/Mayweather fight could be tough, as both sides are playing hard to get. Plus, Mayweather has a fight coming up in July with Juan Manuel Marquez which puts Pacquiao/Mayweather on the back burner. Assuming Mayweather defeats Marquez, negotiations wouldn't begin for Pacquiao/Mayweather until after the fight and it could be some time before the two camps come to terms. Therefore, a fight between Pacquiao and Shane Mosley might just provide the boxing world with an adequate substitute.
Shane Mosley is considered the best welterweight in the world and Manny Pacquiao is the best junior welterweight. They're both action fighters who let it all hang out and at this reasonable catch weight of 142 pounds, Pacquiao/Mosley could be one of the best match-ups in the game. It doesn't have the same significance as Pacquiao/Mayweather, but it comes close. And it would certainly be just as entertaining of a fight, if not more so. Golden Boy Promotions who represents Mosley already has a good working relationship with Pacquiao as they have successfully negotiated deals with Pacquiao for his last two fights with Hatton and De La Hoya. Between Pacquiao's recent knockout over Ricky Hatton and Mosley's demolition of Antonio Margarito in January, this fight already has a lot of momentum on its side and it could prove to be the most meaningful and exciting match-up of the year.