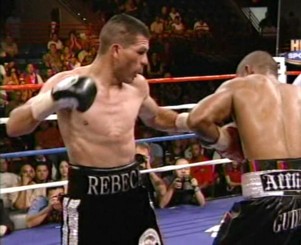 By Vivek Wallace: In this weeks 'Call Em Out Fridays' we take an in-depth look at one of the sports rising stars. Many have taken close to a decade to reach a level in which title shots, wealth, and accolades come into the fold, yet for the young Angulo, that equation appears to be well within grasp after a short four year stint in the ring as a professional. To some that's a question that leaves much to ponder, while to others it's a statement which speaks loud and clear about the trust, confidence, and plans bestowed upon Angulo by the brass in his promotional company.
Despite the brute strength, the warrior-like mentality, and the keep-pressing-forward mentality, some find much to question about the young contender, and many of those questions are sound enough to command answers. In October of 2008 I can remember identifying the number of rounds fought to that point in the career of Kelly Pavlik – as opposed to his pending opponent, Bernard Hopkins.. Few understood such a message at the time, but as the battle unfolded, the crafty veteran who stood across from Pavlik pulled every ring strategy learned along the way prior to that point to totally outclass the young, hungry fighter who conventional wisdom said would win. As Angulo prepares for this upcoming showdown, true enough, no one could ever compare his opponent (Kermit Cintron) to Bernard Hopkins, but considering that Cintron has stood in the ring with the welterweight divisions most brute foe as well as a hand full of other solid opponents, you really have to wonder how much of a role his experience will play in relative comparison?
To date, the only fight of Angulo's career to stretch longer than 6 rounds was a 10-rounder against Andrey Tsurkan, a fighter who possessed nowhere near the threat that the powerful Kermit Cintron could present. Being the only true long distance fight of his career obviously comes with a certain level of criticism, but if there was one silver-lining in the fight for Angulo, it showed that over the course of such a long fight his work rate remained strong, as the talented Mexican tallied 1,211 punches. Despite being eager to create his own reputation, when you consider the power, stamina, and gritty disposition, it's no wonder why many view Angulo as a mini-Margarito. Perhaps the biggest difference between the two could very well turn into the deciding factor of this fight. That difference is the chin. In 15 career fights, (12 ending early), needless to say that questions remain about how well Angulo could withstand under the wrath of a ferocious puncher. When speaking to a reporter a few years ago he stated that "adrenaline is so strong that he usually doesn't even feel the punches". Somehow, against a puncher like Cintron, you'd think that maybe he would wanna reconsider that train-of-thought. If his comments to local media recently were any indications, I don't think that'll happen. So with less than 48 hours until the biggest name on his resume jumps off the paper and into his airspace, Angulo will have to summon every great skill within and come prepared for the test that lies ahead. Being a man of great tradition, Angulo once told the story of how every great ring session he participates in should end with Ice Cream in the summer or corn in the winter. As he prepares to hop in the ring on the evening of another balmy afternoon in South Florida, it's safe to say there's no corn on the menu, but after a main dish guaranteed to pack a punch, hopefully for him that scoop of Vanilla is the only chilled effect in the dressing room.
(Check out tomorrows pre-fight Keys to Victory, Four to Explore, and Final Predictions)
(Contact Vivek Wallace at vivexemail@yahoo.com, 954-292-7346, Facebook or Myspace).