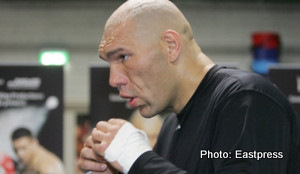 by James Slater – It's fair to say it's a rematch that hasn't exactly got the fans running around with anticipation, but this coming Saturday night, in the unlikely setting of Finland, Ruslan Chagaev and Nikolai Valuev meet to decide the WBA version of the heavyweight crown. Years ago, a heavyweight world title fight that grabbed only the attention of a small percentage of fight fans would have been all but unheard of, yet this is what we are getting in a few days time. On paper, though, the rematch is not a bad fight. And the first fight between the two big men, back in April of 2007, was not a bad fight either.
Who will win the second instalment? Will it be a case of repeat or revenge on Saturday night? For those that care, here is my opinion on the bout between the two heavyweights with a combined record of 75-1-1(51)..
Back in April of 2007, when both the 6'1″ Chagaev and the 7'0″ Valuev were unbeaten fighters, the southpaw from Uzbekistan got his tactics just right. Dethroning the giant with subtle upper-body movement, inside punching and deft footwork, Chagaev confused Valuev and took his title and perfect record away from him. The man formerly known as "The Beast From The East" has said he has made sufficient alterations to his style so as to prevent the still unbeaten 30-year-old from out-pointing him a second time, but it's hard to see how the 35-year-old can have improved too much since the loss – old dogs and new tricks, etc.
Indeed, judging solely by his poor showing and desperately close and controversial points win over 46-year-old Evander Holyfield in his last outing, Valuev has actually regressed, as opposed to progressed as a fighter and a champion. Since losing to Chagaev, the Russian giant reclaimed a grip on the WBA belt with a razor-thin points win over John Ruiz in August of 2008 (in another fight that could have gone either way), and then defended against "The Real Deal" in December of last year. No wonder the younger man by five years is filled with confidence that he can do to Valuev what he did to him the last time they clashed.
In truth, however, Chagaev – due in large part to enforced layoffs caused by illness and injuries – hasn't exactly sparkled since the April 2007 fight either. A successful first defence came against Britain's Matt Skelton some nine months after winning the WBA strap (this layoff being due to Chagaev having contracted Hepatitis). A decent enough points win followed, but when we consider what the so-called limited Martin Rogan did to "The Bedford Bear" a few weeks back – stop him in the 11th round, that is – then maybe Chagaev shouldn't have been taken to the cards after all. Still, it's fair to say the southpaw is a better technical boxer than big puncher.
After that win Chagaev disappeared again, this time for over a year. When he resurfaced, Ruslan met the unknown Carl Davis Drummond back in Feb. of this year and the fight ended unsatisfactorily after a clash of heads ruled the bout a 6th round TD win for Chagaev. Since then, he has not boxed and as such Chagaev may well have some rust to deal with on Saturday in Finland.
This inactivity could be a factor, but slower man Valuev had better not be counting on it. Having said that, and as hard as it is to see Valuev being any better than he was the last time he met the only man to have thus far beaten him, the 35-year-old's best chance MIGHT be in Chagaev having gone back a step or two; as opposed to his own skills having been improved.
No-one in their right mind is expecting a slugfest or any kind of a drama-filled and exciting battle of a fight – it would be a really big shock if a savagely entertaining war developed in Finland. Instead, the best we can hope for is another fast-paced chess-match type affair similar to the two men's first contest.
It could go either way, but a distance fight looks a cert. Despite his recent inactivity, I go for Chagaev to pull out another close one.