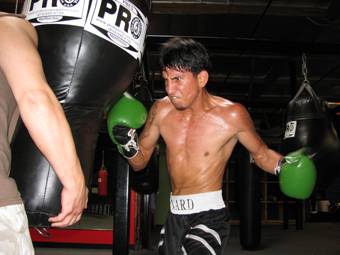 Interview and photo by Ricardo Conde – Having served several times as sparring partner for pound for pound king Manny "Pac-Man" Pacquiao, "Dangerous" David Rodela (12-1-2, 6KOs) of Oxnard, CA, looks to make his own statement as he headlines the series debut of Golden Boy Promotions "Fight Night Club" at the new Club Nokia at LA Live (across the street from the STAPLES Center) in downtown Los Angeles, CA on June 11th. "Fight Night Club", which will be a monthly boxing series and will feature some of Golden Boy's best up and coming boxers, will be televised on VERSUS at 9pm ET / 6pm PT and streamed live on RingTV.com and Yahoo! Boxing.
We recently caught up with David Rodela and here's what he had to say:
Q: How young were you when you started fighting and can you tell us about your amateur career and some of your accomplishments as an amateur?
A: Well I started when I was ten years old; my dad got me into it. As an amateur I had about 110 fights and about a good dozen loses. I won seven national tournaments, the USA, the P.A.L., Ringside under 19 and I made it all the way to the Olympic Box-offs.. I was one of the eight finalists to go into the box-offs but then I lost to Victor Ortiz. Then I qualified for the Copa Azteca and I won that one, so I made the Olympic Team for Mexico, but then I got into a car accident and I wasn't able to go to the Olympics.
Q: We're here at gym and you're getting ready for your next fight, who will you be fighting next?
A: I believe I'll be fighting Juan Garcia from Phoenix, AZ.
Q: What do you know about your opponent?
A: I've actually seen him spar. I was one of the sparring partners for Manny Pacquiao and they also invited Juan Garcia to spar with him as well. So I got to see him spar against Manny. I've seen him and he's pretty good, he's got 14 wins, 2 losses and 5 knockouts, he's a decent fighter, but I think I've fought the better opposition than he has.
Q: Your last fight was at Featherweight (126 lbs) against Marlon Aguilar (19-5-1) but the few before that were at the Super Featherweight limit of 130 lbs, will your next bout be at 126 or 130?
A: Well I wanted the fight to be at featherweight or 127 or 128 but Juan Garcia didn't want it at that weight so we made it at 132, so I'll be fighting at super featherweight this time.
Q: You've sparred with Manny Pacquiao several times and were actually brought in to help Manny prepare for his last bout against Ricky Hatton, how many times have you worked with Manny and what does an opportunity like that mean to you?
A: We'll I've sparred against Manny a lot and I think this was like my 7th camp I believe in his fight with Ricky Hatton. I was there for the Erik Morales camp, Jorge Solis, Marquez and Barrera. I've been all the way to the Philippines with him and you know what it's taught me a lot. I noticed one thing about Manny, he always stays humble and grounded. He also gives me a lot of pointers, lets me know when I'm keeping my hands down or I need more head movement. It's a great opportunity to be in there with the best pound for pound fighter in the world. It's a great honor.
Q: You signed with Golden Boy Promotions, how has that helped your career?
A: It's helped me out a lot. The first fight Oscar De La Hoya offered me was Kevin Kelley, two time world champion, and he really gave me a good test and I was able to beat him. It feels good and they are really getting me a lot of exposure and a lot of television time and they are one of the top promoters out there.
Q: Even though your career is very young, what are some of your goals?
A: My goal is to capture the featherweight title. I know I can make the weight and then after that defend it a few times and move up to super featherweight and capture the title there. Maybe capture a couple different titles in those two different weight classes and then maybe move up to 135 and retire as champ.
Q: Is there anything you would like to tell your fans?
A: Thank you for their support and keep supporting me. Thank you for putting up with my slow career because it has been slow at times but now that I'm signed with Golden Boy things are going to move a lot better and a lot smoother and I hope to see you at my next fight. So thank you for all the support.