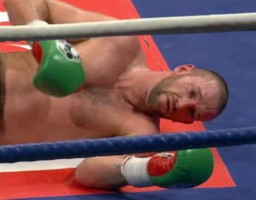 by James Slater – Returning to the ring for the first time since he was sensationally stopped in the 9th round by the previously little-known Ola Afolabi, Enzo Maccarinelli faces unbeaten Russian cruiserweight Denis Lebedov on June 27th. 28-year-old Maccarinelli, the former WBO 200-pound champion, has to win this one or his career will almost certainly be over.
Now 29-3(22), Enzo will meet the 17-0(12) 29-year-old on the big Frank Warren promoted show at London's O2 Arena topped by Amir Khan's challenge of WBA light-welterweight champ Andriy Kotelnik. so, can the big punching yet vulnerable Welshman do a job on southpaw Lebedev – who, like Afolabi before him, enters the fight with not too much known about him – or will the Warren promoted Russian bring down the curtain on Enzo's career?
The first big change Maccarinelli made after being flattened in March by the man known as "Kryptonite" was to leave long-time trainer Enzo Calzaghe. With no hard feelings between the two men, Maccarinelli will now be trained by Karl Ince. The former WBO boss has made it clear he has got his hunger back under his new coach and that it just wasn't him in the ring with Afolabi that fateful March evening.
Speaking with Gareth A Davies of The Telegraph, Macca said he is looking to score a KO against Lebedev in June.
"I was gutted when I lost [to Afolabi], but anyone who has followed my career knows that wasn't the real me in there," Maccarinelli said. "I've been a world champion once before and I want to become a world champion again. Working with Karl Ince has been fantastic and I've got my hunger back. Things weren't going well in the gym before the Afolabi fight, but this time around there will be no mistakes.
"I'm going to knock out Lebedev and then I'm going after Afolabi for a rematch."
It's hard to find fault with Enzo's continued desire, but we have heard him predict KO wins before. One thing is for sure; this fight is very much make or break for the former champ.
Looking to make a similar splash to the one Afolabi made at Maccarinelli's expense, Lebedev is not in any way intimidated at the prospect of facing the big puncher in the biggest test of his eight year career (Lebedev had a near four year layoff from Sept. of 2004 to July of 2008).
"I've seen Maccarinelli's fights and he's a good boxer," Lebedev told Davies. "I know he wasn't himself against Afolabi, and I have to prepare for a world class opponent. But I am so confident of winning this fight. Last time out I boxed a very dangerous puncher in Eliseo Castillo and I stopped him in five rounds, I believe that I will do the same against Maccarinelli."
A true crossroads fight in every sense, with both guys predicting a KO victory; June 27th's supporting bout might just be the fight of the night.
As for a prediction: Lebedev has fought and won in the UK before, he is a largely unknown commodity and he is a hungry southpaw also. I see another bad night for Maccarinelli!