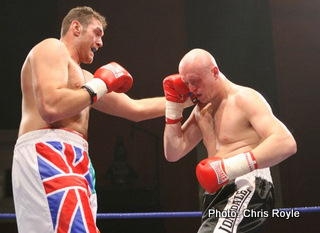 by James Slater – Tonight, in Watford, U.K, unbeaten heavyweight prospect Tyson Fury looked very impressive as he blew away his 23-year-old opponent, Scott Belshaw of Northern Ireland. Body work with the left hand was the key to the 20-year-old giant's win, and he stopped Belshaw with a left hand to the midsection in the 2nd round. The previously once-beaten Belshaw, who took the fight on less than a week's notice, dipped after the left hand hit his belly, prompting Fury to back off and referee Richie Davies to signal the end. The official time was 52-seconds of the round, and Fury is now 6-0(6) as a pro. Belshaw, two inches shorter than Fury at 6.7," fell to 10-2(7).
On paper a risky fight for Fury, in reality it turned out to be yet another showcase for the former ABA champion. Coming out firing fast and accurate left jabs, the 20-year-old was way too fast for the slightly older man. A nice right hand to the head scored for Tyson, but Belshaw took it well. Another right hand crashed into the Irishman's shaven skull and there was also blood pouring from Scott's nose now.. Then a wicked left hand smack to the middle of Belshaw's stomach sent him down. Beating the count and trying to fight back, the 23-year-old was soon sent down courtesy of another left hand to body. Grimacing in real pain on the mat as he was, Belshaw looked all done.
Coming out for the second round, Belshaw swung wildly with shots, almost throwing himself to the canvas as he did so. Less than a minute in, another left hand cracked into Belshaw's body, causing him to bend over and all but go down. Fury could have fired off another punch or two but, showing sportsmanship he was later commended for, the winner backed off, seeing his opponent was a beaten man.
The most impressive win of his young pro career, Fury looked like a real talent tonight. Belshaw talked a good fight going in, but he was totally out-gunned and out-speeded.
Wasting no time calling himself the best British heavyweight "by a mile" in the post-fight interview, Fury also made it clear who he very much wants to fight next – fellow unbeaten up-and-comer Derek Chisora.
"Bring on Derek Chisora," Fury said. "All credit to Scott Belshaw for taking me on."
Fury also spoke of how he has been sparring "giants" in Ukraine, and he thanked these fighters for helping him to get ready.
Soon switching back to the subject of Chisora, Fury commented on the bite incident that occurred in Chisora's win last night over Paul Butlin – what with "Del Boy" sinking his teeth into Butlin's ear.
"He's trying to do the Tyson thing with ear biting, but I'm the real Tyson and I'll show him," Fury said with a smile.
A Fury-Chisora clash would certainly be interesting, but with Chisora headed to a fight with British champ Danny Williams it looks unlikely.