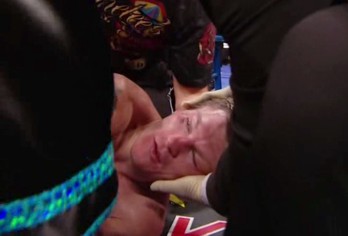 By Frank Gonzalez Jr. – May 2, 2009 Congratulations to Manny Pacquaio!
It all started with Tom Jones singing, "God Save the Queen" Saturday night in Las Vegas at the MGM Grand, the site of the big showdown between Ricky Hatton and Manny Pacquaio. That song sounded exactly like our own, "My Country Tis of Thee." Strange? Well, stranger things were on the menu.
It was strange that on the greatest stage of his career, Hatton's entry music was some slow paced, comic song about Ricky Fatton, followed by an abbreviated, non-crescendo version of Blue Moon that ended right at the part where all the English fans in the stands get up and sing along..
Manny Pacquaio entered the ring about as humble as a man can under the big lights of Vegas pomp, in an atmosphere hyper charged with anticipation. What sounded like a Filipino love song accompanied Manny through the ropes. He stepped to his corner, knelt and prayed.
Manny "Pac-man" Pacquaio (49-3-2, 37 KO's) utterly destroyed England's Ricky "The Hitman" Hatton (45-2, 32 KO's) in two toughest rounds that Ricky's ever experienced in his life. While many expected a new and improved Ricky Hatton, compliments of his new trainer (maybe not for long) Floyd Mayweather Sr. who according to all accounts, has taught Ricky some new tricks but all I saw was old fashioned Hatton, charging forward and taking the fight to Pacman, who was totally ready for what Ricky had to bring.
Round One
The first round saw an eager Hatton pressuring the visibly smaller Manny backwards for a short moment, until Manny began to orchestrate his offense, slow at first with some counters but coming to a crescendo with a right hook, then another, then some jabs to call in the clarinets followed by a straight left and a right hook that splattered Hatton to the canvas! Hatton was hurt but managed to beat the drumming count…which did seem a wee bit on the long side. Hatton was still woozy when Pacman landed another hook that put Ricky down a second time. Hatton beat the count and with seconds left in the round, charged after Pacman but was stopped by the bell.
Round Two
Hatton came on strong, landing two rights and backing Manny up. They brawled at center ring, with Hatton punching and then grabbing to force a reset by the ref. Pacman let Ricky come to him and landed a left hook, then another followed by two right hooks. The ref warned Hatton for hitting behind the head. They exchanged punches and Manny scored the clean punches while Ricky's were the grazing variety. There was nothing novel about Hatton's approach and he seemed to have no defense or power in his punches. Hatton must've thought he could muscle Pacman into submission but as quickly as that plan failed, Ricky should've had a plan B. If he did, Manny Pacquaio didn't give him enough time to implement it because during an exchange, Ricky threw a right that missed and Pacman countered with a perfectly timed left hook that landed right on the button that caused Hatton's head to concuss and thus—be knocked out.
Hatton was down for a long while. The ringside medical staff attending to him moved his body in awkward ways. It was a tense moment but suddenly, Ricky was sitting up on his stool, still a bit dazed but conscious. On the other side of the ring, Manny Pacquaio raised his arms in victory as he addressed the four corners of the crowd.
During the post fight interview, Manny Pacquaio was as gracious as ever, crediting Hatton, saying he hit hard. He talked a bit about how he's refined his right hook to be an additional weapon that compliments his already notorious left hook. When pressed about who he wants to fight next, Manny said he is a fighter and he comes to do his job, which is to fight. His handlers handle the 'who he fights' part of it all. It was short and sweet.
It was mentioned that Floyd Mayweather Jr. (39-0, 25 KO's) is coming back, as we all knew he would—as soon as it was opportune to do so. What's interesting is that instead of Floyd fighting anyone in his last weight class of 147, which was the weight class he did NOT fight in while reigning as "the best fighter in the whole wide world" yet being the WBC Welterweight titlist, Floyd will now take a page out of DLH's playbook in going after a much smaller man who has grand esteem.
That man is former Featherweight top dog and current WBO Lightweight titlist, Juan Manuel Marquez (50-4-2, 37 KO's) who fought two grueling fights with Manny Pacquaio, both of which ended with some controversy over the official scoring.
J.M. Marquez vs. Floyd Mayweather Jr. favors Floyd, who is bigger, faster and will easily carry bigger power down at whatever catch-weight they arrange. Marquez has been in a lot of wars and with 56 pro fights under his belt, he may be very close to his own peak. Mayweather has done all his best work against smaller men but it will be interesting if Marquez can inject the same kind of humility into Floyd that Pacman injected into Oscar.
But let me not get too ahead of myself. After what Pacman did to Ricky Hatton in two rounds, I doubt Floyd will do more than talk about wanting to fight little Manny Pacquaio. It took ten rounds for Floyd to land that famous check-hook ended the night for Hatton back in 2007. After what Manny's done in his last few fights compared to what Floyd's done, it seems fair that Floyd would be a legit underdog going into a fight against Manny Pacquaio. So don't hold your breathe.
* * *
Comments can be emailed to dshark87@hotmail.com