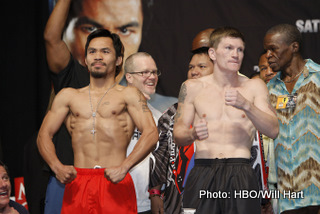 By Errol Hyppolite – In this week's edition of the Standing 8, I am breaking down the May 2nd 140-Pound Junior Welterweight showdown between Manny Pacquiao and Ricky Hatton.
Strength / Power
While naturally smaller than Ricky, Manny should hold an edge in the power department (punch for punch). Ricky certainly is physically the bigger man and will likely be able to assert his size, but he lacks the one-shot knockout power that Manny possesses. Ricky's power generally comes from accumulation of punches and the wearing down of his opponents down by brawling/wrestling his opponents..
With that said, the power of each man will greatly depend on the way the fight breaks down. If Pacquiao allows Hatton to muscle him on the inside, the Hitman's body punching will take a strong toll on the smaller Pacquiao. In order for the Pacman to maintain an edge in power, he will need to keep the fight on the outside or in the pocket where his one shot power will take affect on Hatton as he tries to come inside.
Advantage: Pacquiao
Speed
Hands down Pacquiao has the advantages in hand speed, which combined with his power makes a dangerous combination. As Roach, so frequently, reminds his pupil "He can't handle your speed son!" Hatton certainly is no slouch in the speed department but being that he naturally carries more weight on him, he simply is a step or two behind in this department. In order to neutralize this Hatton desperately needs to make this an inside fight! As we've seen in the past, when Hatton gets inside his bodywork is quick and powerful.
Advantage: Pacquiao
Stamina / Conditioning
Based on past fights, I am giving the stamina & conditioning advantage to Pacquiao. Quite simply, he is always in shape. Ricky the Hitman Hatton unfortunately does go up and down greatly in weight in between fights. Generally this is not a problem when facing modest of even good competition, but I believe this is a factor that prevents Ricky from reaching the top echelons of the sport. If you look at the greats, i.e. Hopkins, Hagler, Mayweather, or Mosley they simply are always in shape whether they are fighting or not. We've also seen Ricky fade in the late rounds against Mayweather, Collazo, and Lazcano. Lastly, let's not forget his infamous stick training, which prepares conditions his body to take pain! Simply put, Manny is an awesome physical specimen to behold.
While I do believe that Pacquiao does have the advantage in stamina, I am not certain it will be a major factor in this fight. Ricky is supremely motivated for this fight and looks like he is terrific shape. Being that 140 is his natural weight, I expect his stamina to be better than in the Mayweather fight. I also believe that he is doing his best to train up to the caliber of opponent he is facing. Again, if Ricky makes this an inside fight I believe his body punching will help to negate Pacquiao's advantage here. If he stays on the outside and has to chase Manny around the ring, this will work to his disadvantage, as he will likely tire in the later rounds.
Advantage: Pacquiao (slightly).
Trainers / Management
Oh Boy! I wish we could have the two trainers fight against each other to settle the score once and for all. Floyd "Joy" Mayweather and Freddie Roach are two of the most dynamic training personalities in the sport. Both are supremely confident and claim that they have the strategy for their fighter to easily beat their opponent. Who is really telling the truth and how is one to choose?
Compared to Freddie Roach, I personally believe that that Floyd Joy Mayweather is the superior trainer. He is the one who taught his son Floyd Mayweather Jr. how to box, and while Roger has taken over in his professional career, we cannot negate the boxing foundations that his son firmly stands upon. He has trained the likes of Chad Dawson, Oscar De La Hoya (when Oscar was at his best), and Joan Guzman.
Ricky made an incredibly wise chose in firing his former trainer Billy Graham and choosing Floyd Mayweather Sr. as a replacement. The change was much needed and he will grow greatly as a fighter for it. The one thing I know about the Mayweather squad is the technical brilliance they use in breaking an opponent down. I fully expect Floyd to strengthen Ricky's jab and defense so he can get inside and do the body work he needs to do in order to have a chance at defeating Manny Pacquiao.
While Freddie Roach does not possess the defensive savvy of Floyd Mayweather Sr., he certainly has a wealth of boxing knowledge. I believe his success with fighters is mixed at best, but when it comes to Manny Pacquiao they clearly have a successful history. He has also been instrumental in turning Manny into much more a boxer rather than an all out left-handed slugger. The real advantage with the Roach/Pacquiao team is that they are a proven success. While Floyd may have better training abilities, he simply cannot make up for the time that Pacquiao and Manny have had together. They know their team works and day-by-day it simply gets better. The addition of former heavyweight champ Mike Moorer is an added plus as well.
Advantage: Pacquiao (slightly)

Defense / Boxing Ability
In the all important defense category, Manny Pacquiao clearly holds an edge over Hatton. His footwork and upper body movement in his last three fights against Marquez, Diaz, and De La Hoya have been simply brilliant. While Manny is hittable his defense is excellent and he is not as easy to time as he was in the past due to his improved head movement.
Hatton is no slouch defensively but his tendency to run in and throw punches wide makes him an easier target to hit than Pacquiao. I certainly think his defense is improving greatly, and under the tutelage of Mayweather Sr. it will continue to get better with time. In his last fight with Malinaggi, he was easily hit with jabs and right hands, which indicated he still does not have enough head movement when he rushes in.
Advantage: Pacquiao
Environment / Crowd / Referee
I believe that the crowd will be greatly divided equally between the Filipino/Mexican and British fans. Hatton may have a slight advantage in cheers given how rabid and loud his fan base is.
The third man in the ring however, will be vitally important to Ricky Hatton. I certainly don't believe that Joe Cortes was the reason behind his last loss in his fight against Mayweather Jr., however it was certainly a factor that worked against him. Ricky will never outbox Pacman from a distance. He will need a referee that doesn't break up the action whenever they get close or one who is quick to take away points for holding. If the referee is constantly breaking him up he is giving Pacman the edge because he can catch Ricky as he comes in.
Advantage: Ricky – "There's only one Ricky Hatton"
Chin / Durability
Both Pacquiao and Hatton have been the recipients of knockout losses but in terms of general ability to take a punch, Pacquiao has the advantage. Pacquiao's two knockout losses were both from body shots and took place about ten years ago. Since then he has become a much-improved fighter and has no fear of being KO'd again.
I believe Ricky's chin is good at best. Ricky was rocked solid from Luis Collazo and was saved by the ropes in the twelfth round of that fight (although they incorrectly ruled it a slip). He was also rocked solid by Juan Lazcano in round 10 of their fight. As much as Ricky hates Joe Cortes for favoring Mayweather, he was clearly helped by the hometown referee who allowed Ricky to go to his corner to have his laces redone precisely when Juan wobbled him. Neither Luis nor Juan are known as big punchers!
Advantage: Pacquiao
Most Recent Fights Performance / Level of Opposition:
Ricky likes to point out that Pacquiao's last performance was great but only because Oscar looked so bad. There is certainly some truth to that but I believe the same thing can be said for Ricky however! Ricky certainly looked good against Malinaggi but Paulie has not had a solid performance in the ring since his first fight with Lovemore Ndou. Paulie also is a very small man who has absolutely no power and whose hands are so brittle that he breaks them in almost every fight. Lastly, Paulie was trained by Buddy McGirt Sr. When's the last time you've seen a fighter that has looked good under the tutelage of Buddy McGirt? Ricky definitely displayed improved defense and a good jab and left hook but it was against a man who could not threaten him physically. With that said Paulie was still able to land repeated clean jabs and right hands whenever he threw them. Expect Pacquiao's clean left hands and right hooks to nail Ricky as he comes in.
Manny certainly looked good in his performance against Oscar but Oscar looked so flat and off, one has to wonder how hard it would have been for any top-level fighter to have beaten him. Certainly making the 147-pount limit drained Oscar and as Freddie pointed out in HBO's 24/7, he was not properly rehydrated. Manny used brilliant footwork to befuddle De La Hoya and every time he let his left hand go, Oscars head was always at the end of it. Oscar had no head movement and his defense was easily penetrable. At the end of the fight Oscar admitted and said, "I just don't have it anymore."
One has to go back to prior performances to really get a better picture of who should come out on top. Hatton's last 5 opponents since Paulie have been Juan Lazcano, Mayweather, Castillo, Urango, and Collazo. The two fighters that gave Hatton the most trouble have been against slick boxers (Mayweather & Collazo). Hatton clearly lost against Mayweather and most people feel he lost against Collazo despite the unanimous decision he received. The other three opponents that he looked good against: Castillo, Urango, and Lazcano were B level fighters at best and who are all pretty much come-forward fighters. Hatton knocked out Castillo with a terrific body shot but clearly, Castillo was never the same since his two battles with Corrales.
Pacquiao's last 5 opponents prior to Oscar have been against Diaz, Juan Manuel Marquez, Barrera, Solis, and Morales. Diaz is certainly no world-beater but the variety of punches and the level of punishment Pacman dished out was simply a thing of beauty. It was an opponent he should have looked good against and he did. Marquez is the #2 pound for pound fighter and the fight between them showed that. I personally believe Marquez could have gotten the nod but I also understand how Manny got the decision. Barrera, Solis, and Morales are all good solid competition but Pacman was pretty much dominant in all those performances.
Pacman's most recent fights and level of competition should give him an edge in the fight.
Advantage: Pacquiao
Prediction
Pacman by Knockout. Pacman should win this fight handedly but Hatton will certainly have his moments. Pacman's superior speed, defense, chin, and his level of competition will give Manny the edge he needs to be victorious.
Hatton certainly has a good chance to win this fight and certainly should do better than most people think he will. I believe he will give Pacman some problems for about 4 rounds but after that Pacman will adjust and be able to catch Hatton coming in. If Pacman goes toe-to-toe he will be fighting Hatton's game and may lose. Hatton should do his very best to make an inside fight and bang away at the body to slow Pacman down. Pacman will need to catch Hatton coming in with flush jabs, left hands, and right hooks (Manila Ice) coming in.
Questions, Comments, Concerns, feel free to email me at errol_hyppolite@hotmail.com