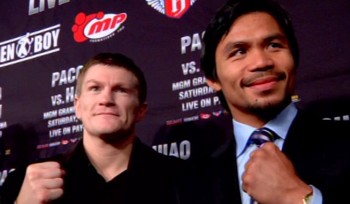 By Vivek Wallace: This Saturday night will go down as quite a spectacle. Once upon a time it was the sports heavyweight division that would regularly command the attention of the nation. With today's crop of big men lacking the type of punch required to knock fans off of their feet, the honors in recent years have gone to the little guys. In May of '07 it was a catch-weight fight between jr. middleweight Oscar De la Hoya and welterweight Floyd Mayweather Jr. Later that year we had a chance to see jr. welterweight Ricky Hatton square off against welterweight Floyd Mayweather Jr. This time around, the spotlight shifts even further south as former 106lb'er, Manny Pacquiao, will finally square up and square off against the other reigning little-big-man of the sport, 'British Bulldog', Ricky Hatton. Like each of my other 'C.E.O. Fridays' segments, today we take a look at multiple angles involved, and in the end, leave each reader with a few things to strongly consider. With less than 36 hours and counting on the clock, we begin our final descent to the highly fluorescent runway strip of Las Vegas where the scrolling marquees and billboards only read two names…….
Manny Pacquiao (48-3, 36KO's) – On this side of the ring, we have a man who has truly come full circle in not only the sport, but life itself. A little less than two decades ago he was on street corners selling stolen goods, trying to get loot for a hand full of fruit. Fast forward a few years and suddenly the once unknown is suddenly the most intriguing figure in the sport. It's funny how some things completely turn around. I can remember the days when he first became known here in America and the ignorant sector viewed him as boxing's "bootleg" version of Bruce Lee. Considering the fact that lately he's been kicking alot of ass like Bruce did, I guess they need to consider shedding the term bootleg, huh? All the way up from 106lbs through the welterweight ranks, driven humbly by the pain and tears of a complete nation, and when the smoke clears, there still seems to be no end near. Can you believe it's been nearly 5 years since we've seen him walk out of the ring with an "L". Yep, nearly 5 years! We've seen him hurt, we've seen him bleed, and in rare moments, even a bit fatigued; but not once in the most difficult span of his career have we seen him lose. Critics ask "should he be placed in the same company as the all-time greats of the sport"? Well, let me answer….Ali, Leonard, Tyson, Jones, Lewis….all great…But they also all fell at some point when they were still considered by most to be in their prime, yet few have stopped to realize that Pacquiao is the only one amongst them who never suffered a defeat while in his (prime). Many continue to deny him a place amongst that greats of all times, but when you look at his body of work, it's pretty hard to speak against his relevance. Heavyweight he isn't, but big time he is!
Ricky Hatton (45-1, 32KO's) – In this corner we have a guy who took a vastly different path. Hatton's early days weren't exactly poverty stricken, but that's part of what makes him intriguing. He didn't have to worry about where he'd lay his head for the night, or where his next meal would come from, but when the bell rings that doesn't change the fact that he's equally as hungry. You gotta love Ricky! The hardcore demeanor, the fat-man suits, the "Blue Moon" intro; All of those things make him likable outside the ring, but inside the ring he's a whole 'nother animal. Some talk down upon him because he failed to deliver on the highest stage of his career thus far, but personally, that could very well make the difference in this fight, and I say that for a few reasons. The biggest of them all – having a true heart of a champion – Hatton will be even more driven to make sure he doesn't let his nation down, again. Unlike Pacquiao in recent years, the sting of defeat for Hatton is still very much alive and tinglin'. That difference between the two can lead to fear of the dreadful in one and a relentless approach for success in the other. At the final press conference Hatton spoke about being the underdog against Tszyu and how it fueled him. I know some think that was different because that fight was in his homeland, but in case you guys forgot, skim over this memo right quickly…..Come Saturday night, May 2nd, in the MGM Grand, the Brits will be in full effect! Drunken fans, clappin' their hands, happy in a Hatton wonderland! Not because they're on vacation, and not because they love Vegas. But simply for one reason…There's Only Oneeeeeeee Ricky Hatton!
In the end, the title 'Small Stature, Big Stakes' couldn't have been more fitting. In one corner you have a contender, small in size, but has performed in a way that supports everything but; while in the other corner you have a man who knows that the stakes get no higher than a rare second chance shot at career defining redemption. Both have been in mega fights but have each conceded to the fact that none have been bigger than this one. The Philippines versus the British, staged in the good old U.S.of A. for the world to see. Speed versus power….East versus West….Can it get any better than this? Right now it's hard to imagine that, but shortly after 11pm est on May 2nd, I think I can provide an adequate suggestion. With so much at stake and a clock that's about to stop, I part with six very fitting words for these two warriors that I find highly necessary:
GENTLEMAN, PROTECT YOURSELVES AT ALL TIMES…..
(Check out tomorrows fight day Keys to Victory, Four to Explore, and Final Predictions)
(Got questions or feedback?: Contact ESB's Vivek Wallace at vivexemail@yahoo.com and 954-292-7346, follow more of his work at 8CountNews and The Examiner, or show some love at Facebook and Myspace).