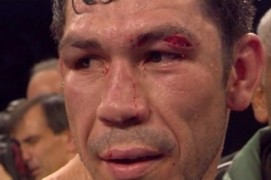 NEW YORK (March 31, 2009) – The overwhelming fan underdog in his last fight in Montreal, Canada–a controversial loss to Lucian Bute–30-year-old Librado Andrade is looking forward to the cheers that will undoubtedly rain down on him Saturday night from the boxing-crazed Bell Centre crowd. Andrade (27-2, 21 KOs) is ranked No. 3 in the International Boxing Federation super middleweight division and figures to be a favorite when he meets Ukriane's Vitali Tsypko (22-2, 12 KOs), who is ranked a notch above him at No. 2. The winner becomes the No. 1 contender and Bute's mandatory challenger.
Saturday's elimination bout will air on SHOWTIME CHAMPIONSHIP BOXING live at a special time 10:45 p.m. ET/PT (delayed on the West Coast) to accommodate fans watching the conclusion of the 2009 NCAA® Men's Final Four®. The fight will take place before Timothy Bradley and Kendall Holt unify their respective World Boxing Council (WBC) and World Boxing Organization (WBO) 140-pound titles.
The 12-round fights are co-promoted by Gary Shaw Productions, LLC, Bob Arum's Top Rank, Inc., Thompson Boxing Promotions, Inc., and Gillett Entertainment Group. The Tsypko-Andrade bout is promoted in association with Sauerland Events and Golden Boy Promotions.
SHOWTIME: What do you know about your opponent Vitali Tsypko?
LIBRADO ANDRADE: "The only thing I know and hope is that he doesn't run too much. If he doesn't run then I'll be OK. If I don't have to chase him all around the ring I'll be fine. My coach watches tape of all the fighters. I don't like to do it. I don't like to know too much. It's get into my head the weaknesses of my opponents and it can play tricks with your mind."
SHOWTIME: The Montreal fight fans are very knowledgeable and actually cheered for you when they showed you on the big screen at Lucian Bute's last fight there. How did you become so big in Montreal?
LIBRADO ANDRADE: "It started with my fight against Otis Grant in 2006 (a seventh-round TKO). I started training in Montreal before the holidays, came back, but have actually been back in Montreal since Jan. 17. I've always just been welcomed there. There are boos at times but there are more cheers than there are boos. The fans there just want to see a good fight. They are not going to just go after the hometown fighter. They are such a good crowd. They seem to recognize me all the time whenever I'm out in public."
SHOWTIME: Are you surprised you are fighting in Montreal and on SHOWTIME again?
LIBRADO ANDRADE: "I'm very, very surprised. I really thought we were going to fight in the Ukraine where Tsypko is from. I was prepared for that. It's just really a credit to my management team and my promoters at Golden Boy Promotions to get this fight there. They've really done a great job with me and given me an opportunity to really get my name out there."
SHOWTIME: You are from La Habra, Calif., near East Los Angeles and are signed with Golden Boy. Do you speak much with Oscar De La Hoya?
LIBRADO ANDRADE: "We talk from time to time. I've trained with him for about two months in the past. We have a good relationship. It's not like a buddy-buddy relationship. He's real nice when I have to deal with him but as my promoter he's basically dealing with my management team."
SHOWTIME: Did it take a long time to get over your controversial loss to Bute?
LIBRADO ANDRADE: "No, I got over it right away. I accepted it and moved on. They keep saying he made a mistake but I don't think he did. He fought a good fight. He was beating me the entire fight. I did come out feeling like a winner in that fight. I fought the way I wanted to fight and finished like I wanted to finish but I ran out of time. But I accepted it right away. I can only ask for one more chance to fight him and I think I will get it. I want to fight him to clear up this mess."
SHOWTIME: "What are some things you like to do outside of the ring when you're not training or preparing for a fight?
LIBRADO ANDRADE: "I like to just be at home and relax with my family. I just miss home so much. I think about it all the time. I'm going to be moving back to California after this fight to where I started at the La Habra Boxing Club and I can't wait to get back on a normal schedule and routine like I'm used to.