By Vivek Wallace: Tonight, fight fans will get a chance to watch what could amount to be a "Fight of the Year" candidate as Juan Manuel Marquez and Juan Diaz square off in a lightweight showdown. With the exit of both Manny Pacquiao and Nate Campbell from the lightweight division, one of these two men are expected to carry the torch, solidified by the opportunity to walk off with a good portion of the divisions currently vacant hardware. For Marquez, this will be yet another chance to finally capitalize on the big stage, as each of his previous trips have ended in either controversy, defeat, or both..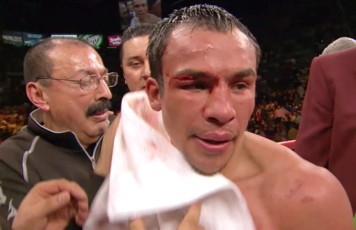 That not so great string of luck has led some to question whether or not he can get over the 'hump' when the spotlight shines. For Diaz, there lies a different opportunity. One that will allow him to build on his last victory over the formidable Katsidis, and continue his run at dominance in the sport. As we get closer to showtime, in an effort to analyze the chances of both men, we take a look at keys to victory, four critical points to explore, and in the end, a final prediction.
Juan Manuel Marquez – (Keys to victory)
For Marquez, this fight is all going to come down to two things; age and execution. When you look at guys like Nate Campbell, Glen Johnson, and Bernard Hopkins, it seems easy to dismiss age as a mere afterthought, but with Marquez, I'm afraid that famous 'not-so-fast' response is a well timed effect. Over the years, Marquez has been in far more wars and has been hit far more than any of those guys, with maybe Glen Johnson being the lone exception. Marquez will need to do what got him here, which is what he does best….Box. He'll need to use that razor-sharp precision to place accurate punches all over his target to keep him off balance. For all the great attributes he has, the one thing that Marquez has been a bit clumsy with is footwork, and it's a bit of an irony when you examine it closely. He uses angles better than most in the sport, but defensively, he doesn't keep a solid footing base, which attributes to the frequent knockdowns that have cost him points, and subsequently victories in the past. He'll need to pick his spots, land his shots, and use an exit strategy that allows him to keep a solid footing base to prevent himself from going down under the tense pressure we know Diaz will bring. If Marquez enters the ring conditioned, (which he usually is), and doesn't wear down from the constant engagement, he should fare well. Many use the Pacquiao fights to gauge this one, but it's a totally different scenario. Pacquiao uses frequent rapid burst, where he'll take a few seconds off, then go on the heavy offensive. With Diaz, he only goes in one mode, and that's straight ahead. How well Marquez deals with that type of pressure for 12 rounds will be the 'tell-all-be-all'.
Juan Diaz – (Keys to victory)
For Diaz, like Marquez, he's going to have to go with what got him here; pressure, pressure, and more pressure. Marquez is very much in his zone when he can sit back, land his shots, and box his way to a comfortable victory. Juan Diaz will have to get him out of that comfort zone by pressing the action and forcing him to think at a pace much quicker than he likes to, or can comfortably respond to. Diaz will also need be effective at cutting off angles. Marquez is a very shifty fighter who knows how to escape from the danger zone. Diaz must know how to combat that tactic and make him pay when he tries it. Despite the need for constant pressure, Diaz will still need to be smart in his approach. Many fighters who plod straight ahead often lose to smarter fighters because they don't mix it up properly. Diaz needs to do alot of feinting, head movements, and most importantly, understand the art of setting up his big shots with a good jab and alot of body-head combinations to loosen the defense of an opponent who doesn't know where the next shot is coming from. For Diaz, the gameplan is far less extravagant. In order for him to win, he needs to smother Marquez by keeping the distance short – taking him out of his comfortable landing range – and wear him down, hopefully taking advantage of bad footing to get a knockdown or two to help on the cards. If Diaz can do that, he wins the fight, maybe even easy.
FOUR TO EXPLORE
Deja Vu?: For Marquez, he's come so close to having a stellar career, yet so far. As previously noted, he has fallen short time and time again on the big stage, either by controversy, defeat or both. Will he finally get the monkey off of his back tonight?
'Immature': Diaz has shown us that he can handle many of the young guns that his camp has put in front of him, but what he hasn't shown us is that he can handle the older vets who not only know how to use their muscles, but also their minds! Will his youth and inexperience cost him against a salty vet like Marquez? It did against Campbell…..
'Battle-Cry': Marquez has been in a ton of wars throughout his career. Will we see age creep up on him like we did in the cases of other Mexican legends like Morales and Barrera?
Ready for showtime?: Marquez has been the center of attention relative to his missed opportunities, but Diaz has technically fared no better. He lost to Campbell, and many questions still surrond him as well. He's had fewer opportunities, but that's the only thing that separates the two. Is he walking in the footsteps of his opponent by failing to seize opportunities? A loss tonight and suddenly, that spotlight shifts.
Marquez/Diaz: Official Prediction
As I see it, this fight will be all that it's supposed to be. Ebbs and flows, highs and lows, peaks and valleys, fast and slow. I don't think there's much that won't take place in a fight like this because both men come to play, and somewhere in the back of their minds, I'm sure both men understand the true importance of a fight of this magnitude, as it relates their respective careers. Diaz is a young gun with tons of energy, and continues to get better with each outing. Marquez has never show signs of letting up, but I do have a strange feeling that this fight we may see more age than we have in the past. I expect the veteran to give a formidable performance once again like only he can, but in the end, I think the constant pressure of Diaz will prove to be too much. There will be no knockouts, but I could see Marquez touching the deck – at least once. When the final bell rings, I think Marquez's 'so-close-yet-so-far' past will earn him a moral victory of sorts. Diaz won't be robbed, but I do see the fight ending in controversy.
OFFICIAL PREDICTION: DRAW – (w/most believing that Diaz actually won)
(Got questions or feedback? Contact ESB's Vivek Wallace at 954-292-7346 and vivexemail@Yahoo.com, follow more of his work at 8CountNews and The Examiner, or show some love at Myspace and Facebook).