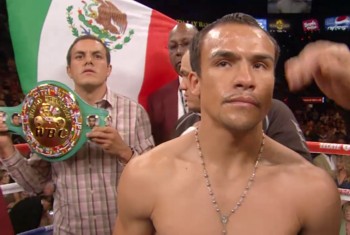 February 27, 2009 – By John Martinez, IronBoxing.com: Texas has developed a reputation for doing everything in grand style. Tomorrow night will be no different when the city of Houston plays host to an outstanding boxing card featuring two title bouts that rank as "must see" events on HBO's World Championship Boxing. The telecast will air live from Houston's Toyota Center beginning at 9PM central time. The main attraction of the evening will pit the former two division three- time world champion Juan Manuel Marquez against Houston's very own former undisputed lightweight king, Juan Diaz in a fight for the vacant WBA and WBO lightweight titles.
Golden Boy Promotions, not known for putting together a complete card, has hit pay dirt this go round. In Marquez and Diaz, fight fans will be treated to an all out battle for supremacy in the lightweight division.
Marquez will bring his vast experience and stellar resume coupled with excellent boxing skills and a will to win at any cost when he enters the ring against his foe, Juan Diaz. Fight fans and skeptics alike need only point to May 2004 when Marquez fought Manny Pacquaio to a draw.
In that fight, Manny dropped Marquez three times in the opening stanza of their clash only to see his (Manny's) resolve tested to the limits when Marquez put on a boxing clinic for the next eleven rounds. He battered Manny to the body and head and quite often would stand and engage the Filipino dynamo in short brutal clashes never fearing Pacquaio's devastating power despite tasting it early on in the fight.
What happened that night in their epic encounter was controlled brutality. Saturday night, Marquez will face a tough, energetic, highly skilled, and very determined young lion in Juan Diaz.
Diaz is a gift to boxing. A young man that excels in his studies at the University of Houston as well as in his other classroom, the ring.
Diaz bounced back from suffering his first loss of his career to Nate Campbell by beating Michael Katsidis (think a poor man's Arturo Gatti) in an entertaining bout.
In that fight, Diaz displayed the grit and work rate that boxing fans have come to identify him with. He outfoxed, out defended, out jabbed, and out brawled on several occasions the action fighter from Australia.
I look for Diaz to come out and try to establish himself as the one holding the belts. I think he will try and engage Marquez early and pressure the veteran hoping to make the Mexican national fight on his heels.
I don't think this will work though. I believe that Marquez will not feel the pressure of fighting in Diaz's hometown or wondering if he will succumb to the younger man's aggression.
I think that Marquez will set the tone with crisp accurate combinations early in this fight in order to make Diaz think twice before rushing in. Marquez has seen it all and been involved in some of boxing best scraps for the last few years.
This fight has so many angles to dissect as far as strength and weaknesses of each combatant that ultimately it leaves the outcome of the fight in question.
As Edwin Valero, the undefeated knockout artist and former super featherweight champion, told me on Tuesday, " this fight is a pick 'em fight. I can't tell you who is going to win because both those guys are that good. You can't pick a winner between them because each one is capable of beating the other. It's too close."
I won't travel the road that Valero took. I will say that Marquez will win. Marquez to me will enter the arena with the edge in power. I think that is the key. Both fighters have speed, heart, stellar jabs, and boxing skills that are second to none. However, it is Marquez that will be able to inflict the most damage on Diaz since he delivers his power shots with his whole body as opposed to Diaz that likes to throw more of an arm punch instead of turning his hip into the muscle shot.
Either way, as Valero as indicated, the fight is too good to call a winner until the final bell rings. Though I may be wrong in my prediction for this match, I can safely say that the real winners of the fight will be the fans.
Will Marquez annihilate the young student and look for the next big name to notch as a win on his belt or will Diaz prove that tomorrow night he will be the professor and look to give the veteran Mexican a lesson in the squared circle?
Also on the card, Rocky Juarez will face WBA featherweight titleholder Chris John in what could be Juarez's last big shot at a title. Prior to this latest opportunity, Juarez has lost four times to the likes of Barrera (twice), Soto, and Marquez in his quest to have a belt strewn across his chest or waist. Here's hoping that this time is the right time.
I look for Juarez to attack the boxer much like he did against Jorge Barrios late in that fight. If he wants to win and not leave anything to chance, he will not wait for rounds to slip by; he will treat the beginning round(s) of the Chris John fight as the second half of his fight with Jorge Barrios. He will have to be on the assault early on in order to ensure a victory against the champion. I am confident he will do just that and be the one to walk away with the featherweight title and the name recognition as the NEW WBA featherweight champion of the world.
And as a side note to Edwin Valero's earlier comments regarding the fight. Though he would not go on record as far as predicting a winner he did say with emphatic certainty that he "wants the winner of the fight. I don't care which one wins. I want the winner."
john@ironboxing.com