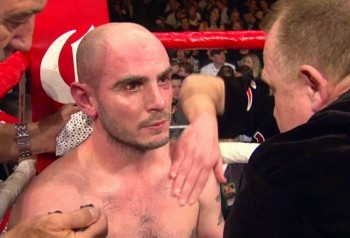 by James Slater – Who is the best middleweight in the world today? There are, as most fans know, only two fighters out there who could make a realistic claim to being the number-one guy at 160-pounds; Youngstown's Kelly Pavlik, the reigning WBC and Ring magazine champion, and Germany's Armenian-born Arthur Abraham, the IBF champ.
Wanting very much for these two great fighters to get it on, the fans have so far been given no reason to believe the mega-fight will happen any time soon. Certainly, Dan Rafael over at ESPN.com is not convinced the fight will take place this year. Speaking to Rafael about the fight have been Pavlik's promoter Bob Arum and Abraham's promoter Wilfried Sauerland. Both promoters have a different take on the fight the fans crave, each offering opposing reasons for why the unification fight has had a tough time being made.
Arum said a big factor in why the fight has been difficult to make is because Abraham is a fighter who is still in need of further exposure in the US.
"I'd like the Abraham people [at Sauerland] to come and sit with me and have a serious conversation," Arum said. "This is not the kind of negotiation you do over the telephone. They want $2 million, plus German television rights. What's Kelly supposed to do? Not fight for anything? What am I supposed to do? Do an event for nothing? I need the guys to sit down with me and we'll talk about it. To make it the big event it can be, you have to build up Abraham here."
Writer Rafael says in his article that he has heard, from other sources, that Abraham and his team are willing to fight Pavlik for less than $2 million. In any case, Saureland Event say they would love to take a fight with "The Ghost," and that they would be willing to travel to the US to make it happen.
"Last spring we picked up negotiations with Top Rank," Sauerland said. "We have also been in constant touch with HBO and Showtime. However, in the last couple of months Top Rank seemed to have lost their interest in a unification. Bob Arum once said that from a sporting perspective Arthur would be Pavlik's most important opponent, but that his fighter also has to think about earning money. Obviously, Arum shares the view of many experts who all believe that Pavlik would lose against Arthur."
Do the experts Abraham's promoter speaks of really feel the IBF king would beat his WBC rival? To my mind the fight is a very tough one from which to pick a winner – which is precisely the main reason so many people want to see it. Sure, any unification bout in boxing is always good news, but Pavlik-Abraham is attractive primarily because both guys are so good and that the fight would likely be a pick 'em affair were it to come off.
It would be foolish to say either middleweight is fearful of the other; these two men are both superb and confident fighters, after all. Pavlik's confidence took a catch-weight blow against Bernard Hopkins last October, but he is still unbeaten and a dangerously destructive force at 160 – as he showed, in a confidence restoring win over Marco Antonio Rubio, this past Saturday. And while Pavlik critics moaned about the quality of the Mexican as a challenger for Kelly, it will be Abraham's turn to accept the challenge of an overmatched foe in March, when he takes on Lajuan Simon.
Both middleweight rulers seem set to head down different paths for some time yet, unfortunately; with Pavlik apparently scheduled for a June fight against either John Duddy, Segio Mora, Vernon Forrest or Felix Sturm, and Abraham at present having no fight scheduled for after his March date with Simon. Both Pavlik and Abraham will almost certainly box again late in the year, but we can only cross our fingers in hope that it will be against each other.