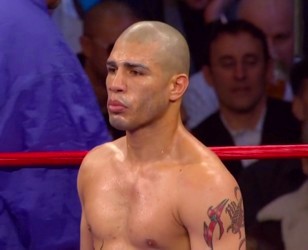 by James Slater – There has been no official announcement yet, but some people are saying new WBO welterweight champion Miguel Cotto's next fight will be against IBF champ Joshua Clottey, on June 13th. Boxing News' website says it will be the underrated Clottey next, while the June 13th date makes perfect sense, as that is the eve of the big Puerto Rican Day parade – with the fight taking place once again in New York's Madison Square Garden the tickets will be snapped up no problem.
For the purposes of this article, let's take it as read that it will be Clottey next for the Puerto Rican. It's about time "The Grand Master" landed a big opportunity of a fight anyway. Inactive as of late, he says because no-one will fight him, Clottey has not boxed since battering Zab Judah to take the vacant IBF belt back in August. What type of fight could we expect from Cotto Vs. Clottey?
Once again, Cotto would enter a fight as the betting favourite, but Clottey is nobody's pushover. Huge for the weight and therefore physically strong, Clottey is an aggressive-minded fighter who loves to come forward and overwhelm his opponent. He did it against Judah, but of course Zab is a small welter and he has a history of going into meltdown when the pressure's on anyway. Cotto looked to be back to his best on Saturday against the overmatched Michael Jennings, with no apparent demons serving to haunt him after what happened to him against Antonio Margarito – and Cotto, too, is a big man for 147-pounds.
If these two do meet, the battle may be decided by who is the sturdier guy. There is nothing to suggest Clottey has a chin that could in any way be called weak. Neither does Cotto have a fragile chin, but he has been rocked and put down in the past – although that was while boxing at 140 and making weight may have had something to do with it. But, it must be said, if one compares the two men's showing against Margarito – who out-pointed Clottey and stopped Cotto late – the IBF champ faired better.
Fans know how Clottey maintains that only a damaged hand put paid to the bright start he made in his challenge of "Tony," and that he would not have lost (on points) had he not busted (or hairline fractured) his hand. Maybe this is true. As for Cotto, there may be an altogether different additional factor as to why he lost to the Tijuana tough guy, but that's still being discussed as we speak. The bottom line is, Cotto was stopped and therefore can be stopped, whereas Clottey has never been down in his entire pro career. Will a June fight between the two come down to who has the better chin?
Cotto is the better, cleverer boxer, and his skills such as body punching can never be overlooked. Clottey has been guilty of being a touch one-dimensional in some of his fights – even though his approach has served him well all but two times (against "Tony" and, way back in 1999, Carlos Baldomir, who won a DQ late in the fight). If the fight winds up being a chess match type affair, Cotto will surely have the upper hand.
This really does look like a hard, hard fight for both men. Cotto, as said, will enter as favourite, but Clottey is both desperately hungry and is in his own mind an undefeated fighter. As such, the fight could well turn into a real battle, in which neither guy is willing to take a backward step. What we have is a contest that looks a sure distance fight, and in it both men will have to dig deep to prevail.
If the two do meet, Joshua Clottey will get the big fight he's wanted for months, and Miguel Cotto will almost certainly get his first real acid test since coming back from the sole defeat of his career. Who this will better serve is a tough one to pick.