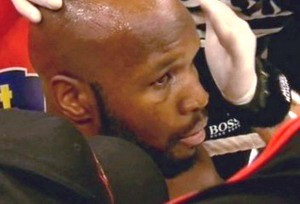 by James Slater – Unbeaten 26-year-old cruiserweight contender Jonathon Banks of Detroit faces Poland's Tomasz Adamek this coming Feb. 27th. Trained by the legendary Hall of Famer that is Emanuel Steward, the 20-0 (14) Banks is seen by some as the next big star of the 200-pound division.
Very kindly taking time out to speak with this writer so close to the biggest and most important fight of his career, the challenger had the following answers to my questions as we spoke on the phone earlier today.
James Slater: Thank you for taking time out to speak with me so close to the fight. Firstly, how has training been going?
Jonathon Banks: Oh, training's been going excellent. I've had no problems at all..
J.S: Who have you been sparring with for Adamek?
J.B: A whole variety of guys, not just one fighter in particular. Emmanuel Nwodo was one of them.
J.S: As you know, the Adamek fight will be just your second fight in twelve months. Have you any concerns about any ring-rust at all?
J.B: No, not at all. I feel real sharp.
J.S: What is it like working with the great Emanuel Steward?
J.B: It's just a tremendous joy. I enjoy it a lot.
J.S: Is there any added pressure on you, do you feel, to be expected to follow in the paths of some of the great fighters he's worked with – such as Tommy Hearns, etc? Does that ever cross your mind?
J.B: It does cross my mind, but not because Emanuel trains me. It's because those great fighters come from the same place I come from – right here in Detroit. So that's why I think about living up to them, not because of who trains me.
J.S: Some people say you will be the next star at cruiserweight. Do you feel that? Do you think you will take over the weight class?
J.B: Yeah, I believe so. There has to be a guy who is willing to do all that is needed to win. I am that guy.
J.S: Did you see Adamek's win over Steve Cunningham where he won the IBF belt?
J.B: Yeah, I saw it.
J.S: Do you think it was a fair win for Adamek?
J.B: Well, I couldn't say it wasn't a fair win for him. I mean, he scored two or three legitimate knockdowns in the fight. He wasn't that far ahead on points, but I think those knockdowns won him the fight.
J.S: He had a very rough and tough fight against Cunningham. Do you feel he is making a mistake, taking you on just two-and-a-half months on from such a war?
J.B: He's used to that, fighting back to back. So it's not a mistake for him if that's what he's used to. He's fought wars his whole career.
J.S: What type of fight do you think you and he will have – a chess match or a war?
J.B: I expect it to start off as a chess match, and then become a war later on.
J.S: The Cunningham fight aside, have you seen much of Adamek? Is he a guy you always felt you'd wind up facing?
J.B: I've seen quite a lot of him. I saw his fight against O'Niel Bell and I saw a few of his light-heavyweight fights.
J.S: Have you any interest still in a fight with Enzo Maccarinelli, after the two postponements that fight had, or have you moved on now?
J.B: I had to move on. It was postponed three times actually. I twisted my ankle in December [of 2008] so I couldn't fight. So they rescheduled it for February – the 14th, I believe – and then they postponed that. I just couldn't wait any longer. Thankfully, the Adamek fight was made available.
J.S: So you wound up getting a bigger and better fight then?
J.B: Yes.
J.S: Not looking too far ahead, but would you like to one day unify all the belts at cruiserweight?
J.B: I would love to one day, yes. But right now I have to get this title first. After I win this title then we'll see about chasing the others.
J.S: It's been great speaking with you, Jonathon. I know you must have done loads of interviews and been asked the same questions over and over.
J.B: No problem. I've actually enjoyed your interview, because you haven't asked the same questions I've been asked.
J.S: For my last question, do you have a final prediction for Feb. 27th?
J.B: It's hard to say, actually. Any other fight, I'd be able to give you a prediction or a guess as to how the fight will go. But I don't know how Adamek will approach this fight. He's got to realise he's in with a guy who can punch. If he tries to turn it into a chess match early, he can't do that the whole fight because he'll fall behind on points. So it depends on at what point he decides to try and turn the fight and at what point he marches in at me. I do expect the fight to go twelve rounds, believe it or not. He is a smart fighter and he can go twelve rounds.