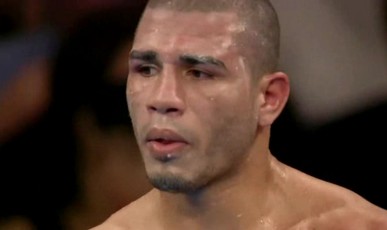 Bob Arum: We have Miguel Cotto on the line. He is fighting for the vacant WBO welterweight championship on Saturday, February 21st.
On the same card will be a fight between John Duddy and Matt Vanda. And then after those fights have taken place we will go to Youngstown, Ohio for Kelly Pavlik's defense of his middleweight title against Marco Antonio Rubio. The fights are being shown on Pay-Per-View television for a suggested price of $44.95.
Miguel Cotto is fit and ready for this test and he hopes to win the welterweight title once again and go onto bigger and better things. So without further ado, I'd like to introduce the pride of Puerto Rico, Miguel Ángel Cotto..
Lee Samuels: Can you talk about your training and what's happening?
Miguel Cotto: I'm just ready for the fight and waiting just for the day of the fight. That's all I want to say.
Q: Assuming that Cotto is able to get past Jennings next week what would be the plan for him given what happened yesterday?
Bob Arum: Well we're going to sit with Miguel and look at possible opponents and dates. And select the fight that – the fight, fights that are most meaningful for Miguel.
Q: Miguel, you're coming off a pretty big fight but there's been a lot of controversy surrounding Margarito and what happened yesterday. And I was wondering if you could give us your reaction to what happened in California [CSAC hearing].
Miguel Cotto: I don't have any reaction. It's not my business. It's the business of Margarito. He's still competition. I'm not one to talk about that.
Q: Did you have any feeling that that occurred in your…
Miguel Cotto: I don't have anything.
Q: Okay. Also if he can't fight you how disappointed are you with not being able to have a rematch assuming you can beat Michael Jennings?
Miguel Cotto: It's a lot of names in that division you know? If Margarito and his team made those kinds of things they have to pay for that. And no matter with that.
Q: And lastly Miguel, you've been fighting Shane Mosley and Zab Judah and Margarito, the really big names. Is it a little bit more difficult when you're fighting a guy that not a lot of people know and there's more pressure on you?
You're expected to win big in this fight. Does that place anymore pressure on you?
Miguel Cotto: No. It's the same. I just prepare for the win and go next week to win the fight. I didn't take in anything else. I just think and stay ready for Michael Jennings and ready to win the fight.
Q: Bob, where do you stand in terms of tickets with the show at the Garden?
Bob Arum: It's doing very well. We're all aware of the economic situation and we've priced our tickets accordingly. And I expect to have about 12,000 people, maybe a little bit more, the night of the fight. We're pleased with ticket sales, we're pleased with the pace.
And Duddy being added to the card has contributed significantly to the sale of tickets. And Miguel has tremendous fans in New York. Soall things considered we're very, very pleased with ticket sales.
Q: The last fight you had with Margarito was a very big fight. I know it didn't go the way that you wanted it to and I was just wondering if you could talk about how difficult it was to put that loss behind you and – both mentally and physically.
And what it was like when you got back into the gym after suffering your very first loss.
Miguel Cotto: It's not difficult when you have the right people beside you when you understood to make a great fight. You made a good fight for you, for your team, for all your people. And I'm just thinking about my next fight with Michael Jennings the fight. What happened with Margarito last July is in my past.
Q: Michael Jennings is not the biggest name in the world. He has a great record but he has never faced even close to the caliber of competition that Miguel Cotto has faced.
And so I was wondering because of the combination of you coming off of a loss in your last fight and you wanting to show everybody that you are still one of the best fighters in the world, do you feel as though a win is not enough or you have to make a serious statement, perhaps a knockout? What are your thoughts about that?
Miguel Cotto: I'm just going out to make my fight, win the fight. And no matter by what way the fight is going to finish I'm going to be the winner.
Q: Bob, you mentioned about sitting down with Miguel assuming that he's able to get past Michael Jennings on the 21st and look at the fights out there. I'm wondering if you could talk about the possibilities that you see as a promoter, looking to make the biggest fight possible?
Bob Arum: We're all concentrating on the Jennings fight. And after that fight we'll get out the rankings, look at the other champions, look at what makes the most sense and a lot of that will depend on where the next fight is going to be.
If the next fight's going to be in Madison Square Garden on the eve of the Puerto Rican parade then we may go in one direction. If not, in another direction. We know all the names in the welterweight division.
Q: Bob, the obvious fight, it seems to me, and what I've heard from readers and boxing fans is that Shane Mosley because he did such a good job against Antonio [Margarito] a couple of weeks ago.
And obviously he gave Miguel an excellent fight even though Miguel won the fight. I would have to think that that's got to be high on the list. No?
Bob Arum: Well I don't know about high on the list but it's certainly a real possibility. We're not excluding anything.
Q: After you lost to Margarito do you feel or did you do a lot of different things to get ready for the fight. You know the strategy comes with every fight. They have a strategy for every fighter and whatever he brings into the ring we're going to do with him.
Miguel Cotto: I just know that I expect this year to be real good for me. I'm really hungry and I want to show everybody what I can do in 2009.
Q: Hi Miguel. I wanted to ask you what you see in your future. How much longer you think you'll continue to fight and if you see yourself rising up to the 154 pound division or if you think that the remainder of your career will be at welterweight.
Miguel Cotto: I'm pretty comfortable at 147 pounds. We have to see what kind of deals of business come in the next year, the next year and a half. And it has to be a good deal for us to go up to 154 pounds.
Q: Do you think that Margarito used the same wraps against you when he fought you?
Miguel Cotto: They're [Team Margarito] the only ones that can answer that question. I can't answer that question. The fans, the press might have a question about that. You know who, the press, whoever has a question or thinks about it.
Margarito had a great night. I'll leave it at that.
Q: How important is the fight for you on the 21st?
Miguel Cotto: Very important. I'm coming off a loss. My career was at a point where it was going very well. And after the loss I wanted to get back to the same level and that's what I intend to do with this fight, show everyone a convincing win, that I'm ready to get back at the level that I was before July.
Q: Would you be willing to fight Margarito in Mexico if he does fight in Mexico like they've been saying he might?
Miguel Cotto: I think we should all abide by the rule that was made. He's suspended for one year [in California]. He should be suspended everywhere.
I don't think he should fight. I think it's not right for him to go and fight somewhere else. I think he has to abide by the rules and I think if he can't fight in the United States he shouldn't' be able to fight at all.
Q: Will the next fight be the Shane Mosley?
Bob Arum: No. I've said that we're going to sit down after this fight if he's successful with Jennings, look over all the possibilities and make the best decision for Miguel's career. If we decide to fight the day before – the night before the Puerto Rican parade in Madison Square Garden, Mosley may not be the best alternative.
Q: Why.
Bob Arum: Because economically it may not make the most sense. There might be other fighters that fit the bill more economically to make the biggest purse for Miguel. We don't know. We're not making decisions now. We'll discuss those. We'll bring out all the relevant facts and circumstances and present everything. And then a decision will be made.
Q: Do you want to fight Mosley next?
Miguel Cotto: That's never been my job. They [Top Rank] always presents me with choices. They tell me which one is the best choice we have and that's what we do. That's what I'm here for. To fight the biggest name out there and if Mosley is the next guy then he's the next guy.
Q: Just a few minutes ago Miguel was asked about whether or not he'd be willing to fight the Margarito in Mexico and he gave an answer that he felt as though Margarito if suspended in the United States should be suspended everywhere.
You and I spoke last night after the hearing and you said you had every intention of making a fight for Margarito in Mexico this coming summer and I wondered your thoughts about Miguel's comment.
Bob Arum: Well Miguel is certainly entitled to his opinion. I mean people can differ on the circumstances. As far as I'm concerned California revoked his license and he has to make a living and he has the right to fight anyplace that will license him. And Mexico has indicated – or a certain place in Mexico that they will provide him with a license.
And I am his promoter and I will do the best that I can for him. Now Miguel may feel otherwise as far as you know serving the year, etc. but – and he's entitled to his opinion. But I have expressed my opinion and that's my opinion.
I don't say everybody has to agree with me or have the same opinion I have.
Q: Miguel, there's been a lot of talk about Margarito on this call. Not a whole lot of talk about Michael Jennings. I just wondered what do you actually know about Michael Jennings and have you ever seen the guy fight?
Miguel Cotto: I don't know a lot about Michael Jennings. I know he's going to come with all of his intentions to make himself the new champion of the WBO, in the 147 pound class. And I'm ready for him. I just have to stay prepared for anything he can bring (unintelligible).
And that's the way I'm going to New York next week.
Q: Have you ever seen him fight though? Have you ever watched a video or…
Miguel Cotto: I've seen him two times in some videos the company sent to me a month, a month and a half ago. And that's all that I've seen of him.
Q: Can you describe his style to me? Can you tell me what you thought of the way you saw him fight on those videos that you watched?
Miguel Cotto: He's a defensive fighter with a (unintelligible) style. And he's a guy like (Urcal), like (Branco), that kind of fighter.
Q: And those are the kinds of fighters Miguel that you thoroughly beat down and pretty much dominated and won the fights against. Is that the way that you envisioned that fight going, the way you did against (Urcal) and (Branco)?
Miguel Cotto: I'm preparing myself right for this fight. And I know I'm going to beat Michael Jennings no matter what. But I'm going to beat him.
Q: I want to be clear on this. So you would not fight Margarito in the next year under any circumstances?
Miguel Cotto: Yes
Q: It was a tough fight with Margarito. Is this one of those fights that you learn from? Do you learn anything from that fight?
Miguel Cotto: You always learn from any fight. It was a tough, difficult time inside – in the ring and you have to make some decisions in there.
And I think that's what you do. You learn from everything no matter what's going on in the ring you learn. And I think we're all going to learn from this and I think in the long run you're going to see a better Miguel Cotto.
Q: You've had a lot of success coming to The Garden. How do you feel about fighting in The Garden?
Miguel Cotto: I feel great. I think of fighting in The Garden is like fighting at home here in Puerto Rico. I have enjoyed it very much.
Q: What were your feelings when you heard about Margarito and the suspension and what they [Team Margarito] had said? Did you feel that maybe that had happened in your fight?
Miguel Cotto: Again, I already answered that question. All I can tell you is that I choose to think he had a good night and that's all I'm saying about that.
Q: You took a very long break after your last fight. Was it difficult getting back in the ring and training? How did you feel?
Miguel Cotto: The first few weeks were real hard. I had a lot of aches and pains getting back into the routine of training.
But right now I feel that I'm very well. The conditioning is there and I'm just waiting for the fight. I just can't wait to get in the ring and fight.
Q: There have been some reports that you've had some problems with your right shoulder. Is that okay now? How do you feel?
Miguel Cotto: That's just part of getting back to training and when you get back you do get some aches and some pains. But right now I feel great.
Q: The welterweight division has been hit with a few problems here with Margarito and Mosley has also been involved with some drug issues (unintelligible). How do you feel about that? Do you feel like it's now time to reclaim your stake as the best welterweight in the world?
Miguel Cotto: That's what I intend to do in 2009. I want to prove to everyone that I am the best welterweight in the world. Mosley and Margarito have their own problems, they have their own issues. They have to respond to that.
All I know is that I'm ready to fight – and they're adults. They know what they did. If – whatever they did — I'm just going on with my career. There are plenty of good fights out there for me to demonstrate how good I am at welterweight.
Q: Capatillo admitted to what he did but Margarito has declared himself innocent of any wrongdoing, do you feel that's correct?
Miguel Cotto: All I know is that when everybody gets their hands wrapped we know what's in them. Every boxer knows if there is something different in their hands or not.
And I think, as a fighter, you would know if you have anything in there or not.
Q: Forgetting who this is about and whoever has been accused of anything this is not a good thing for boxing other than it gives bad boxing another black eye, another incident that boxing doesn't need.
Miguel Cotto: Yeah, exactly. You go in there in the ring thinking that you're playing all on the same level, that you're all doing the same thing. This is a sport. This is not a slaughterhouse. This is about fighting at the best of your abilities, the capacity that you have.
You know we had other times that mentioned the Panama Lewis scandal before. I just think that we should all go in the ring and be ready to fight with what we have, our own abilities and our preparation
Q: Obviously you face guys with the (unintelligible) style. You mentioned a couple of guys you feel like you fight like – do you really feel there's more similarities than difference between these other two guys you fought (Branco) and (Urcal) than Jennings?
Miguel Cotto: I really don't. I think their styles are the same. I think that we're facing the same type of fighter we faced before. It's just a question of being ready to engage and beat this guy.
Q: A couple of years back when you had a one to one with some Puerto Rican media you mentioned the fact that you might not want to fight any longer than age 30. You're getting closer now and now we're talking now a year and a half from there.
Are you still thinking the same way that you don't want to fight much longer than when you reach the age of 30?
Miguel Cotto: I still feel the same way. I still feel that I'm going to be fighting until I'm 30. This is a very rough sport no matter what anyone says.
You get hurt when you get hit. It's still a very dangerous sport and the sooner you get out is going to be for the better. I'm looking forward to what I'm going to do this year and next year and then we'll see from there.
Q: Bob, how difficult is it for your company to try to promote this double header because we know that the economic situation in the world is not too good.
Bob Arum: Yes. That is a very, very interesting thing. However, I must say that the closed circuit business has been good because people now gather together with each other in parties. And if you pay $45 to see a Pay Per View and you have like eight people watching it and you have (cerveza) and pizza and it's a party it's – the party lasts all evening, everybody has a good time.
And it's even cheaper than going to the movies. So in that respect the recession hasn't hurt us that bad – badly. As a matter of fact to some extent it may have helped. Now when you price your tickets for the fight you have to be aware that there's an economic downturn and you have to price your tickets accordingly.
So for this fight in both Youngstown and in Madison Square Garden we have priced our tickets very reasonably. We have many tickets in Madison Square Garden that are still available for as low as $50. And you know that's affordable to people who want to see good fights.
So yes, you have to be aware of the economic situation. But if you're intelligent about it you can use it to your advantage.
Q: Bob, you promote Manny Pacquiao. And Manny just destroyed Oscar De La Hoya last December at welterweight. If Manny Pacquiao beats Ricky Hatton this coming May will you see in the future maybe a possible fight between Miguel Cotto and Manny Pacquiao?
Bob Arum: Well I want you to understand what I'm about to say just so there's no confusion that all of these fighters make their own decisions. I make recommendations and would I recommend that he fight Miguel Cotto? Absolutely. Will he go along with my recommendation? I don't know.
Because I haven't raised it with him. But I would think that if Miguel now beats Michael Jennings and wins his fight against whomever it is in June. And Manny Pacquiao beats Ricky Hatton why wouldn't I try to make a match between my two best fighters – or two of my best fighters, Miguel Cotto and Manny Pacquiao?
So yes, the answer is I would attempt to do it. Whether I would be successful in putting it together I mean that's up to the fighters.
Q: Something came out in the papers yesterday about Jennings saying that he would take your heart out because if he can't be with his girlfriend then he needs a heart to have on Valentine's Day.
Miguel Cotto: I don't know. All I can tell you is that he's going to be doubly frustrated. He's not going to have my heart and I'm sorry if he can't have his girlfriend's heart.
Bob Arum: It should be a great, great night of boxing. And again it's an opportunity for all the fans to beat the recession, have parties. There's going to be four full featured bouts on television.
It's going to be a great night from two cities, New York City and Youngstown, Ohio. And I hope everybody is either at the fights or tuned in on February 21st. So thank you Miguel and thank all the writers for participating in this call.
END
# # #
Remaining Tickets, priced at $500, $300, $200, $100, and $50, can be
purchased at the Garden Box Office, all Ticketmaster outlets or online at www.thegarden.com. The Cotto vs. Jennings / Pavlik vs. Rubio pay-per-view telecast, beginning at 9 p.m. ET / 6 p.m. PT, has a suggested retail price of $44.95. The telecast will be available in HD-TV for those viewers who can receive HD. For Cotto vs. Jennings / Pavlik vs. Rubio fight week updates, log on to www.toprank.com.