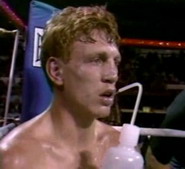 By Ted Sares – Hey! All the padding is out of the damn gloves….It's all out…Commissioner…Commissioner!" No padding! There's no damn padding!' — Billy Collins Sr.
It ended pretty near where it had all begun. The 1972 Cutlass hit a concrete abutment at high speed on March 7, 1984 and ended up in a dried up creek. It happened not far from the home of his parents. This was the rural South where Billy Ray Collins Jr. grew up.
He was born in Antioch, Tennessee to be exact, a small town located just south of Nashville. The story goes that his house had plastic coverings for storm windows, but his family was proud, hard-working, and Southern, with documented bloodlines in boxing.. The kid's father, Billy Collins, Sr., had been a solid professional fighter of note who took great pride when his son took up the sport and became a skilled amateur, showing thoroughbred instincts that could only be traced to his roots. The senior Collins retired with a record of 38-17-1 (25 KOs). He had gone up against such formidable opposition as Curtis Cokes, Jorge Jose Fernandez, Irish Bobby Cassidy, Battling Torres, and Duilio Loi.
Trained by his father, the kid ran off fourteen straight pro wins, including eleven KOs. When he became one of the first ESPN boxing champions, his momentum began to take on the aura of a "rags to riches" story. I mean, hell, this kid had something special and perhaps was on the verge of being world ranked, maybe even getting in position for a shot at the brass ring. He was a great fan favorite in Atlantic City. He reminded some of a young Sean O'Grady and one could visualize him picking up the mantle from Sean and running with it. Interestingly, in 1982, he beat a young Harold Brazier, 5-1 at the time. Brazier would go on to finish with a career mark of 105-18-1and several of his victories were for secondary titles, thus reflecting the kind of promise Billy possessed.
Then in June 1983 and coming off a solid KO win over tough Frankie Fernandez, he was booked to fight a Bronx resident by the name of Luis Resto at Madison Square Garden. Resto was 20-8-1 with 8 KOs coming in. It would be on the under card of the Duran-Moore fight (another savage affair in which Duran beat Moore into a bloody pulp); it would be a big break insofar as exposure was concerned, but it would be a difficult test. Resto, who was somewhat of a slickster/journeyman, had a strong following in New York City and had gone up against much better competition. On his resume were guys like Bruce Curry, Mario Omar Guillotti (53-8-5 coming in), Adolfo Viruet, and Nino Gonzalez. Resto was coming off a win over tough "Slammin "Sammy Horne in April 1983. His 1979 win against Pat Hallacy was ten rounds of pure mayhem and is still discussed among aficionados. Though Resto's pro record was just so-so, he did win two New York Golden Gloves titles (the 1975 and 1976 Open Championships), no small feat. He also was trained by the knowledgeable Panama Lewis. The thing was, Luis only had 8 KOs in his career. Sure, he was rough and tough, but he was generally considered a light puncher.
The Fight
When the bell rang, the kid, a favorite, started fast but then found himself being surprisingly battered by his supposedly light-hitting opponent. All of a sudden, he was in a fight for his life. He soon complained to his corner that the other guy was hitting him with what felt like "bricks." Though he managed to stay upright and trade punch for punch for over ten brutal rounds, he took a terrible beating, resulting in severe facial injuries and horrifically swollen eyes. His misshapen face looked like it had gone through a meat grinder. Billy Sr. asked him if they should stop the fight. "No," said Junior, and the fight went the entire distance. The courage, strength and sheer determination Billy demonstrated will never be forgotten by those who witnessed it. When the final bell rang, the local club fighter, Luis Resto, had "beaten" the undefeated welterweight sensation. That he won was not so much a surprise as was the brutally dominant way in which he had done it. Resto had battered Collins's face into a grotesque mass of purple and swollen bruises eventually resulting in half-blindness due to a torn iris that, as it would turn out, ould never be repaired.
After the final bell, Billy Collins Sr., who worked his son's corner, went over to shake Resto's right glove, saying: "Good fight." Grabbing the glove, he was shocked to find that the padding had been removed from Resto's gloves. He immediately alerted the officials.
The fight was later ruled a no contest when it was discovered that Resto's gloves had been tampered with. The gloves were impounded and were found to be lacking 60 percent of the horsehair padding usually found in gloves, which, in effect, made them have the virtual impact of bare knuckles or lethal weapons.
Later, the perpetrators would pay dearly for their actions. But this story is not about them, nor do they warrant any more attention than is necessary. Two did prison time and were banned from boxing.
The effect of the illegal mugging would be a career-ending and eventually fatal one for the up-and-coming young fighter out of Tennessee. Doctors informed him he would eventually lose his sight. He quickly fell into depression and began drinking heavily. Just months after this fight, he crashed his car and was killed. He was found to be drunk at the wheel, and many speculated as to whether it was a deliberate act of suicide. But did it really matter? He was dead at 22. To this day, Billy Collins Sr. blames Resto's trainer for his son's death. Someone once said boxing has never been overly stringent in its application of professional scruples. Maybe so, but what happened to this kid should forever be viewed as an unforgivable sin.
These days, whenever I watch a young prospect, I can't help thinking about the fate of a young kid out of the rural South who showed so much promise—a kid who made his family proud, but whose future was taken away in one violent and unfair night in the Garden. He was a kid from a small town in Tennessee who had gone to the big city and met the dark side of boxing.
His name was "Irish" Billy Ray Collins, Jr. And if there is a heaven after death, he is there,
Postscript: Billy Collins and his family may still have a case against the state of New York. Efforts are being made to get the 25 year old case re-opened with the Federal Court of Claims against the State of New York. Whether the petitioners have a case or not remains to be seen, but if they do, there will be a Part Three to this story. Count on it.
Visit the author's website at www.tedsares.com