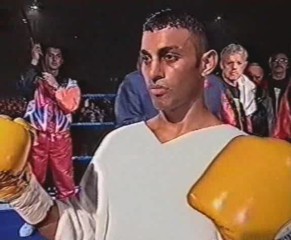 by James Slater – Today, one of the most exciting and still talked about British fighters of the modern era turns the age of 35. Naseem Hamed, the man who took the nickname of "Prince" during his heyday, is the fighter, and even now the man many call the hardest punching featherweight in boxing history continues to suggest that he may fight again – some seven years or so on from his most recent fight.
Much has been written about Hamed over the years, and the debate goes on as to how good or even how great he was when he was in his prime during the mid-1990s to early 2000s. Some say he was a very special fighter who had in his possession some truly unique ring moves – while others still say he was a big puncher, yes – but one who benefited greatly from being carefully guided, and who was then finally exposed when he first met a proven and peaking adversary who was fighting in his natural weight-class..
Either way, what is undeniable is the fact that the man who was born today in Sheffield, England 35 years ago, made a huge impact on the sport – both in the UK and in the US; to say nothing of the Arab world (Hamed was, of course, a Muslim – and he was born of Yemeni parents who emigrated to the UK).
Turning pro in April of 1992, Hamed soon caught fan attention due to his unbelievably cocky attitude, his famous jumping over the top rope upon entering the ring, and, above all, his vaunted punching power. Discovered and then trained by the masterful Brendan Ingle – who, legend has it, saw a 7-year-old Hamed successfully fending off a number of boys with bare fists and pure defensive skill alone – the teenage fighter also known as Naz was soon the biggest star in British boxing.
Turning pro down at 114-pounds, Hamed moved up to bantamweight to collect his first professional title – the European 118-pound belt. By the time he totally outclassed the experienced Vincenzo Belcastro (winning a wide UD in May of 1994), Hamed was already being proclaimed as a future world champion.
This success did come, up at featherweight, the following year. Destroying a brave Steve Robinson for the WBO 126-pound championship, Hamed, in hindsight may have given us his peak performance with the 8th round TKO victory he scored. Some good defences followed, but after becoming world champ the flamboyant star became reluctant to train, and began to rely solely on his stunning punching power to get the job done. It told.
Hamed shone as a sensational fighter and as a champion, but the flaws in his defence were soon apparent. Decked for the first time by Daniel Alicea in June of 1996, Hamed was then pushed to the limit by Mexican warrior Manuel Medina. Naz won both fights by stoppage, and blamed a chest infection for the manner in which he was extended into the late rounds against Medina.
A superb 8th round TKO win over Tom Johnson came the next year, and Hamed added the IBF crown to his WBO belt – in so doing temporarily allaying any fears about his perceived invincibility. Naz continued to win fights – some against overmatched opposition, some against good fighters – before he ventured to America for his US debut.
Involved in a real war with a still dangerous, but past his best, Kevin Kelley – Hamed's fans had their hearts in their mouths for four of the most electrifying featherweight rounds of all-time. Decked no less than three times and appearing to be on the verge of being KO'd, Hamed instead came back to halt "The Flushing Flash" at 2 mins and 27-seconds of the 4th round. But, oh, how Hamed had flirted with disaster! No longer did he look like an untouchable defensive master with awesome power. The power was still there, but shortcuts in gym time had seen to it that the 23-year-old's reflexes were not as razor-sharp as they had been at one time.
Soon after the thrilling win over Kelley Hamed went through an acrimonious split with trainer and father figure Ingle, splitting with the guru after his next-but-one fight – a harder than expected points win over Wayne McCullough. We didn't know it at the time, but Hamed's best years had been and gone.
There were still some good wins – indeed, some experts say the featherweight's 4th round stoppage win over former IBF super-bantamweight champion Vuyani Bungu, in March of 2000, was one of Hamed's best wins. But after a brutal battle with the largely untested Augie Sanchez in his next fight – in a four-round war that again saw Hamed take unnecessary punches before being saved by his frightening one-punch KO power – the Sheffield man's exciting run came to an end.
Facing his biggest and most formidable opponent to date, Naz met Mexico's Marco Antonio Barrera. The rest, as they say, is history. For the first time since becoming world champion, Hamed failed to do his jump over the top rope that April 2001 night in Las Vegas. Maybe this was an omen for what was to follow?
Outclassed, out-punched and out-pointed, Hamed saw his "0" go against "The Baby Faced Assassin." He also suffered the ignominy of having his head rammed into a ring post in the 11th round by a Barrera who allegedly asked him, 'Who's you daddy now!?'
Amazingly, after the UD loss he suffered, Hamed, though only 27 and with an assured rematch clause in his possession, all but quit the sport. He let the rematch clause expire, and then, after a dull points win over Spaniard Manuel Calvo the following May (during which many fans left before the final bell), "The Price" practically vanished.
Almost seven years have passed since that final win, and though he still occasionally says he has not retired from boxing, Hamed surely has. He is, after all, now 35-years-of-age.
For a short period, he lit up the lower weight boxing scene like few before him, and for that adrenalin rush we thank Naz. But as for his place in boxing history – would it be too harsh to say he will be remembered best for his sole defeat?
In any case, I'm sure the fans who loved his style and attitude (this writer, for what it's worth, never did) would like to wish their former hero a happy birthday today. Can it really be almost fourteen years ago that Hamed put on his master class against Robinson?