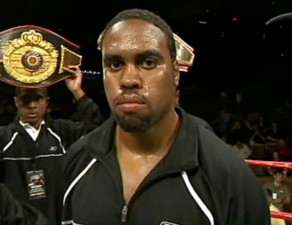 by James Slater – As readers of this site will be aware (just scroll down to the article written by Paul McCreath), there is a good chance that 26-year-old "Fast" Eddie Chambers of Philadelphia will face former WBC heavyweight champion Samuel Peter in March. The fight is not a done deal yet, as the 33-1(18) Chambers told me over the phone while graciously granting me an interview earlier today, but the contender sure hopes the fight comes off.
Now having won three straight since his January 2008 points setback against Alexander Povetkin, Chambers is anxious to get back into the title picture.
Here are the always accommodating and extremely polite heavyweight's answers to my questions..
James Slater: It's a pleasure to speak with you, Eddie, as always. Is the Sam Peter fight going to happen do you think?
Eddie Chambers: Thanks for the call. It's not a complete deal yet, but it's pretty much all but done. I'm sure hoping I get this fight and this opportunity. It's just not quite 100-percent yet.
J.S: Just talking as though the fight does happen, as we hope it does too – you will be hugely motivated for this fight won't you?
E.C: Oh, yeah. It's a great opportunity for both of us. He's had the title before, so it's really a shot for me to get back into the title picture, and to be recognised as world class.
J.S: Peter obviously has power, but does he only have that against you? Does he only really have a puncher's chance, being how you are so much faster than him?
E.C: Of course I look at my hands as being so much faster, but only a fool would think that just because I'm faster I'll just walk through him. He's a good fighter who has been at the top level for a number of years now. It's a tough challenge, no doubt.
J.S: A lot of people were disappointed with him in his fight against Vitali Klitschko. What did you think to his performance last October?
E.C: It was kind of similar to what happened with me in my fight with Povetkin. The difference was, I was in control in the earlier rounds and I thought I was gonna win pretty easily. But he started out bad in his fight, and he couldn't get anything started. Vitali boxed a clinic. Maybe he [Peter] needed pride to go on, but maybe he was just taking too much of a beating. He just couldn't get to Vitali.
J.S: The critics say he lost heart against Klitscho because he was getting hit so much. You're not a huge puncher, but if you hit him flush a number of times consistently do you think he may lose heart and quit against you? Do you think you may surprise people and stop him? I know you do feel you hit harder than it looks.
E.C: I do hit a little harder now. Now that I'm a little older and stronger and closer to my prime, that happens. The thing is, I don't look like the vicious guy in the ring – so he may find himself being surprised when I hit him. He may find himself thinking, 'How am I being hit and hurt so much by this guy?' He may think it's because he's getting weaker. I spar big strong guys and I push them back. I dishearten guys, who don't think I'm the puncher because I don't look like a monster.
J.S: Style-wise, could this fight be a showcase for you, where you really put on a dazzling display?
E.C: He will force me to bring out all my bag of tricks. I need to put on a show so that I step up a level – kind of a notch above where I'm just at.
J.S: Is Sam Peter a guy you thought you'd end up fighting one day? Has he been on your radar for a while now?
E.C: Absolutely. The fight was offered to me before, back when we were both unbeaten up-and-coming fighters. But I thought, why then, when it could be such a bigger fight later – when we could make a ton of not just money, but the right to move on in the sport. Now we're both trying to get back in the title picture.
J.S: A tough question, as the fight is not yet signed – but do you have any idea who you will spar with for the fight?
E.C: Oh, man! Who is there that's like him (laughs). I don't know. That's a good question. He's around my height, actually a little shorter. He's a much bigger guy though, at 250-260. I'll have to get some big strong guys to spar, some top level guys.
J.S: You've won three in a row since the Povetkin loss. Do you feel better than ever?
E.C: Yeah. My concentration is better, I'm more focused on the prize of becoming the heavyweight champion of the world. I have to show I am worthy of this kind of chance. I'm ready to take it.
J.S: Would it be fair to say this will be the riskiest fight of your career?
E.C: Yes and no. Every fight at the top level is a risky fight. The Povetkin fight was just as risky a fight for me.
J.S: Will 2009 be the year for you to shine, Eddie? Will 2009 be your year?
E.C: I thought 2008 would have been my year actually (laughs). And it was to a degree, apart from the loss to Povetkin, of course. So my year has been delayed until 2009. I had better not say too much so as not to prevent it from happening. I want to prove myself in 2009.