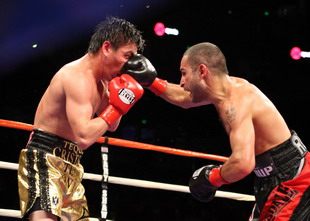 By Frank Gonzalez Jr – February 8th, 2009 – Photo by Tom Casino / Showtime -Saturday night in Anaheim, WBA/ WBC /IBF Super Flyweight Champion Vic Darchinyan (32-1-1, 26 KO's) displayed his newest incarnation; Darchinyan the ambidextrous power boxer, who uses more than just his left to make his mark. What many expected to be an all out slugfest, was still a slugfest, but only at intervals and initiated mostly by his opponent, former champ, Jorge Arce (51-5-1, 39 KO's), who after losing the first couple of rounds by being out-boxed from outside, decided to storm the castle and bring the fight inside to where his wild winging ways would hopefully work wonders.
Since losing to Filipino, Nonito Donaire in 2007, Armenian Darchinyan has refined his style a bit. Anyone who's seen his last couple of fights can tell that his loss to Donaire made him a better fighter. He keeps his hands up higher for tighter defense, has better mobility and rhythm when he gets into his groove.. Darchinyan has gone back to the basics, style-wise and discovered a better way of delivering his power punches from all angles, to better effect. Darchinyan boxed really well Saturday night, making easy work of Arce from outside. He set things up with jabs and then darted in and out to strike with power punches that took their toll on Arce's stamina and face.
The most exciting rounds of this fight were the close rounds, from three through five. That was when Arce, after losing the first two, discovered that if he followed his corner's advice and took the fight to the inside, he could score some good shots and have a better chance to win. It worked for a while too. After Arce suffered a cut at the end of the first round, he returned the favor in the third, when he rallied in close and caused a cut near Darchinyan's right eye.
That kept the fight competitive for a bit but after the fifth round, it was all Darchinyan, who administering a beating to Jorge Arce that saw him bloodied, battered and at times looking ready to fall. With all the punishment Arce was absorbing, his fatigue faded considerably by the end of the seventh, which I scored 10-8 for Darchinyan since it was such a beat down and I don't know how Arce stayed on his feet. There were a few rounds that could've been scored 10-8 but the seventh for sure. As Arce's stamina faded, Darchinyan was still bouncing and with a three quarters full gas tank. It was all Darchinyan and getting uglier by the minute.
By the end of the eleventh round. Arce's cut eye was cut badly, his face was like pulp. He had nothing left and was in effect, saved by the bell that ended the eleventh round.
The ringside doctor and Arce's corner agreed to stop it and Jorge Arce did not come out for round 12. Vic Darchinyan had won by TKO 11.
*
Surely Darchinyan wanted to win by KO but he didn't seem too upset about that during the post fight interview, where Darchinyan was surprisingly gracious, and seemed to compliment Arce for his toughness, saying he landed big shots but Arce took it, and congratulated Arce for that. It looked like all his "hate" for Arce had morphed into respect for a guy who came to fight and showed he could take a punch. Vic even offered that he took some shots too, "…just look at my face." Vic went on to say that he said he was going to punish Arce and he did. As for the knockout, he said anyone could see after the eleventh round Arce was ready to go down and he would have made it happen in the twelfth. He also said he was happy with his performance and he got the knockout anyway because of the cuts.
Asked about Arce's comments prior to the fight saying that Darchinyan's just a "one handed fighter" Darchinyan reminded that he threw a lot of right hooks. Darchinyan is a much improved fighter these days and his liberal use of right hooks is a serious compliment to his already dangerous offense.
Arce wasn't as generous during his interview, where when asked what happened, said that Darchinyan's elbows caused a cut on the back of his head that bled throughout the later portion of the bout and that disrupted him. When pressed about his comment, Arce did credit Darchinyan as a good, strong fighter. Arce did complain that Darchinyan used his elbows often. (I didn't notice that) Arce also said he didn't agree with the stoppage. He said he was still conscious and able to continue and that he still had a punchers chance. Arce also indicated interest in a rematch.
I can't imagine Gary Shaw (Vic's promoter), would give Arce a rematch, not with so many other big fish out there to fry. Shaw even discounted the notion of a rematch against Nonito Donaire, the only guy who beat Darchinyan, alluding to some 'lack of loyalty' on Donaire's part.
Though a rematch with Donaire would help cement Vic's legacy in the future, there really are several really exciting match ups out there that Shaw expressed interest in creating, like moving up to 122 to take on the likes of Israel Vazquez or Rafael Marquez. Either of those sound like fight of the year quality fights.
I'd like to see Vic take on the slick boxer with the sneaky power, Fernando Montiel (38-2-1, 28 KO's), the WBO titlist in Vic's current division and the owner of the only other major title in the division. The winner of that fight would be the WBC/WBA/WBO/IBF Undisputed Champion of the division.
Congratulations to Vic Darchinyan for a great performance and for showing good sportsmanship in the end, instead of arrogance. Kudos also to Jorge Arce, who in the toughest fight of his life, gave his best effort and never showed any sign of wanting to quit where other fighters would have crumbled. Arce took a lot of big shots from Vic, like no one I've seen so far and never went down. Arce's one tough hombre and I look forward to seeing his next fight. If he really wants that rematch with Vic, maybe HE should go after Montiel. If he were to beat the very good Montiel, he'd at least be bringing a title to sweeten the deal should Shaw consider it.
* * *
Comments can be sent to dshark87@hotmail.com