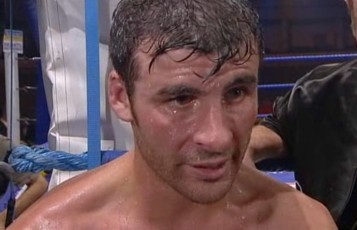 08.02.09 – By Michael Klimes: In my spare time, and there is not much of it these days, I imagine fights that never took place. I wonder how Sugar Ray Leonard would have confronted Sugar Ray Robinson over fifteen rounds for the welterweight championship of the world. I think that Ali's fight against Parkinson's may have been easier if he had retired after defeating Joe Frazier in 1975. I think of Joe Louis's flawless punching and how Jack Dempsey would have responded if they were launched at his face. Thankfully, there are some bouts that have occurred where I was an insignificant yet very impressed observer. I witnessed the just-retired Joe Calzaghe produce one of the best performances seen in any boxing ring against Jeff Lacy in March 2006. It was my first fight that I ever went to and my entry into live boxing was, one could say, a good one. Calzaghe was fulfilling the very important role of being a brilliant ambassador for the sport by being a punch perfect pugilist..
Later on in November 2007, I went to Cardiff with my brother and we shared the very special moment of seeing Calzaghe become the undisputed super middleweight of the world by besting the formidable Mikkel Kessler. The cost of getting down to Cardiff from Edinburgh was taxing as we slept in a bus shelter. Never again I tell you! Take my smart advice and book a hotel if you have not yet experienced leaving a stadium with no hotel or hostel to sleep in. However, when I remember those twelve rounds, I am filled with warmth that pushes away the unpleasantness of that night.
These two fights, in many ways are the ones which will define Calzaghe's career if they have not done so already. In the fight against Lacy, Calzaghe put himself on the radar of American fans as he asserted Britain's command of the division. It was, lest we forget, really an American versus British affair or more broadly an American versus European rivalry. When Calzaghe finally travelled to the United States and defeated Bernard Hopkins and Roy Jones Junior, the resistance against him was largely focused on his nationality. Whether fans like to admit it or not, boxing has been historically a very national and racial sport. These fissures can give boxing great marketability as there is nothing which sells a fight like tribal fervour. Nevertheless, these can be detrimental as there is a difference between sensible competition and stupid competition. Calzaghe unfortunately succumbed to this when he fought Peter Manfredo when he should have been fighting a better boxer and not all of his opponents were of a high calibre. Still, Calzaghe has beaten every man put in front of him which is the only thing a fighter can do.
Furthermore, I have always admired the reserved way Calzaghe has carried himself. He never let a racial slur or arrogant remark break his calm demeanour unlike the occasionally bombastic Bernard Hopkins. Hopkins's stupid but calculated phrase about, "never letting a white boy" beat him transpired to be untrue. Although it was one of Calzaghe's ugliest victories, it remains one of his most significant ones. It demonstrated that a characteristic of a great fighter is the ability to adapt to an adversary who has a cagey style. Comparing the personalities of Calzaghe and Hopkins is instructive as the former is not boastful while the latter is. It would probably be refreshing if a lot of boxers and fans followed Calzaghe's example more.
The vast majority of trash talking in today's game is descended from Muhammad Ali and many who attempt to emulate Ali are caricatures of him. It is very arguable that Ali's insults against Frazier hurt him more than his punches. I think it can also be suggested Ali's charismatic yet insolent attitude, that influenced boxing so much, accounts for a degree of the jingoism expressed toward Calzaghe by American fans. British fans can be no better and boxing has extremely impassioned followers. I have read of American fans disparaging the way certain British punters at the Ricky Hatton and Floyd Mayweather fight felt insulted by the booing of their national anthem. Call me old fashioned but occasionally I think boxers and fans could be politer in the sentiments they articulate.
There is no need to be rude all the time.
Calzaghe's lack of self-promotion, hard work, talent and success at the end of his career demonstrate that his type of career and character, although rare, can succeed. For boxers who are not particularly adept at talking rubbish or engaging in the witty yet vicious putdowns that Ali became infamous for; they can be inspired by Calzaghe. Even if some people find his lack of arrogance mundane, why don't they watch his bouts? Over the course of his career, Calzaghe has hardly been a boring fighter and a few of his bouts are exhilarating to watch repeatedly. His scrap against Byron Mitchell in 2003, his annexation of the WBO belt in 1997 from Chris Eubank and his stoppage of Ritchie Woodhall are all good fun. Similarly, his bout against Kessler, although a technical fight had its memorable exchanges.
Calzaghe has been very good for British boxing and more specifically the Welsh scene. He joins the pantheon of Jimmy Wilde, Freddie Walsh and Jim Driscoll. For a boxer who experienced bad hands for numerous years, had a divorce and fought in a division that was not always taken seriously by aficionados and remain undefeated, he has done remarkably well. Team Calzaghe is also unique in probably having the most successful father and son/ trainer and champion partnership in the history of boxing.
In a recent interview for BBC Sport, he was asked if he wanted to be called the greatest British fighter of all time. Showing his usual tact and grace, he replied, "I'll let other people and fans out there decide regarding my legacy. I'm proud of what I've achieved." What a reply, don't you think? Still, when asked about returning from the wilderness he declared, "You can never say never in this game." Luckily, Calzaghe's response seemed to have a ring of permanency to it. To ward of this urge to comeback, he should think of the James Bond movie 'Never Say Never Again' that features a decrepit Sean Connery pretending he still has the youth to play the role of a secret agent. The enterprise is not even saved by the scantily dressed Kim Basinger playing a damsel in distress.
If that is not enough to turn him off, he should intensify the shock value and think of Madonna. She shouldn't be taking off her clothes at fifty years of age anymore. It is distasteful.
Calzaghe has brought tremendous athleticism, toughness, reflexes and intelligence to boxing in a style that was distinctly his own. He was a champion for ten years and made twenty one defences.
He is the best super middleweight of all time can be mentioned in the same breath as Lennox Lewis and Ken Buchanan as among the finest post-war British boxers. The Welshman has been one of the last "gentleman fighters" in the sport for a long time. It has been a pleasure to write about him and again it was an honour to be ringside for two of his biggest bouts. Therefore, I hope I have written a worthy tribute to his accomplishments and given him an eloquent send off.