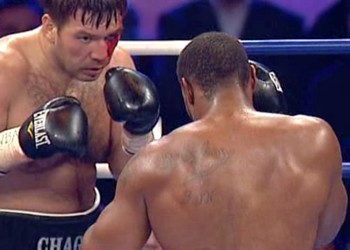 By Per Ake Persson: February 7, Rostock, Germany: WBA heavyweight champ "in recess", but now back, Ruslan Chagaev retained the title on technical decision over Costa Rican Carl Davis Drumond. The fight was stopped after the sixth round with Chagaev badly cut around the left eye after an accidental clash of heads in the third. The judges scored the fight 58-56 twice and 60-54 in favor of Chagaev.
Chagaev dominated the first two rounds and Drumond looked every bit as inexperienced as many people had feared he would. But in the third the challenger rocked the champion with a right hand. Later in the round both bent low with heads clashing and Chagaev emerged with a bad cut but kept control in the fourth and fifth. In the sixth Drumond again opened up and had the champion in some problems. At the end of the round the ringside physician again looked at the cut and called in referee Gustavo Padilla and the fight was stopped..
How Chagaev´s cut affects the rematch against Nikolai Valuev remains to be seen.
Andreas Kotelnik retained the WBA jr welter with a close, split decision over Argentinian puncher Marcos Rene Maidana. It was scored 115-113 and 115-114 for the champion and 115-113 for the challenger. Maidana was the by far the more active fighter but Kotelnik showed very good defence and then scored with sharp counters. It was a terrific fight, an early candidate for fight of the year. Maidana´s punching power was evident throughout but he just couldn´t get through Kotelnik´s tight defence. The two battled it out at a very fast pace going all out in the final round.
Russian heavy Denis Boytsov won the vacant WBA heavyweight title with an easy second-round stoppage of Puerto Rican Israel Carlos "King Kong" Garcia.
Supermiddle Eduard Gutknecht stopped American Rubin Williams in five one-sided rounds and impressed.
News: German heavy Luan Krasniqi will continue his career and hopes for another shot at Aleksander Dimitrenko.
Also ringside was lightheavy Juergen Braehmer who fights Rachid Kanfouah for the vacant EBU title March 7 in Dresden. Braehmer also face trial for two charges of assault.
It´s official: It will be Lajuan Simon vs IBF middleweight champ "King" Arthur Abraham March 14 in Kiel. Abraham´s goal for 2009 is to be superchamp and Sauerland Event are trying to get a fight against Kelly Pavlik. Abraham proved in the second fight against Miranda that he´s for real.
Middleweight Mahir Oral has extended his contract with Arena Box Promotion for another three years. Oral will next fight stablemate Kofi Jantuah.
Aleksander Alekseev and Spotlight Boxing have renewed their contract. Alekseev looked like a safe bet to win a world title in 2009 but surprisingly lost to Victor Emilio Ramirez in his last fight.
WBO supermiddle champ Karoly Balzsay defends the title April 25 in Germany, writes Hungarian website monokli.com
Frenchman Jerome LeBanner, a big star in martial arts, appears to be heading back to boxing. LeBanner had a few fights (4-0) back in 08.