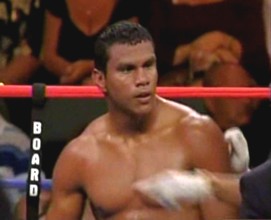 By Paul Strauss: Juan Urango used head movement, constant pressure and big looping punches to decisively beat Herman Ngoudjo for the vacant IBF light welterweight title. Urango had Ngoudjo down twice in the third round, but Ngoudjo survived and there was some concern that if the fight remained close, Ngoudjo would come away with a hometown decision at the Bell Centre, Montreal, Quebec, Cananda. That didn't happened, and even though ringside announcer Teddy Atlas unofficially scored the fight 115-113 for Urango, the official scoring of the judges was one-sided: 120-106, 118-108 and 116-110, all for Urango.
The night was not without surprises though, which seems to be common place at the Bell Centre. For example, I'm sure you will recall the Anthony Bonsante versus Adonis Stevenson matchup. Bonsante went down in the first round from a hard left and remained perfectly still with his back on the canvas.. The referee, thinking Bonsante was seriously hurt, signaled an end to the fight only to have Bonsante jump up and claim he was alright. Tony argued that he should have been given a count. Referee Gerry Bolen wouldn't change his mind, and the fight was over. Friday night Bolen handled the undercard bout between Antonin Decarie and last minute substitute Dorin Spivey, but there was no controversy with this one, as hometown favorite Decarie earned his UD. Bolen, in fact, used discretion in not disqualifying Spivey for excessive holding.
There wasn't any controversy in the main event either, but there certainly was an oddity……… a five minute ten second tenth round! The time keeper must have had to take a bathroom break or maybe he was distracted by the go go girls? Every so often time keepers will error a little bit one side or the other of the three minute time frame, but to go that far past the allotted time was unbelievable! He must have gotten most of his experience handling hockey games. The snafu, thankfully, didn't influence the outcome of the fight.
The referee for the main event was Marlon Wright, who you should recall was involved in the controversial ending of the fight between Lucian Bute and Librado Andrade. In that fight, Bute was way ahead on points, only to run out of gas in the final minutes of the fight. He was totally exhausted, and Andrade knocked him down. However, referee Wright felt Andrade failed to stay in the neutral corner, so he took seconds away from administering the count to admonish Andrade. By the time he got back to Bute, he was on his feet, but did not appear to be in shape to continue.
Wright finished the count and the bell rang to end the fight, and Bute came away with the decision. Many felt Wright mishandled the situation, and Friday night Teddy Atlas pointed out that under the rules in effect for that fight, a fighter who suffers a knockdown must demonstrate that he is capable of continuing even if he beats the count. That usually entails having the referee ask the fighter if he is okay, and then wait for a positive response. Then he will instruct the fighter to walk toward him, neither of which was done by referee Wright. Hence, the question remained……..Could Bute have continued? Was Andrade deprived of a technical knockout win?
Last night referee Wright wasn't a factor; although, he did warn Urango of low blows on a couple of occasions, but there were no point deductions in the fight, and Urango simply went about his business of pursuing his prey. His style is to basically chase down his opponent and unload with big looping hard punches. He carries knockout power in both hands, and will change up his attack, going first to the body and then the head.
Urango doesn't bother with a jab. He just goes for the big stuff. However, he does move his head well enough to not be tagged with anything hard; although, Ngoudjo was able to land quick inside shoe-shine type combinations, and then get back out of range. In the third round though, he moved straight back, and Urango managed to catch him with a long left uppercut. Down went Ngoudjo, more surprised than hurt. He easily beat the count, and tried to get on his bicycle. That occurred about one minute into the round, so Urango seemingly had plenty of time to close the show.
But, Urango didn't catch up to him again until the round was almost to a close. Then he caught Ngoudjo with another long, glancing left and follow-up right to put him down again. Ngoudjo once again beat the count and managed to make it to the bell.
That was the last of the knock downs, and Ngoudjo managed to keep moving side to side for the rest of the fight, which kept Urango turning and unable to get set properly for the big ones. When Ngoudjo wasn't out of range, or moving laterally, he would tie up Urango, or flurry enough to keep Urango honest and make the fight interesting.
In between rounds, there was a bit of a discussion about the Margarito hand-wrap situation. But, Teddy Atlas and studio commentator Bernardo Osuna didn't offer anything new. Everyone is waiting for the California boxing commission to release their findings. In the meantime, speculation abounds……..Was there an attempt to load the wraps? Was there just a disagreement as to the placement of the tape, or padding up of the gauze? Did the commission official present in the locker room sign off on an improperly wrapped hand? Was he negligent somehow in doing so? The questions remain unanswered and we wait.