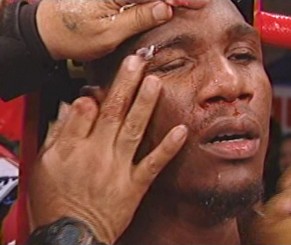 by James Slater – For quite a while now, there have been rumours saying Paul "The Punisher" Williams will fight Winky Wright. Talks have apparently been underway on both sides, but nothing has been officially announced. Adding to the plot concerning whether the fight will take place is the fact that the match-up has recently gone up on BoxRec as happening on March 14th, on the same bill as the Chad Dawson-Antonio Tarver rematch.
Okay, sometimes a fight going up on BoxRec does not 100-percent mean the bout will actually take place, but the site is usually as reliable as it is excellent. Let's suppose the fight is going to come off next March.
Either at 154 or 160-pounds, a Williams-Wright clash is a most intriguing encounter (BoxRec have it at 154, for the interim WBO belt "The Punisher" currently holds). Williams, who gave up searching for big names to fight at welterweight due, he claims, to being shamelessly avoided, will get the marquee name he has been craving ever since his arrival on the world stage with his superb victory over Antonio Margarito. Wright, inactive since July of 2007, and also letting it be known that the top guys have wanted nothing to do with him, will likewise get the big fight he has been searching for. This is a tough one to pick also.
Both men are southpaws, of course, and often that doesn't add up to a good, fan-friendly fight. Will Williams-Wright prove to be an exception? A lot may depend on the weight the fight is fought at. Wright has not made light-middleweight, his peak weight, in a long time (November, 2004) – would getting back down to 154 take a lot out of the future Hall of Famer at the age of 37? If, however, the bout takes place at middleweight, a weight Williams has only met average fighters at, the advantage could be with Winky.
After all, Wright, 51-4-1(25) has been in with then middleweight champion Jermain Taylor, almost winning over 12 rounds in a fight that wound up being declared a draw. Wright has proven he can handle middleweights, that's for sure. Then again, can he handle a 6'1″ southpaw of a middleweight? Wright was originally supposed to box a "tune-up" type return fight back on December 4th, against little known Michi Munoz, only to pull out of the middleweight contest after hurting a hand in sparring. Is his apparent plan of now going straight into a fight with the dangerous Williams a smart move?
The 27-year-old "Punisher" is a formidable fighter who his trainer George Peterson says is not even at his peak yet. Williams, 36-1(27) also looks to make a statement in each fight he takes – wanting as he does to be known as a true great. Is there a chance the once-beaten (the one loss being brutally avenged inside a round) wannabe superstar could become the first man to KO Wright? That sure would be one helluva huge statement, and as good as he's been looking just lately – combined with the fact that Winky, like any other fighter, is subject to the ageing process – it cannot be ruled out.
A chess match is more likely, however, and March's bout is probably going to be one for the purists. Williams can box, and Wright is (or was) one of the slickest, most defensively gifted boxers of his time.
Going out on a limb, this writer picks the fresher, hungrier Williams to earn himself a points victory. I for one just hope this intriguing bout takes place.