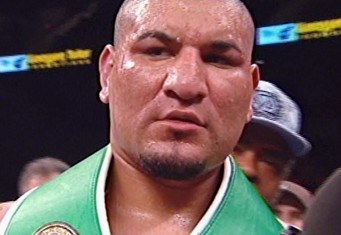 31.12.08 – by James Slater – Henry Ramirez, trainer of unbeaten heavyweight contender Chris Arreola, is hopeful his charge will be getting a world title shot against Wladimir Klitschko next year. Very kindly taking time out to speak with this writer about this prospect and other things – including answering the critics who claim 27-year-old Arreola lacks dedication to the sport – Henry gave the following answers to my questions earlier today.
James Slater: I appreciate you talking to me, Henry. Firstly, what's the latest on the Wladimir Klitschko fight, is it signed yet?
Henry Ramirez: It's my understanding that the fight will happen. Chris is really excited about it, and he's hugely motivated. It's not signed yet, but I'm pretty sure it will happen..
J.S: On a scale of 1 to 10, what would you say the chances of it happening are?
H.R: Oh, I'd say 8 or 9.
J.S: This is the fight Chris has always wanted isn't it, with Wladimir?
H.R: Yeah. I'd not only say Wladimir Klitschko is the best of the two Klitschko brothers, but that he is the absolute best heavyweight in the world. He has the conditioning and everything else. Every fighter wants to fight the best, and this is the fight Chris wants – absolutely.
J.S: Chris has sparred with Wladimir in the past, hasn't he? Were you present at the time?
H.R: Yes, I was there. He sparred Wladimir maybe one or two times, that's all. We never wanted to parade Chris from training camp to training camp, because we never wanted him to get that sparring partner mentality – which you can see he clearly has not got. He sparred a little with James Toney and quite a bit with Hasim Rahman, because we wanted him to get the experience. But we always like fighters to come to our gym, as opposed to Chris going to another fighter's gym.
J.S: What do you say to those critics who say a title shot against Klitschko is too soon for Chris right now?
H.R: I know some people say we're just going for the pay day, but who turns down a world title fight? Who? I know Chris; certain fights fell through for him – the David Tua fight was a letdown, and he couldn't get motivated. He didn't really want to fight Travis Walker. He asked me why he had to fight Walker when he wasn't going to get anything from that fight. We tried to get a title shot in the past, against guys like John Ruiz, but we couldn't get it. So Chris is not going to fight guys like that now, when they wouldn't fight him before – why should he, you know? Chris is hugely motivated for this world title fight and he will be coming in at 235-240-pounds max. I know lots of people aren't giving him much of a chance, but that motivates him even more.
J.S: How long have you been with Chris?
H.R: I've been with Chris for six-and-a-half years. I've been with him for all his pro fights. I'm the guy that turned him from someone who everyone said had no chance at the world level – in fact some still say that about him (laughs). But I know the guy and he is going to surprise a lot of people. I told him a while back, that because of the entertaining way he fights, he will be on prime time TV for practically all his career. There is pressure [to make it], but there is also support. People come up to Chris and ask for a photo with him, and they tell him they're behind him. I tell him, he's the man now. The man seen as the best US heavyweight in many eyes.
J.S: It seems to me, that when good fighters get in there with Wladimir, they let him get comfortable and dictate behind his jab and control the pace and then grind his man down and win. Good fighters seem to let him do what he wants in there – Hasim Rahman last time out for example. I'm sure you've seen this as a trainer. Will Chris' game-plan be to jump right on Klitschko and rough him up?
H.R: You hit the nail on the head with the word comfortable. He [Wladimir] gets in his comfort zone in there and he dominates things his way. We won't let him get in that comfort zone. Chris will put him under constant pressure. He'll cut down the distance and be relentless, even if he's not landing punches all the time. Chris won't be a guy who gets put behind the left jab and just picked off. He'll be in the best shape of his life – we will make that happen. We know he won't win a boxing match against Wladimir – no-one does (laughs). Klitschko is a bad match-up for anyone as a boxer, that's why he's the best in the world. Chris will give his all in this fight.
J.S: Do you expect a long fight or a short fight?
H.R: I expect quite a long fight. And it will be so much more competitive than a lot of people seem to think it will be.
J.S: As you know, it looks like David Haye will be challenging Vitali Klitschko next summer. Do you feel the young guys will take over the heavyweight division in 2009 – what with Chris also getting his shot?
H.R: I'm hoping so. I'm also hoping the young guys make the fights people want to see. Who wants to see Holyfield-Valuev? What was that! Can you imagine how big and exciting a Chris Arreola-David Haye fight would be? That would be the two most exciting heavyweights in the world going at it! I'm pulling for Haye [to beat Vitali], I know Chris would love that fight. It would be huge! We'd even come over to England for that one. Could you imagine if both guys upset both Klitschko brothers!
J.S: It would be awesome. Talking about Haye, is there any truth to the rumours that Chris and he sparred in the past?
H.R: We've heard that too. There is no truth to it whatsoever. We've never even met the guy or seen him in person. Chris was laughing about that – he is the first to admit it when a guy gets the better of him in the gym, but he's never even laid eyes on Haye. It's just that, rumours. Actually, I tell you who we would have loved to have fought – Monte Barrett. I tell you, Haye is getting waay too much credit for beating him – as I knew he would. We'd have liked a fight with Barrett because he's still got name value, even though he's past his best days. But if Chris had beaten him, people would have said it meant nothing because he was past it.
J.S: I've been accused of asking too many softball questions in interviews, so here's a hardball question.
H.R: Okay.
J.S: What do you say to the critics who say Chris lacks motivation and that he is too heavy?
H.R: There is some truth to that. I admit. At times Chris does lack motivation. But if Freddie Roach, or any top name trainer you care to mention worked with Chris it would be the same. I can only tell him what to do in the gym, I can't watch over him all the time. And that's the way Chris is, he marches to his own drum. If he wants to go partying, who's going to tell a six foot, four inch guy not to do something? (laughs). That's part of who Chris is, he does what he wants. But Chris works hard in the gym, he never gets out of breath in the ring because he's so composed and so relaxed in a fight. He's had motivation problems in the past due to big fights falling through. We tried to get Tua, we tried to get Rahman, but they weren't interested. Actually, it worked out great for Rahman as he wound up getting a title shot instead.
J.S: You have no concerns about Chris maybe having to go 12 rounds in a fight?
H.R: He can go the rounds, he just hasn't had to yet. In the gym before a fight, I get him to go 12 rounds and he can do it no problem.
J.S: Well, it's been great speaking with you, Henry. I really hope Chris gets the Klitschko fight. It would be a very exciting fight.
H.R: Thank you for actually taking the time to call up. All the best for 2009.