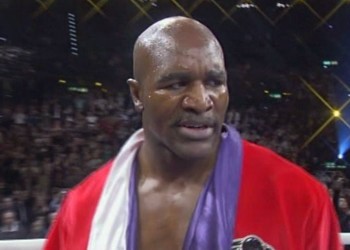 by James Slater – As expected, Evander Holyfield is still not ready to hang up the gloves; even after last night's "loss" to the huge Nikolay Valuev. We all thought this would be the case with Evander, and that even if he were soundly beaten the stubborn 46-year-old would let everyone know he was still in pursuit of his unlikely – if not damn delusional – goal of once again becoming undisputed heavyweight champion.
However, Holyfield was not anywhere close to clearly beaten last night in Switzerland – in fact he was out and out robbed. Holyfield did more work, threw and landed more punches and just plain won. As such, Evander perhaps has the right this time to insist on fighting on. Wanting a rematch, and justice, Holyfield and his team reportedly asked the WBA champion who retained his belt with one of the year's most debatable decisions, for a second fight. Team Valuev said this would be a possibility for 2009.
So, not only will "The Real Deal," who has now lost for a tenth time, not retire, we also face the ghastly possibility of a return of last night's awfully boring encounter. Would this fight sell again? Did it even do so anywhere close to successfully the first time around? The given decision was a bad one and Holyfield deserves to get something from the injustice, but even taking that into account no-one in their right mind would want to sit through 12 more rounds of dullness the kind that were witnessed yesterday.
Holyfield said after the fight he was reasonably happy with his performance, coming as it did against such a massive foe. And to be fair, many writers, this one included, gave "The Warrior" virtually no chance against Valuev – even predicting a stoppage loss for the legendary four-time heavyweight boss. This was not the case, however, and once again Holyfield proved us wrong. He almost pulled it off. In fact he would have done had the judges done their job correctly. Had this happened, we would now all be telling a true feel good story – one of the year's highlight, unexpected results.
Due to the controversy mixed with the stunningly dull ring action, we are now talking about last night's fight for all the wrong reasons. Surely no-one felt the fight would have been as awful as it was? Valuev, never going to be a master boxer (an understatement) had appeared to have improved his limited boxing skills and grown in confidence of late. Last night, though, he looked as bad as he ever has, if not worse. Remember, he was in with a badly faded and severely worn Holyfield, yet he could do nothing with him. Had it been the peak Holyfield in there, Valuev would have been in real trouble.
The peak Evander Holyfield is long gone, however, and the 7′ 2″ colossus was able to last the 12 rounds. Two of the three judges did the rest.