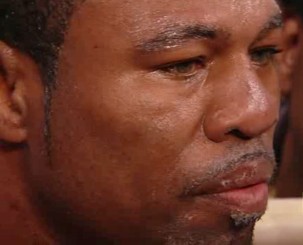 By Geoffrey Ciani: In the days following Antonio Margarito's upset victory against Miguel Cotto, I became very keen on the idea of a showdown between Margarito and former Cotto victim, Sugar Shane Mosley. Considering Cotto's victory over Mosley was by a razor-thin margin, I believed Mosley's superior chin, better stamina, and (arguably) stronger punch would enable him to do what Cotto was unable to do—last the distance in a decision-winning effort against Tony. However, after seeing Mosley's fight this past weekend, I am less convinced he would survive twelve rounds with the relentless iron-jawed menace, Margarito.
After closing the show in dramatic fashion with a twelfth round knockout of Ricardo Mayorga, Sugar Shane Mosley proved he is still an elite fighter. He still has the talent and ring intelligence to compete with the best in his weight range, and no doubt, his superior skills paved the way to victory against the tough but limited Mayorga. Despite the victory, I saw some things in this fight which lead me to believe that Shane's days at the top are numbered, which is not surprising for a 37 year old pugilist who has continuously sought out the very best throughout his long and illustrious career.
Over the first three rounds, Mosley did very little in terms of offense. He seemed timid and reluctant to let his hands go, obviously very weary of the unorthodox haymakers being launched by Ricardo from all types of awkward angles. To be sure, Mayorga did not land too many punches in the early-going, but he was winning rounds on sheer aggression, as Mosley seemed content to keep his distance and stay out of harm's way. In fairness to Mosley, his game plan was probably predicated on the idea that Mayorga would grow tired in the middle rounds, at which point, Shane could take over with his superior skills.
To some extent, this is exactly what happened, as Mosley began timing the reckless assaults from Mayorga and started landing some power shots of his own. Throughout the second quarter of the fight, Mosley began gaining Mayorga's respect, and he was clearly landing the better, crisper punches. It appeared as if the tide had changed, and Mosley seemed to be in control. But then Mosley seemed to fall back into the shell that defined the earlier rounds as he allowed Mayorga back into the fight he had seemingly taken control of. It was a very dirty fight, with lots of small infractions which referee David Mendoza wisely allowed to proceed without any point deductions.
By the start of the eleventh, I had the fight even on my scorecard and thought the championship rounds would surely decide the victor. Shane did well in the eleventh, and pulled ahead by a narrow margin. In the final frame, Mayorga came out fighting, and it appeared this one was headed to the scorecards, but as the fight neared its end, Mosley landed a series of power shots that hurt Mayorga, and ultimately sent him stumbling to the canvas. He was able to beat the count, but he was clearly on queer street, and with just a second left before the bell rang, Mosley immediately tagged Mayorga with a perfect left hook that dropped him like a ton of bricks. It appeared as if Mayorga had been shot, and Mendoza promptly stopped the fight.
With the victory, Mosley has some options on the table, but at his age, he better choose his next opponent carefully. However, Mosley is rarely 'careful' when choosing his opponents, and in this day and age where fighters minimize risk to maximize profit, his bravery should be applauded. After all, he has always sought out the best, wanting to prove his own worth, even when his business decisions were detrimental to his own career. Not only was Mosley the one who afforded opportunities to two of the greatest talents who were stuck on the outside looking in (Vernon Forrest and Winky Wright), but he also bravely (and perhaps foolishly) demanded immediate rematches with both after being on the short side of the decision.
If I were Mosley, I would try and do everything in my power to lure Floyd Mayweather Junior out of retirement, preferably for a bout at 154. It is a winnable fight for Mosley, and one which will pose him a little less risk than some of the big-bangers who now loiter around his weight range. A Mosley-Mayweather match is still one that will undoubtedly appeal to the casual fan, making it a certain mega-bout with lots of potential marketability.
Although I would never count Mosley out, even against a relentless beast like Margarito, I think I should try and do all he can to lure Floyd into a high profile showdown. I, for one, believe that the former Pound-for-Pound King still has what it takes to beat the reigning Pound-for-Pound King, because despite claims of retirement, Floyd is still perceived as the best out there, and he is just waiting for the right opportunity to make his comeback. Perhaps Mosley is an attractive enough alternative for Floyd to constitute such a moment.
Time will tell.
To contact Ciani:
ciaaaani@yahoo.com
To read more by Ciani please visit The Mushroom Mag:
http://www.eatthemushroom.com/mag