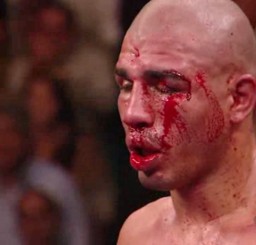 By Gil Aviles – Miguel Angel Cotto, destroyed in his last fight by Mexican welterweight powerhouse Antonio "The Tijuana Tornado" Margarito, is probably now back in Caguas, Puerto Rico pondering what his next move should be. He has already expressed a great interest in a rematch with Antonio, and hopefully we will all get a chance to see these two warriors go at it again, but first things first. He needs a confidence builder type of fight, in order to regain his confidence and champion-ship form.
This writer like many other Puerto Ricans made the trek, not to Las Vegas, but to the tiny island of Puerto Rico to watch this fight along side my family and old friends. Why you ask? Well on the island, boxing is our national sport and when our star fighters fight it calls for a family gathering and subsequent celebration. That night I made my way to my lovely sister's home, Brenda, in Rio Grande, Puerto Rico, to witness the coronation of the next great Puerto Rican champ. Unfortunately Mr. Margarito had other plans and executed them to perfection. Thus the celebration never took place, instead we took pictures, ate, and I went back to my hotel room with my son Gil Jr. to soak up what I had witnessed.
The next morning at a local bakery, I ran into the guy that designed Cotto's trunks for this fight, "Baretto" and the whole time the store owner and her daughter were giving him hell and blaming him for the loss and Cotto's performance. It was very amusing, because obviously this had nothing to do with the outcome of that terrific battle that took place the night before. On Monday a baseless steroid rumor was started by a local radio station, the sad part is that these people just couldn't accept that their beloved champion had lost fair and square. Puerto Ricans very much like Mexicans have boxing running through their blood, no wonder they have the greatest rivalry in the entire sport.
Now on to Cotto's next fight. Who should it be against? Many names have surfaced, it seems like every body from welterweight to junior middleweight wants a piece of the fallen champion. There has been talks of Miguel fighting, Ishe Smith, Kermit Cintron, Andre Berto and even James Kirkland, amongst others. That old saying "be careful what you wish for" comes to mind when analyzing the current state of affairs. Why are all these fighters lining up to take on Miguel Cotto? I guess they see some weakness in him that they can exploit. The way I see it, none of these guys is Antonio Margarito.
Margarito had the uncanny ability to take some huge clean shots that night from Miguel Cotto and keep on coming. Can any of these guys do the same? I doubt it.
Let's take a closer look at the proposed matches. First the welterweights, Berto and Cintron. Andre Berto who picked up the WBC title in his last fight, in my opinion just does not have the experience nor the proven guile to take on the likes of Cotto just yet. Although this is certainly an interesting match up, it brings back bad memories of Tito Trinidad vs, Fernando Vargas. The big question for Berto is why risk it? He is to young an inexperienced to take on a guy like Cotto at this point in time, and unless Cotto was badly damaged at the hands of Margarito, Cotto would most likely win this fight. This has epic beat down and ruined young fighter written all over it. On to Kermit Cintron. Kermit has two losses both at the hands of that monster that runs the welterweight division, Antonio Margarito. No shame in that, right?.. How would he fair against the other Puerto Rican, Margarito victimized? This is a close call, and maybe not a good come back fight for Cotto. The thing with Kermit is that lethal right cross, a punch that Cotto seems to be sucker for, along with that left upper cut, another punch that Kermit throws extremely well. If I was Cotto's management team I would stay away from Kermit for the time being, maybe at some other point, but just not now. I am not saying that Cotto can't win this fight, he certainly can, but why go up against such a huge puncher in your come back fight? This is boxing and anything can and does happen when we least expect it.
On to the junior middleweights, do these big dudes really want a piece of little Miguel Cotto? Well it sure seems that way. Now can Ishe Smith, even hang with Miguel Cotto? I do not think so, this guy spends more time answering fan mail on his favorite web site than actually fighting. Look, no offense to Ishe but he was not an impressive welterweight weight and he just doesn't bring the pressure and power that is needed to beat Miguel. Again, I clarify, unless Miguel was badly damaged by Margarito. This fight if nothing else, would tell us if Miguel has been forever physically and mentally impaired, by the well balanced ass kicking that Margarito administered that unforgettable night. Make no mistake, Miguel would win this fight if he is even 80% of the Miguel we know. The thing is we just don't know. One thing is for sure, this would be my choice out of the four fighter I have proposed.
Lastly we explore James "Mandingo" Kirkland as a possible Cotto opponent. Look, Bob Arum is not a dummy man. James might be inexperienced, unpolished and possibly even has a suspect chin, but what he does bring to the table is unrelenting pressure and concussive power, in essence Cotto's proven Kryptonite. No way do they let Cotto anywhere near this beast, in his comeback fight. This dude will simply over power Miguel and probably really hurt him in the process. Yeah, Kirkland has been dropped, but he was never really hurt. His style kind of gift wraps his opponents knock downs against him. Then he gets back up and kicks ass 100% of the time, so far anyway. In essence his chin in not suspect enough to put Miguel in the ring with him, considering his size, style and power.
Out of these four, I would pick Ishe as the "path of least resistance" if you will. I have a feeling that none of these guys will get the call though, my outside choice, Carlos Baldomir, laugh if you want. Carlos will give Miguel some rounds, a familiar name and a punching bag to practice his skills on. If he can KO him then he has accomplished something nobody else has, impressive if nothing else. Then take on Cintron or Berto before fighting Margarito again in 2009 hopefully at MSG in June, he deserves that much.
Good luck Miguel, Margarito is waiting for you to handle you business, get to work!!!!!