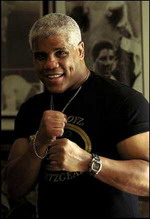 By Mike Indri – Retired Boxers Foundation – August 29, 2008: Hundreds of phone calls each year come into the (805) 955-9064 home of former USBA middleweight champion Alex Ramos. MOST are from current or retired boxers that have fallen on hard times. MANY of these calls from Alex's boxing brothers can't or won't even be followed up with a "thank-you" call after receiving that much desired help, yet one thing is for sure…ALL these calls will be answered.
Since forming the Retired Boxers Foundation in 1995, proudly serving as the non-profit organization's president since day one, Alex Ramos has devoted his life to helping his fellow retired boxers in need.
While having to rely on miniscule funds raised from not enough fundraisers and donations, the "RBF" has been able to literally come to the aid of thousands of hurting fighters. This was as much a part due to the relentless efforts of the committed five-time New York Golden Gloves champion, as it was to his infectious smile, his warm personality and gigantic, lovable heart; which drew many willing resources from outside boxing..
Surprisingly, and embarrassingly, support from within boxing – a sport and business that Ramos has embraced since he first entered a Bronx gym, along with his father, at the age of eleven – has been virtually non-existent.
The RBF's Executive Director Jacquie Richardson, a Simi Valley governmental worker, is the backbone of the organization.
One of the many RBF hats that Richardson dutifully wears is that of "Surrogate Mother" to the forty-seven year-old former middleweight contender who sometimes needs to be prodded to takes his pills, make his scheduled doctor visits, or simply insist on his taking a much needed walk if the always-hyper Ramos's stress level soars while spending countless hours manned at his computer answering the endless drove of emails.
"Mama Jacquie" as she is affectionately called sensed something wasn't right, after not hearing from Alex since Thursday evening and realizing his email had not been checked for close to fifteen hours.
Those of us dearly close can expect calls usually every fifteen minutes!
Nervously calling upon Alex's apartment complex manager, a conscientious check found Ramos unconscious, barely breathing and in near-death condition. Rushed to a nearby hospital and feverishly worked on for over an hour in order to be resuscitated, Ramos spent the day in critical condition with a grim prognosis.
After battling for many hours Alex has been transferred to the Intensive Care Unit. He is currently on a respirator; his condition has been stabilized, but has not regained consciousness and is in a drug-induced coma, to rest his brain.
Latest word is that Alex's eyes are following the direction of light from his doctor's flashlight and they may plan to take him off the respirator sometime tomorrow, although he is still unconscious.
Alex Ramos is a credit to boxing and has been a shining star of hope for so many downtrodden warriors who had mistakenly thought that they were forgotten…NOW is their time to say "THANKS".
We all need to help Alex, with our prayers and our hope.
I haven't met anyone, in or out of boxing, who is so dear, so genuinely warm and caring, and so deeply motivated and passionate for the cause, as Alex.
I love him like a brother, and hope you will say a prayer for Alex Ramos.
Thank you.
Mike Indri can be contacted at RBFNJMIKE@aol.com