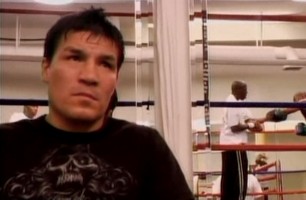 SAN DIEGO, Calif., (August 28, 2008) – Sycuan Ringside Promotions announced today that former World Boxing Council Welterweight Champion Carlos Baldomir is presently in training camp in the U.S. preparing for a major fight later this year. Baldomir, (44-11-6, 13 KO's) from Argentina—who hails from the same hometown as the late, great World Middleweight Champion Carlos Monzon—is hopeful of being pitted against one of the top welterweights in his division, namely Margarito, Clottey or Cotto.
Carlos has fought some of the best in his division including having an impressive win via disqualification over the tough and strong puncher, Joshua Clottey, in November 1999. Over the last two years Carlos 'Tata' Baldomir thoroughly upset the boxing applecart with his back-to-back dominating victories over Judah, by way of unanimous decision and Gatti, via a TKO in the ninth round, in their respective backyards of New York City and Atlantic City, New Jersey in 2006.
"I was not focused in 2007 and I let some important opportunities slip out of my hands. I am hungry, serious and committed, and I have a new trainer. Abel Sanchez is teaching me new things and helping me to improve on my boxing skills. I feel comfortable training under his tutelage. He is a classy guy who understands me well," stated the former world champion.
"I am thrilled to continue to be a part of the Sycuan family and after serious discussions with Scott Woodworth and Sean Gibbons of Sycuan, I believe I will have the opportunity to fight Margarito, Clottey or Cotto.
Carlos Baldomir added, "The greatest of fighters have suffered losses and have come back stronger than before. I have a lot of experience and after seeing fighters like Antonio Margarito successfully come back to fight after a long layoff, I strongly believe I am prepared to step back in the ring with the best, and regain the belt," added the former champion.
In Baldomir's last fight in November, 2007, he won by majority decision against Luciano Perez at the Morongo Casino Resort. In July of 2007, he suffered a 12 round unanimous decision loss to Vernon Forrest. Although persistent and aggressive, Baldomir appeared somewhat out of form against a very motivated and well conditioned Forrest.
"I know what it takes to become champion and I will surprise the skeptics as I did back in 2006," stated the confident former welterweight champion. Baldomir—whose size and power will be a real challenge for Margarito, Clottey or Cotto—is boxing's most recent and best "Cinderella" story.
"We are proud that Baldomir is serious about fighting again and he is in the United States to seriously prepare for his next fight. He has been the Cinderella Man and we continue to believe in him and his abilities," said Sean Gibbons of Sycuan Ringside Promotions.
Yung Joc, Keri Hilson to perform at Lamon Brewster's "Return" Card 8/30
Cincinnati, OH-Grammy-nominated hip-hop artist Yung Joc and rising R&B sensation Keri Hilson will be performing just before former WBO heavyweight champion Lamon Brewster makes his return to the ring against contender Danny Batchelder for the vacant NABA heavyweight title. The performance will last approximately 20 minutes.
The show will be held at Cincinnati, Ohio's Cincinnati Gardens on August 30. "The Return" is being promoted by Brewster's own Relentless Events as well as Colin Bates' C'Believe and Andrew Williams' R&R Promotions.
Yung Joc, originally from College Park, GA, is among the leading lights in rap music today. His smash single, "It's Goin' Down", was named "Hip-Hop Track of the Year" at the 2006 BET Hip-Hop Awards. Yung Joc also made waves with hits "I Know You See It" and "Coffee Shop".
Boxing fans will forever remember Yung Joc's ring entrance alongside Cory Spinks two years ago against Roman Karmazin. Energized by Joc's electric rendition of "It's Goin' Down", Spinks walked away with the upset victory and the junior middleweight title.
Who said boxing can't be sexy? Keri Hilson's latest music video "Energy" features the Atlanta, GA solo artist performing boxing exercises in unsanctioned attire while sweating up a fierce storm. A bona fide knockout, in and out of the ring.
Hilson's music writing talents have helped bring fame to many top artists. Now it's her turn to make a splash of her own with her debut album "In A Perfect World…" which is slated for release on October 7 under the labels Zone 4, Mosley Music Group and Interscope Records.
Both artists will continue their performance at Club Ritz at the official after-party. Club Ritz is located at 1752 Seymour Ave. in Cincinnati.
The Brewster-Batchelder 12-round title fight will be supported by a full roster of excellent Cincinnati fighters, highlighted by Aaron Pryor Jr. and Rashad Holloway.
Fans can watch the boxing action online at www.gofightlive.tv at the affordable price of $1.99. The internet stream begins at 8 PM Eastern/5 PM Pacific.
Tickets are priced at $102, $77, $32, $22 and $12. They are available at the Cincinnati Gardens Box Office, at all Ticketmaster Outlets including select Kroger stores, charge at 513-562-4949 or online at www.ticketmaster.com. For more information on this and other Relentless Events shows visit www.relentlessevents.net
Lamon Brewster & Danny Batchelder Headline Night of Boxing on GoFight Live
CINCINNATI, OH—The new N.A.B.A. Heavyweight champion will be crowned Saturday night in a 12-round main event, former Heavyweight champion "Relentless" Lamon Brewster, 33-4 (29 KO), will take the first step towards regaining his crown against Danny Batchelder, 25-5-1 (12 KO).
The August 30title bout along with an exciting undercard featuring Aaron Pryor, Jr.; David Long; Rashad Holloway; Dante Craig, and others is available to been seen exclusively on GoFight Live PPV www.gofightlive.tv. Lamon Brewster's Relentless Events in conjunction with Andrew Williams presents "The Return" at Cincinnati Gardens. The show will be the initial venture for Relentless Events and promises thrills and entertainment for all in attendance.
Always among the sport's most compelling and entertaining figures, Brewster hopes to build on his fierce reputation which peaked with the fifth-round knockout of current heavyweight champion Wladimir Klitschko in 2004. During his two-year reign Brewster defend the heavyweight title three times, including knockout wins over Andrew Golata and Luan Krasniqi.
His opponent Batchelder is no push-over. Batchelder has fought some of the toughest the heavyweight division has to offer, including James Toney, Alexander Dimitrenko and Brian Minto.
"One of the reasons I wanted to stage this fight in Cincinnati was because the Midwest in general has been overlooked for boxing events," says the proud and determined promoter Brewster. The city is about an hour and a half drive from Brewster's hometown of Indianapolis.
The preliminary bouts will feature the homecomings of two native sons of the city, Rashad Holloway and Aaron Pryor Jr. Many consider these two boxers to be among the sport's hottest young prospects and future world champions.
Holloway, 8-1 (4 KO), was born in raised in Cincinnati. He understands that coming from a city with a tough a reputation like "The Queen City" raises the bar for achievement. In front of his hometown fans and friends he intends to bring his A-game and not disappoint. The opponent for his six-round bout will be named shortly.
"I'm just trying to give the crowd a good show. I don't come to hold, I don't come to run, I come to fight. I'm a fast, quick fighter who hits and doesn't get hit. I plan on being world champion, so it's important to show my championship heart.
"There is a lot of pressure fighting in front of my hometown, but I live for that. I will be in the best shape I can possibly get in and people will see what I'm all about."
Holloway's amateur background is highly decorated, including seven Golden Gloves titles in Ohio and North Carolina, three National Junior Olympics titles and a 90-15 record. So far as a professional, he has logged many miles in the gym giving welterweight champion Antonio Margarito and highly regarded prospect Alfredo Angulo runs for their money.
Aaron Pryor Jr., the youngest son of boxing legend Aaron Pryor, will be making his professional hometown debut. Pryor brings his undefeated 10-0 (7 KO) record to the ring in his first scheduled ten-round assignment with the intention of impressing the local fans and establishing a legacy of his own. Pryor is trained by the legendary Emmanuel Steward.
Aaron Jr. won the 2003 Cincinnati Golden Gloves and made it to the Nationals before turning professional. His 6'4 1/2 stature casts a fear-inspiring image over opponents, as his yet-to-be-announced foe will soon discover.
"They're both throwback, old school fighters," Brewster assesses. "They both think on their toes, which is essential for future champions. These guys are a breath of fresh air for boxing."
The festivities begin at 8 P.M. EDT, and can be seen exclusively on www.gofightlive.tv