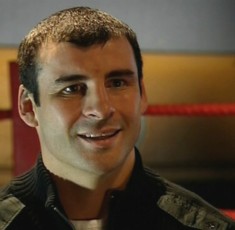 By Michael Klimes: For the most trenchant detractors, hearing the name of Joe Calzaghe or seeing him on television is like encountering Charles Manson at a restaurant during breakfast. The reaction is at first incredulous and then shifts to irrational rage. Why is it that the finest European fighter of his generation is not only disrespected, shunned and unacknowledged but also hated?
At the beginning of writing this article I knew I would be straying from the journalistic to the polemical by wanting to argue the validity of one perspective at the expense of another. I felt hesitant. There is always a danger in assuming to speak for a boxer's reputation when he is eloquent enough to do it himself. For the person doing the talking he can be perceived as arrogant and biased but I did not want to shelter in the bunker on this issue.
The people I want to intellectually pin on the wall are those that call Calzaghe a "bum" and if they are being really charitable a "European bum".. They have also bestowed the witty title of "Joe Calslappy" since the Welshman cannot throw power punches due to his brittle hands. The other two nick names which have gained popularity recently are "Bernard Popkins" and "Floyd Gayweather". These are effortlessly original and I am laughing.
After all of Calzaghe's achievements I am left wondering what Calzaghe can do to be called a great fighter. Old timers will say he is no Henry Armstrong, Sugar Ray Robinson, Joe Gans or Roberto Duran. The observation is true but it is also a non-starter as boxing does not produce the same calibre of fighters anymore. Those who know their history will know why. Others infer Calzaghe has stayed in Wales for far too long and was never prepared to venture out of his home country to defend his title on foreign soil. There is a considerable amount of credibility here but not everyone is Glen Johnson although more should be.
Nevertheless, Calzaghe has now undercut this criticism by travelling to the United States and defeating Bernard Hopkins who lest we forget is one of the most underestimated counter-punchers of his era. Going over to an unknown country, fighting at a new weight and defeating a wily champion is worth noting. Calzaghe has the big American name on his record that eluded him for so long. It was an ugly victory but a significant one nonetheless as the punch statistics demonstrated that Calzaghe landed more shots on Hopkins than any of the 'Executioner's' previous opponents, thereby removing the idea he is an inaccurate puncher.
Hopkins and Calzaghe are two fighters I find hard to separate as there are more similarities than differences between them. I am aware that they will find the comparison offensive but think about their careers: They have severe overlaps and these similarities mean they should be held to the same standard of judgement. Both were champions in their respective divisions for ten consecutive years and set historical records. Hopkins made twenty defences of his belts from 1995 until 2005 and Calzaghe made twenty one successful defences from 1997-2007. Both became undisputed champions but only captured a second belt after thirteen years as professionals. Hopkins won the IBF belt in 1995 and only captured other belts in 2001 when he took down Keith Holmes. Calzaghe did the same in March 2006 when he wrestled Lacy's IBF belt away from him.
Also their definitive fights saw them perceived as underdogs by many fans. The interpretation of Hopkins before his showdown against Trinidad was that he would be out gunned by the Puerto Rican's power. The same propaganda was floating around Calzaghe's image in American circles. Both put on brilliant boxing clinics as they stunned the crowds and delivered definitive beatings. Trinidad and Lacy never healed after their traumas.
Furthermore, Calzaghe and Hopkins campaigned in anonymity for years. Calzaghe only broke into the mainstream after March 2006 when he defeated Lacy, thirteen years after turning professional in 1993. Hopkins only established his superstar status after thirteen years as a professional when he defeated Felix Trinidad in 2001. He began his career in 1988.
The Hopkins defenders will argue that his competition is better than Calzaghe's. This is true but the claim is inflated. If I remember correctly Mike Casey and Jim Amato are on record as saying that they cannot put Hopkins anywhere near the top of their all time middleweight lists as his resume is not good enough. Amato wrote that Hopkins most impressive victory was his out classing of Antonio Tarver when he marched north to the light heavyweights. To be fair to the ex-middleweight king, a boxer cannot wave a magic wand and make their generation of contenders more challenging. This is point of view should also be put forward for Calzaghe as he was born a few years too late to be a member of the previous generation of Michael Watson, Herol Graham, Steve Collins, Chris Eubank and Nigel Benn.
When one examines Hopkins's record there are shortcomings in it like Calzaghe's. His two high profile opponents were not genuine middleweights and some of the other names on his record are seen more than once suggesting a lack of depth in competition. He took on Robert Allen three times, Antwun Echols twice and Jermain Taylor twice while Joe Calzaghe has defeated Mario Veit twice.
It is a fact that it was harder for Hopkins to achieve greatness compared to Calzaghe as the middleweight division is decades older than the super middleweight division and therefore has a richer history. Calzaghe has never had to deal with the reputations of fighters like Stanley Ketchel, Harry Greb, Carlos Monzon or Marvin Hagler. However, it is insensitive to pin the responsibility of the harsh reality on Calzaghe as no fighter can decide the context he operates in. Another stretched premise has been used in the past to ask why is it that Calzaghe fought Richie Woodhall, Charles Brewer, Byron Mitchell, Chris Eubank and Robin Reid when they were former world champions? This is disingenuous as it is not Calzaghe's fault that other champions were beaten before he got to them.
I admire Calzaghe for the same reason I admire Hopkins. They both carved out their greatness the hard way by steadily taking on all the other contenders their divisions had to offer. When Calzaghe's detractors ask why didn't he come to America earlier and take on the best American boxers in their primes I have two responses? Firstly it was Calzaghe's misfortune to be born too late and secondly why isn't Bernard Hopkins held to the same standard due to the symmetry of their careers? Hopkins has fought Roy Jones Junior, Antonio Tarver, Glen Johnson, Keith Holmes, Felix Trinidad, Oscar de la Hoya, John David Jackson, Robert Allen, Antwun Echols, Winky Wright, Joe Calzaghe and Jermain Taylor but what about all fighters he did not confront? He is seven years older than Calzaghe and those seven years are something Calzaghe desperately wanted. Hopkins never fought Nigel Benn, Chris Eubank, Steve Collins, Mike McCullum, James Toney, Gerald McLennan, Terry Norris, Reggie Johnson, Iran Barkley or Julian Jackson.
Therefore Calzaghe is a great fighter. He has never faced a young Roy Jones Junior. That is the outstanding name on Hopkins's resume but Calzaghe beat everyone put in front of him, is one of the most successful champions of the modern era, tolerated brittle hands from his early days and put on highlight performances against Lacy, Kessler and Eubank. It's nauseating to see certain fans continually disrespect him. There is a legitimate debate about how great Calzaghe is but not whether he is or is not a great fighter.
The line has been drawn so stop trying to cross it.