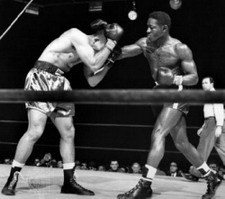 By Ted Sares – Boxing is a tight-knit fraternity. Everybody knows everybody. But a line in the resin will forever be drawn separating those who step into the square ring and those who DON'T. Many, many people make money on a fight, but when the bell sounds, only two people answer it. — Randy Smith, February 2003, Journal Inquirer – Manchester, CT
It's a tough business, man – it's a tough business –Rocky Graziano
Some day, maybe, the public is going to abandon comparisons with Joe Louis and accept Ezzard Charles for what he was—the best fist-fighter of his particular time. –Red Smith
Larry Holmes and Evander Holyfield fought top level opposition at a pretty constant rate. Hell, they even fought each other.. Ali never backed away from an opponent either and it cost him dearly. Holmes battled Jerry Cooney, Michael Spinks (twice), Earnie Shavers (twice), Kenny Norton, Mike Weaver (twice), Tim Witherspoon and Mike Tyson. "The Real Deal" fought just about everyone including Dwight Muhammad Qawi (twice). Chris Byrd, James Toney, Michael Moorer (twice), Tyson (twice), Holmes, Bowe (thrice), John Ruiz (thrice), Lennox Lewis (twice), Hasim Rahman, and Big George Foreman. Talk about tough
The late Ralph Dupas had 135 fights and many were against top level fighters. The same with Willie Pastrano whose opponents had an astounding combined won-loss record. There were (or are) others who would fight anyone put in front of them. There were guys like Beau Jack, Aldo Minelli, Chico Vejar, Holly Mims, Yama Bahama, Kenny Lane, Tony Licata, Vito Antuofermo, Tommy Tibbs (who participated in 139 bouts), and Johnny Cesario.
And still more like Guts Ishimatsu, Frank Minton, Jorge Paez (who may be mounting an ill-advised comeback), James Martinez, Ray "Sucre" Oliveira, Ben Tackie and Julio Cesar Gonzalez (who recently was stopped for the first time in his career by Tavoris Cloud).
Dick Tiger was pretty solid as well. Get this; he met Champions Emile Griffith, Nino Benvenuti, Jose Torres, Bob Foster, Joey Giardello, Gene Fullmer and Terry Downes. He also fought some impressive contenders like Andy Kendall, Frankie DePaula, Roger Rouse, Jose Gonzalez, Rubin Carter, Joey Archer, Don Fullmer, Florentino Fernandez, Spider Webb, Henry Hank, Gene Armstrong, Yolande Pompey, Randy Sandy, Holly Mims, Wilf Greaves and Rory Calhoun. Jose "El Huitlacoche" Medel, Juan Laporte, and Livingstone "Pit Bull" Bramble took on all comers as did Joey Giardello. There are many, many others.
However, if forced to pick just one boxer who fought the very highest level of competition, it would be difficult not to choose the great "Cincinnati Cobra," Ezzard Mack Charles.
Charles was a 1939 Chicago Golden Gloves Champion and National AAU titleholder (reportedly his amateur record was 42-0) who turned pro the following year and fought until 1959 finishing with a record of 90-25-1 (58 KOs). But it's not so much his record that stands out as it was his opponents. For example, in 1954 alone, he fought Rocky Marciano twice–grueling fights that arguably "ruined" him (after the first fight, referee Ruby Goldstein said he did not have to say "Break" at any time during the bout). He iced both bomber Bob Satterfield and Coley Wallace, lost two decisions to Harlod Johnson (41-5) and Nino Valdes, and beat Billy Gilliam, Rex Layne, Tommy Harrison (of' "Resurrecting the Champ" fame) and rugged Wes Bascom. The following year, he fought teak-tough Charley Norkus and Tommy "Hurricane "Jackson (twic).
Prior to 1954
But the Cincinnati Cobra did his best work prior to 1952. He beat Joe Maxim five times (in all, they fought 62 rounds), Layne, Jersey Joe Walcott twice, mean Lee Oma, Nick "The Fighting Marine" Barone, Joe Louis (yes, that Joe Louis), Freddie Beshore (in a classic), Gus Lesnevitch (member of the WBHF), Archie Moore thrice (88-13-8 coming in), and the great Jimmy Bivins twice.
Charles won his first fourteen out of the professonal gate but then lost to Ken Overlin (120-19-6) in 1941. He later drew with Overlin who finished with a record of 133-19-9. After losing to the very capable Kid Tunero (75-23-12) in 1942, he beat legendary Charley Burley (52-6-1) in back-to-back fights. Among other subsequent victims was Lloyd Marshall (59-13-3) twice. Marshall was no slouch, and defeated eight fighters who held World Titles. While he lost to Charles twice, he did KO him in 1943 decking him eight times in the process.
Charles also whipped Oakland Billy Smith twice, but lost to hard punching Elmer"Kid Violent" Ray in 1947 in a truly terrible decisions. Ring Magazine said Charles "…was the faster, the better boxer, and the sharper hitter." (The Ring, October 1947, page 42).
In 1948, The Cobra knocked out Sam Baroudi and avenged his "defeat" to Ray by icing him in Chicago. Baroudi died from injuries sustained in his bout with Charles at the Chicago Sadium. Many savvy boxing observers later thought that the devastated Charles had become overly cautious afterwards– even to the point of trying not to hurt his opponents.Where previously, the slick Cobra was a ultra-dangerous fighting machine who had a complete tool chest of skills, he now appeared to have lost much of his venom and desire.
Toward his career end, he lost seven of his last nine bouts, but still fought top opposition including Harry "Kid" Matthews (88-7-6), Donnie Fleeman (24-2), and Pat McMurtry (20-0-1). Like many greats who hang on too long, he faded into obscurity, especially after his last draining fight against Marciano. And from 1955 until his retirement in 1959, he fought twenty four times, winning only ten which, of course, diluted his legacy insofar as his record was concerned, but nothing can ever dilute the following encapsulation:
Rocky Marciano (twice) – IBHF/WBHF
Joe Louis – IBHF.WBHF
Jersey Joe Walcott (four times) IBHF/WBHF
Archie Moore (thrice) IBHF/WBHF
Rex Layne (thrice)
Joe Maxim (five times) IBHF/WBHF
Jimmy Bivins (four times) IBHF/WBHF
Charley Burley (twice) IBHF/WBHF
Lloyd Marshall (thrice) WBHF
Gus Lesnevich WBHF
Ken Overlin (twice)
Elmer Ray (twice)
Harold Johnson IBHF/WBHF
Bob Satterfield
Many lesser known but highly skilled fighters who did their work during this period faced racial barriers in boxing, and some, like Marshall, peaked while the titles were frozen during World War Two. Still, names like Moore, Burley and Bivins are mentioned in conversations reserved only for the legendary, and when you add Marciano, Walcott, and Joe Louis into the mix, well, maybe "legendary" becomes "immortal."
Hall of Fame
Ezzard Mack Charles died in 1975 from (ALS) also known as Lou Gerhig's Disease at 53, In1976, Cincinnati honored him by changing the name of Lincoln Park Drive to Ezzard Charles Drive. This was the street of his residence during the height of his career. He was elected to the International Boxing Hall of Fame in 1990 and his enshrinee page states, in part:
"After military service during World War II, Charles defeated Hall-of-Famer Archie Moore and avenged losses to Lloyd Marshall and Jimmy Bivins to earn a No. 2 ranking at light heavyweight in 1946. He fought five light heavyweight champions, beating four of them, but never challenged for the light heavyweight crown.
"Charles finally won the vacant NBA heavyweight title by defeating Jersey Joe Walcott in 1949. He earned worldwide recognition as heavyweight king the next year by decisioning an aged Joe Louis. After three successful defenses of the undisputed crown, he lost the title in a third battle with Walcott.
"After Walcott lost to Rocky Marciano, Charles challenged the Rock in two unforgettable fights. The first time Marciano retained the title on a close decision and, two months later, stopped Charles in the eighth round of a fight that was nearly stopped because Marciano's nose was split open."
Charles was inducted into the World Boxing Hall of Fame in 1983.
The Cincinnati Cobra was indeed a very tough customer; maybe the toughest ever. While he was too early for television to fully depict his greatness, this noble fighting machine made enough appearances in Chicago for me to know what he was all about.
Watch for the author's new book, Reelin' in the Years: Boxing and More" due out in October.