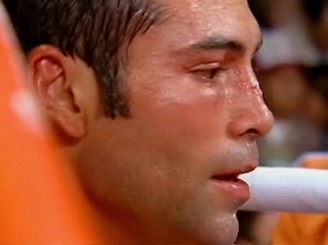 By Robert Jackson: On December 6, 2008 former WBO middleweight champion Oscar De La Hoya is scheduled to face current WBC lightweight champion Manny Pacquiao in a matchup that is "said" to be Oscar's last fight before retiring from the ring. Once Oscar conceded to a 67/33 split it was just a matter of time before he caved in to a 65/35 deal to make the fight with Filipino ICON Manny Pacquiao.
Oscar had made up his mind that Pacquiao was who he was going to fight and nothing could change that. The Sergio Mora and Paul Williams references were just psychological ploys to get Pacman to abandon his 60/40 stance, Oscar was never going to fight Williams and risk serious injury while a Mora fight would've generated underwhelming interest. I believe 65/35 is what Pacquiao wanted all along, having never fought as a 147lber how was he ever going to get a 60/40 split?
But maybe if Pacman would've held out a little bit longer he would have gotten his 60/40 deal. All of the Mayweather hater's out there should relish the fact that Pacquiao was able to out negotiate "Money May" and could possibly take home a few more dollars than Mayweather was able to get GBP to cough up.
As far as the fight is concerned, even though Pacman walks around at 145lbs he's never fought at that weight and who knows whether his punching power will transfer effectively to the 147lb weight class?
On the other hand Oscar struggled to make the 150lb catch-weight for his fight against Stevie Forbes, who knows if Oscar can even make the 147lb weight? Will Pacman have the stamina with an additional 12 pounds to put forth the workrate that he's known for? The additional weight could also affect Pacquiao's speed. Will the "Golden Boy" be seriously drained by making the 147lb limit? Coupled with Oscar's traditional late rounds "fade" the weight loss could be double trouble for DeLaHoya. Another condition that Pacman seems to have won is using 8oz gloves (instead of the 10oz gloves) which Team Pacquiao requested and was accepted by GBP and the NSAC, don't know whether this is a blessing or a curse for Pacman? Pacman is VERY hittable and though Oscar has lost a step or two his chin is still solid. All things considered with the weight gain of one fighter and the weight loss of another this fight 'on paper' may turn out to be a pretty fair fight and a good one on fight nite. In my experience it's harder to lose weight than it is to gain weight.
Pacman's boxing Coach Freddie Roach says he knows how and will teach Pacquiao how to beat Oscar and was the main lobbyer for this fight to be made, Roach has even said he will work for free in Pacman's corner. Something should be forthcoming from Oscar's trainer Floyd Mayweather Sr and I suspect that whatever he says will be hilarious. Roach and Pacquiao are both saying that he will knock Oscar out, and Oscar's is ripe for the taking, I just don't see the undersized WBC lightweight champion being the guy who does it, but then I was the guy who said that Diaz was too big and strong for Pacquiao, how wrong was I?
Was it PT Barnum Circus Sideshow proprietor and showman who said that "There's a sucker born every minute"? Well contrary to the disdain and negative press surrounding the making of this fight, many of us will tune in on fight nite to observe this sideshow while cheering on our chosen hero. I also expect that the PPV buys for this fight may rival or surpass the LARGEST PPV show in boxing history of May 2007.