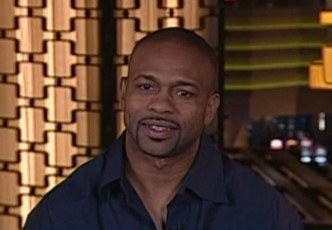 This weeks 'Left-Hook Lounge' installment takes us on a different type of journey. Not only do the usual suspects – De La Hoya, Pacquiao, Pavlik, and Roy Jones Jr. – make the list, but as the presidential elections heat up, one fan dared ask that question. Yeah, that question! So with no need to set the table, we jump right in the mix with a question from Delray Beach, Florida, where a fight fan asked the following:
Pedro Gutierrez (Delray Beach, Fl): I read your 'open letter' to Oscar De La Hoya last week and I wanted to know, if Oscar does in fact get the fight against Pacquiao, and actually lose it, in your mind does he go down as one of the greatest big-name flops in the history of the sport?
Vivek W. (ESB): I'll start by saying that in a sport that contains dedicated fans globally, this definitely isn't a question to be answered by one man, however, in my humble opinion, we have to always be mindful of the stats because as we all know, statistics don't lie. Relative to Oscar and his career, true enough, his statistics tell me that on 39 separate nights he was the better man. They also tell me that on the only 5 nights that he faced the highest echelon of talent that the sport had to offer whom were also in their prime, he came up short. When you consider those two points, the proverbial 'pendulum' swings from high acclaim to low with shame. Somewhere, located in the middle grounds between those two stats, you have to realize the we're talking about an Olympian, a future Hall of Famer, and one of the biggest names to grace the sport. I mention so many contrasting and supporting views because there's compelling arguments for both perspectives. To put it bluntly, I think Oscar will always be viewed as one of the perennial names in the sport, but his recent actions outside of the ring have led some to calculate and the 'totals' don't seem to add up. Based on the numerous disgruntled emails I've received from fans around the globe relative to Oscar and his latest antics, I think it's very clear that a strong contingent of fight fans will definitely find him to be perhaps the biggest name in the sport to demonstrate such low returns if in fact he has gone through all of this drama in the build up to a Pacquiao fight, and he actually loses to the 135 lb'er. We're not talking about some prospect that was highly touted and subsequently came up short. If we consider his Olympic history and his past as part of the positive, we have to factor it in with the negative; As in the fact that he was actually a solid fighter with a huge plethora of skills that simply didn't get the job done when the spotlight flicked on. But that's my opinion. I'm sure I'll hear yours soon.
Dave Carrigan (Coral Gables, Fl): John McCain is a huge sports fan and has a strong background in particular in boxing reform. Does that in any way influence your thoughts about the upcoming elections at all?
Vivek W. (ESB): This is a question that most would stay away from, but being a guy who was taught to educate himself enough to give a credible opinion on any matter, this is a topic that has reached a time in history where I feel compelled to address it. Allow me to take a scenic route before I ultimately answer your question. I'll start by saying that my vision of Presidency probably doesn't reflect that of many others. As a former U.S. Marine as well as a former corporate employer for one of the largest banks in the world, I learned the true importance of management skills, and the fact that no matter how great a leader is, if he doesn't have the right people in place to execute the given missions, it'll be a loss battle in the end. Many people are so caught up into the human nature of life that they don't understand that the role of a President is much bigger and goes beyond one who bares the proverbial "I'm the man" mentality that most politicians seem to have. Not only that, but to me, that totally undercuts the purpose of the Presidential role itself, which I think calls for a great delegator who has employed the right people in the right places to perform the right jobs. In other words, I see the VP and cabinet serving under the President as being equally important because they are the ground troops that 'move' the operation. For example, when Bush (Dubya) was elected in the first term, his cabinet had highly notables and it was very diverse which helped. African Americans (Rice/Powell), Latino's (Martinez), Asians (Mineta), etc. And that supporting cast led me to overlook the election drama and ultimately support the Republican Party, despite the fact that I wasn't Republican. That being said, I am aware that McCain boxed in the U.S. Naval Academy, has attempted to reform the sport, and grew up idolizing 'Sugar' Ray Robinson, but having those parallels doesn't quite give me enough foundation to base such an important position on. After 8 years of a tumultuous economy that has seen the cost of living go up and job opportunities go down, I think it's safe to say that the vision I saw has been replaced by a reality. The reality that shows us all the lives lost in a war that probably never should have been started. The reality that shows us gas prices that gave oil companies record profits, while those who have to pay for those services continue to take record losses. The reality of the American dream of owning a home suddenly becoming an American nightmare, and so forth. I can relate to McCain's approach and for lack of better words, his 'maverick-isms', but where I think it becomes an issue is that globally, the U.S. is unfortunately in a place in time where we're seen to most as a great land that employs the role of the illegitimate enforcers way too often. I think we have much too big of a mess in our own backyard to continue to quickly engage in every dust-up around the corner. Therefore I think Obama's diplomatic presence and softer spirit, along with Biden playing the role of the 'watchdog' would make for a great ticket. For those that haven't placed their faith in Obama, I guess my point is that you don't necessarily have to. He's merely an aggregate of the whole. In other words, he's a big, yet in many ways very minimal piece of the Democratic tread we all need to hit the pavement running come next January. Some may argue that he's not proven, however, my response would be to take a look at the man leaving the office who supposedly was, and then ask yourself how that experiment worked out? I think with Hillary Clinton and many other greats playing key roles in an Obama/Biden cabinet, this country, as well as the perception of it around the globe will evolve back to the land we once made it. Now that's a change I can believe in!
Shawn Santos (Atlanta, Ga): Paul Williams has recently been discussed as a possible opponent for Oscar De La Hoya. What are the odds of this fight happening?
Vivek W. (ESB): I think the chances of this fight happening are slim to none. Based on the way things appear, many believe that Oscar is currently dodging Margarito, so if this is true, there's no way to logically see him moving forward with a match against the only guy to beat him (Margarito) in recent times. This would be an absolute horrible matchup for Oscar. Williams has a very high work rate, and is a very active fighter. Neither in which ODH is. The end result on the score cards would be catastrophic. To answer your questions directly, NO! There's no chance this fight happens, in my observation.
Marc L. (Tampa, Fl): Which boxing trainer currently serving in the sport do you find to be the best?
Vivek W. (ESB): I think it's a bit unfair to try to narrow this down to one trainer because there are multiple that have had great success, but I think when it all boils down, there are 3 that get my immediate attention. I think that Freddie Roach has done a great job giving his fighters the tools to win. There have been a few occasions where he came up short, but overall, his strategies typically work and if the fighter is effective enough to carry them out, he usually produces victories. I think Floyd Mayweather Sr. is a very talented trainer. With Mayweather Sr., you're getting an overall lesson. He's giving you offense, sound defensive strategy, and to a degree, you're getting a certain ring intelligence as well. Roger Mayweather Jr. fits in this category also, but it's a bit hard to list him because the only major fighter under his tutelage is the retired Floyd Mayweather Jr. The thing that I like the most about the Mayweather trainers is that they not only equip the fighters fundamentally, but I think they also give their fighters a certain mental edge with all of the venom the spew about how great their fighters are. Let's face it, we all get tired of hearing them flap off, but the fighters they put in the ring have a cockiness that translates to success. It's almost like they prepare these guys to think that they are indeed the greatest to ever lace a pair up. There are others out there like Emanuel Stewart who have been successful for years, but I find it a bit hard to put him up top categorically considering the fact that many of his fighters for some reason have still seemed a bit technically flawed. Kermit Cintron, Wladimir Klitschko, and Jermain Taylor are all great Champions who have an abundance of talent, yet still seem to show visual effects of being flawed fighters at various points of each fight we see them in. I could be wrong, but either they are all somewhat fundamentally flawed, or Stewart has a penchant for selecting fighters who seem to throw everything he taught them out of the window when they find themselves in the ring against an opponent who comes to fight. Once again, there are many great trainers out there, but these 3 I think have shown me the most based on the results of their fighters.
Rick Bates (Houston, Tx): If Pavlik and Jones are successful in their upcoming fights, do you see the possibility of them ultimately facing one another?
Vivek W. (ESB): I don't think there's a chance that these two face each other but stranger things have happened. Neither is one to run from a challenge, but I just think that Jones will definitely follow his thoughts and try to conquer a very lackluster Heavyweight division for a second time. It's unprecedented, and it would gain him more acclaim, potentially with lower risk. If he is able to successfully defeat Calzaghe, I think Jones Jr.'s confidence would soar like we haven't seen it in years. Who knows? Maybe that's what he needs, but for the record, I don't see him avoiding his plans to go back to the Heavyweight division if Pavlik is very successful against Hopkins. At least that's my gut feeling. I could be wrong, and if Jones is lucky enough to land a great victory against Calzaghe, I think that he could very well take a sniff at Pavlik. It's far too early to really say, but if it does materialize, I think it could be interesting. Pavlik has a great work rate and power. Jones has great skill and as the bigger man, possibly more power. It would be interesting. Guess we'll have to wait and see.
(Got Questions or Feedback?: Contact ESB's Vivek Wallace at vivexemail@yahoo.com, 954-292-7346, or show some love at www.myspace.com/anonymouslyinvolved)