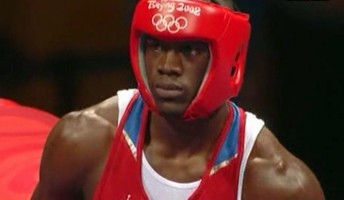 by James Slater: In holding the distinction of being the only U.S boxer from this year's 26.08.08 – Olympics to capture a medal – any medal – heavyweight Deontay Wilder of Tuscaloosa, Alabama must be feeling quite special right about now. In winning a bronze medal in the 201 pound category, the 22-year-old saved his country from the embarrassment of coming home from Beijing without a single medal in boxing.
Now, having proven his talent and skill, the question will be asked; can Wilder become a pro heavyweight we will one day be very excited about? Yes, it's still embryonic days at the moment, and Wilder hasn't even announced a pro career yet. But surely he will do so soon. The heavyweight division is crying out for a new star hailing for the United States, and if there's any chance Wilder may be it he would be a fool not to go for it in the paid ranks as soon as he can.
Having said that, there is a chance Wilder may follow in the footsteps of Evander Holyfield, and box as a cruiserweight. "The Real Deal" also captured 'only' a bronze when he represented his country at the 1984 games – and down at light-heavyweight at that. Disappointed at the time to have been forced to settle for bronze (we all know what happened), Holyfield went on to become a true great at both cruiser and heavyweight as a pro. Sure, Wilder will have to go some to even come close to Holy's considerable achievements, but he certainly has a role model to look up to should he need one.
I do feel the heavyweight division is where Wilder will head to as soon as he turns pro, however. Standing an impressive 6'7″ and possessing a powerful right hand, the heavyweight division seems to be his natural calling. He can bulk up from the approx 200 pounds he weighs now, and in time he may become the man to watch in boxing's biggest weight class. Sporting a good amateur record of 23-4, in which he was only stopped once, the easygoing Wilder clearly has all the tools needed to be able to box and fight well. Along with the Olympic medal he's just captured, Wilder has also won The National Golden Gloves and The U.S Championships at 201 pounds. Having only started boxing in late 2005, the could be future star has shown he is a quick learner/developer.
Who knows, Deontay Wilder just might be a future champion of the professional ranks in a few years time!