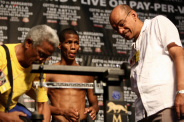 By Jaime Castro-Núñez – Photos: Marco Pérez: Walking his pupil into the ring, he had the confidence typical of people who have lived their lives. His footsteps were firm, his glance secure, his thoughts crystal clear and his ears seemed not to listen to the much-excited Mexican crowd chanting "Seeeguuura, Seeeguuura, Seeeguuura." The kid behind him, on the contrary, was still amazed by the casinos, lights and gamblers that have made of Las Vegas one of the most exciting cities on earth. It was the time of the truth for César Canchila, a 26-year-old warrior labeled as "unknown-quality fighter" by boxing erudites. The reason for such scornful adjective was quite simple: nobody outside his native Colombia had seen him ever. In fact, it was his first time overseas. And there he was, at the MGM, on PPV, living the dream in front of a crowd waiting for Cotto-Margarito "¡La Batalla!."
His mentor, a sixty-two-year-old trainer understood the situation. Life had taught him enough to envision the outcome. Something needed to be done "right here, right now," he thought. His skinny pupil was in awe, perhaps intimidated by the spectators who kept chanting "Seeeguuura, Seeeguuura, Seeeguuura." The game ahead was a mental one, a matter of eliminating the stupefaction feeling. Not only he knew his protégé, but also the opponent, an undefeated, hard-hitting boxer that could be either outboxed or outpowered by his boy. All what he needed to do, he believed, was to clear up his pupil's mind. That specific moment was the beginning of the end of a trip that almost did not happen. After all what had occurred during the previous days, Canchila was lucky enough to be walking into the ring to face WBA No.1-ranked, topdog, super-archi-mega-ultra favorite Giovanni Segura for the WBA Light Flyweight Interim title.
How can we explain Giovanni Segura's six-minute dominance and César Canchila's monologue from round three to the end of the fight? Let's listen to Orlando Pineda, the person who fought the mental war, the paternal trainer that said the appropriate words at the right moment, the gray-haired man who gave confidence back to his kid, in a nutshell, the wise man behind César Canchila's unquestionable victory over tough Giovanni Segura. Here is the odyssey, only for ESB readers!
Orlando Pineda: In order to understand Segura's first-round dominance and the knockdown in the second, it's necessary to know certain things. César is the head of a family integrated by his mom, his stepfather, and three siblings, plus his wife and his own child. His family lives in the pueblo of Cereté, but Billy Chams relocated him to Barranquilla. Weeks before the fight his son got sick and he'd to manage the situation by phone, using friends, thus making it difficult to focus. Ten days before traveling I asked: "Do you have all your documents ready?" He replied "yes, profe Apocope of the Spanish word "profesor," which means professor everything is fine." The day we flew to Vegas, while going to Barranquilla's airport, I asked again: "Did you check your passport?" "Yes, I have it with me". It was around 9:00 AM and we had to be there at eleven. The team consisted of four people, Sergio Chams, Alberto Agámez, César and I. When we reached the airline's counter, the first passport we showed was César's. To our surprise, we discovered that the passport's first page was glued to the previous one. The representative instructed us to go to the DAS office Colombian Secret Service because they know how to separate the pages without damaging the document. There is a small office inside the airport, so they did their job very fast. When they unglued the pages, they realized it had expired thirty days earlier.
I said to myself, this fight is not gonna happen. This kid won't fight for a championship ever. Look, César was supposed to fight a Filipino guy at the beginning of the year and it didn't happen, then we agreed to fight Iván Calderón, but at the last moment he decided to fight Cazares. I said Canchila is not gonna fight, he's absolutely "salao" "the worst form of bad luck" Under that stress, Sergio Chams said "let's take it easy and be smart here." We talked to the person in charge of the flight, explained the situation and she gave us a 45-minute extension. We had to get him a new passport in less than an hour! Alberto Agámez, Sergio Chams and César went to the Passport Center in Downtown Barranquilla and I remained at the airport. They returned with the new document only five minutes before the departure!
Jaime Castro-Núñez: What a drama…
Orlando Pineda: Drama? You haven't heard anything yet! Once in the aircraft, I told Canchila "man, what has happened is a good sign, you're gonna be champion of the world." Remember, that was the second time he flew. We're in the middle of a storm, the aircraft was instable. He was scared! At that moment I knew César had a lot of things going on: the illness of his son, lack of money, fights that never happened, family inconveniences and the whole passport tale. There was a lot of pressure on him. Anyways, the flight continued and we reached Miami. You know Miami's airport, right? That thing is bigger than his hometown! He was amazed, looking here, there, over there. Chams, Agámez and I were talking, but after a while he realized César wasn't with us. We wondered where he was. What had happened? Simple! He was in such awe that he got lost. We found him with a police officer. Thanks God the officer was Puerto Rican, so we explained who César Canchila was and the purpose of the trip. It came to happen that the cop loved boxing "coño, coño, are you serious? Are you having a championship match?" He himself was a huge follower of Miguel Cotto. He let us go and we took the next flight.
Orlando Pineda, the wise man behind César Canchila
JCN: To Vegas?
OP: Yes! It was another shocking experience for him. Everything caused him admiration: hotels, lights, streets, casinos. I told Sergio, "this is the first time this kid sees all these things, it must be shocking." He remained like that for three days, amazed, afraid of moving. Fortunately he's a smart person and little by little he adjusted himself. The day of the press conference, Canchila told Segura: "I'm going to defeat you. You won't defeat me." Segura, of course, didn't like that, so he replied: "Look, when you say something to a boxer, look directly at his face, don't look around. Don't do that! Hear what I've to tell you, you're gonna fight me, you're gonna be in front of me and am gonna hit you." That was a crazy afternoon! Later that day he said: "They want me to be here, there, sign this paper, man, I've signed so many papers in just one day, I'm stressed out!"
JCN: I guess all that affected his performance…
OP: Exactly! Remember his son was sick, then the passport story, don't forget he got lost in Miami and in Vegas he was both amazed and afraid. Before the fight he was tranquil, but walking into the ring he got somehow intimidated by the public. He wasn't there the first two rounds, he wasn't focused, he was still in shock. The knockdown came as a result of all that. He gained confidence as the fight developed. My job in the corner consisted essentially on giving not strategic orientations, but words of encouragement. César needed to calm down, to find mental peace, to concentrate, so he could be aware of what was happening. I told him he had taken Segura's best punches, that he had assimilated the knockdown very well.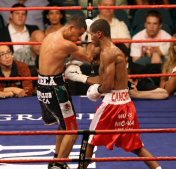 JCN: What did you tell him after the knockdown?
OP: There is a funny thing about that. Before the fight Segura said to Bob Arum something like "Where do you want me to leave this guy knocked out?" He was overconfident. When César returned to the corner I tried to calm him down. I know him very well and I knew he was fine. I instructed him to close his arms because he was leaving himself unprotected when attacking. "Move up your left because Segura is connecting with the right, jab him, don't back pedal, move to the sides, jab and move to the sides, don't step back because he advances. When going to the sides attack with the right and wait for him. For the third round he baits him, throws the right and then the left, one-two, one-two; that demolished the rival. From that point on, Segura lost his confidence, it was Canchila's monologue. He said he was pretty comfortable. I replied: "Third round was yours, you won it and I want you to keep fighting the same way."
JCN: Everybody noticed the change…
OP: Yes, because it's at that moment when César is aware of the fight and relaxes. We had seen Giovanni Segura's tapes and I knew César was going to give him a lesson. When I learned that Segura fought Carlos Támara I talked to Tony González, who is Támara's manager, and he told me "Segura hits hard, but he won as a result of a home-town decision. He didn't do anything to Támara and Támara hit him everywhere." González asked: "How is you kid?" I told him "My boy jabs and hits like a mule." He replied: "If your kid is good at that order him to jab and move to the sides, that will be enough." In the fourth round César connected a beautiful uppercut that stopped Segura. He was hurt by that upper. I ordered "hit his body, hit his body, throw the jab, then straight right. When he jabs, you step back, straight right, move to the sides and hit his body." At the end of the sixth, he was in total control, mentally, physically, and technically. Segura was so frustrate that he started to talk "fight, fight, come here, fight me," but his eye was closing up. Three rounds before the end I explained: "This guy is done, doesn't have any energy to knock you out, you're in better shape, he's exhausted, three more rounds and the belt is yours" and from that point I was like, two more rounds, one more, the last one. My last instructions were: "You're gonna hear what I'll tell you, you just box. Am gonna shout the time." When I screamed "two minutes left!," he started to walk, "one minute left!," his face changed, "ten seconds, don't do anything, walk away!," he knew the belt belonged to him.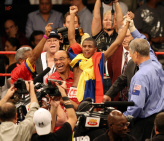 JCN: Profe, César Canchila is your world champion number twelve. What's next for him?
OP: The situation is pretty clear for the team. César is an interim champion, so he's to fight Asloum either in France or in the USA. He's an optional fight, but the second must be against Asloum, unless he doesn't want. If Asloum refuses, César will be declared champion. So the first thing is to fight and defeat the French. César understands that he has to keep the belt for a long time. I've reminded him that he only has financial problems and that they will be solved by keeping the belt. He's very mature and has assumed the championship with responsibility. He's been repeating to himself: "This belt must last, it must last" meaning he's to train and fight as much as possible because payments in light weights are very low.
JCN: Will he last?
OP: No doubt!