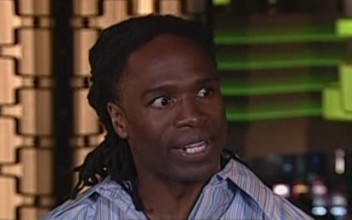 25.08.08 – by James Slater – It seems Chris Byrd does not know how to quit. It seems, too, as though he has a problem dealing with reality. A great guy, no-one wants to see the former heavyweight champ beaten up or seriously hurt. But this is exactly what happened to the 38-year-old in his last fight.
Stopped, comprehensively beaten and forced to soak up punishment in a fight that was hard to watch against Shaun George back in May, it appeared Byrd would have no option but to retire for good afterwards. Indeed, his wife went as far as saying she'd demand her husband quit after the 9th round stoppage loss in which he broke a bone and tore muscles in his left shoulder. But now, according to a news article in The Flint Journal, Tracy Byrd has decided not to stand in her husband's way with regards to his continuing his boxing career. Chris reportedly prayed for guidance and then convinced his wife he was doing the right thing by choosing to carry on.
"He's never made a bad decision for our family," Mrs. Byrd said. "If he really feels this is what the Lord wants him to do, then who am I to stand in the way? I tried to tell him that God was wrong, but it didn't go over so well."
And so it seems the ageing southpaw will climb back into the ring later this year. Chris also spoke to The Flint Journal.
"I still have goals," the fighter who has won only one of his last four bouts said. "I want to be the third person in history to go from heavyweight to light-heavyweight and win the title. But I have to change my mentality. Everything's coming at me at warp speed. These guys [light-heavyweights] are quick and they can punch pretty good."
Also in the article it was reported how Byrd hopes to be cleared for sparring in around three weeks time and that he is planning on fighting again in the month of November. Bad news? Shocking news? Sad news? This writer, for what it's worth, answers yes to all three questions. How on earth does Byrd, an intelligent person, honestly feel he can win a version of the light-heavyweight title? Beat Antonio Tarver, Chad Dawson, Joe Calzaghe, Bernard Hopkins or any of the other top guys currently inhabiting the 175-pound division?
Maybe the Chris Byrd of a few years ago, had he dropped down to light-heavyweight then, would have had a chance against the elite at 175. But, sadly, that version of Chris Byrd is no more. It is to be hoped he does not get himself irreparably harmed in his foolish quest.