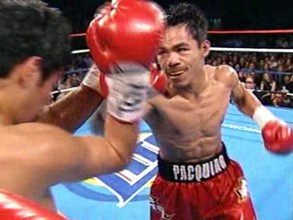 25.08.08 – By Michael Herron: It seems everyone has bought into Larry Merchant and HBO's insistence that Pacquiao is the best pound for pound (P4P) fighter in boxing. Yes, Pac is an exciting fighter but are his accomplishments and performances in the ring really up to P4P standards? His claim to the top spot, in my opinion, is largely based on his wins over Erik Morales and Marco Antonio Barrera. Truth is, only his first fight with Barrera is representative of a top P4P fighter performance; which I will describe as beating the best while they are the best. Let's not forget he lost his first fight with Morales and only beat him after he lost to Raheem. By the time of the rematch Morales was a shot fighter, and the third fight was just unnecessary. In addition, let me add that the Barrera rematch was also unnecessary as Barrera at that time was also far past his prime.
Looking closer at Pacquiao it seems that whenever he has a not so great performance in the ring, his next fight is usually against an opponent that will make him look good.. After his draw with Marquez, he went and beat up on Fahsan 3K battery; after his loss to Morales, he was matched against an average Hector Velasquez; and finally, after his controversial rematch with Marquez, he faced a mild threat against David Diaz. The point of the soft touches is to keep our friend Larry Merchant, HBO, and Pacquiao's voracious fan base convinced that "Pacman" is the best.
The biggest problem is that a top pound for pound fighter should be able to distinguish himself as the best fighter in and around his natural weight class. After two controversial fights with Juan Manuel Marquez, Pacquiao has not proven that he is the better fighter. Many fans, scribes, and boxing analysis agree that Marquez should be 2-0 against Pacquiao. This, in my opinion, is a glaring inconsistency.
The most recent pound for pound champion, Floyd Mayweather, Jr. has often been criticized for his performance in his first fight with Castillo. To solidify his status, however, he immediately rematches Castillo and beat him convincingly. Pacquiao, on the other hand, seems to get a free pass from critics even though he has not beaten Marquez convincingly! So the question is, why is/was Mayweather's first fight with Castillo constantly brought up in regards to casting doubt toward his pound for pound standings, yet these same critics are willing to disregard Pacquiao's poor outings versus Marquez?
And finally in this pound for pound argument, how can the boxing world ignore the fact that Pacquiao has feasted on Mexican fighters who by culture and tradition tend to fight in the same style? Pacquiao, it must be stated, has beaten no top American fighters and has squared off with no pure boxers; in particular, "Black" fighters–Latin, African, or American. Names that immediately come to mind are Joan Guzman, Nate Campbell, Joel Casamayor, Zahir Raheem, and even Floyd Mayweather, Jr.
So to end this argument, I'll give Pacquiao credit as the pound for pound most exciting fighter in boxing, but definitely not the pound for pound best fighter. Now I wouldn't say Marquez is the best pound for pound but as far as skills are concerned he should be rated higher than Pacquiao; and if he beats Casamayor, it will confirm it for me. My suggestion is that the top pound for pound spot remain vacant unless a true pound for pound fighter emerges or Floyd Mayweather, Jr. returns triumphantly to the sport.
Send comments and questions to mighty_mike7@att.net