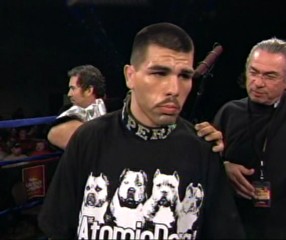 25.08.08 – Gil Aviles: These two prospects/contenders have been making noise in the154 pound division for the past year. Both have aggressive styles and devastating offensive arsenals and they tend to blow away their opposition in impressive fashion. It seems as though these young lions are destined to meet at some point, if they continue to win. When and if it this fight does happen boxing fans will be in for a real treat.
James Kirkland with a record of 22 (19) – 0 (0) – 0 has a few more fights than Angulo, whose record is 13 (10) – 0 (0) – 0. Yet, Angulo's has fought the better level of competition. For instance Kirkland's next scheduled opponent Ricardo Cortes (9/05/2008 on ESPN2), was destroyed in one round by Angulo earlier this year. Let's see what Kirkland can do against him, I am sure that he will try to equal that feat. Angulo is scheduled to take on Andrey Tsurkan (10/04/2008) a very tough Ukrainian fighter from the my hometown, Bronx, New York. Tsurkan is coming off of a very good win over Jesse Feliciano another very tough fighter that gave Kermit Cintron fits last year before he was knocked out by Kermit in the the 10th. The point here is that Alfredo's team seems to be bringing him along at a brisk pace. While James is being brought along much more patiently, is there a reason for this?
Ann Wolf, Kirkland's trainer, was a decorated fighter herself. She labels herself an old school trainer and much fuss has been made about her unusual training methods. Things like avoiding punches for rounds at a time, while not being able to use his hands to defend himself. Dropping to the floor, getting back up and throwing punches in bunches for thirty seconds then resting for a few more seconds and doing it all over again. Another routine in his regimen includes a bunch of people literally tackling James and grabing him football style in an attempt to bring him down. The idea behind this type of training is that there is nothing that can happen in the fight that he has not already seen in training, or putting him through hell in training and the real fight should be a piece of cake.
What adds to this drama is that they can both be hit and hurt. We have seen Kirkland get knocked down on numerous occasions only to get up knock his opponent out soon after. Angulo was visibly hurt in his fight with Gutierrez, he also managed to weather the storm and come back and Knockout his opponent a few rounds later. This potential match up could come down to who lands the proverbial "Bomb" first.
There are plenty of other note worthy fighters in the division and it will be fun to see how it all plays out. I expect them both to crack the top ten in the ranks over the next year. Their fan friendly styles should insure that their up coming fights are aired on live television, unless they have a huge miss step along the way. Fans will definitely get a chance to get acquainted with these guys in the next few months, and so their names will start to garner more recognition from casual viewers..
In a division that was turned on its head by Sergio Mora's win over Vernon Forrest, Kirkland and Angulo along with Joel Julio represent the future. Older fighters like Cory Spinks, Verno Phillips and Daniel Santos would be hard pressed to sign up for a fight with one of these guys. The winner of the Alex Bunema vs. Sergio Martinez (10/04/2008) fight would be a good step up fight for either of these guys. Sergio Mora and Vernon For rest my be to much of a step up but the winner of the rumored fight between Verno Phillips vs. Ronald Hearns son of legend Thomas Hearns, might be another good choice in opponent as these guys continue their quest for a title.
Their management teams will try to avoid a fight between these two until the rewards outweigh the risk and understandably so. A fighter at this stage of his career has to be brought up fairly carefully, if you wish to produce a true star. Let's just hope that they keep up their good work and at some point in the next year or two, we might have a fight of the year candidate on our hands.
Good luck to these two warrior in their respectful careers, great job so far guys!