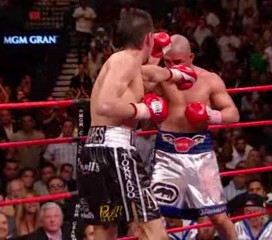 By Taj K. Eubanks – July 28, 2008: Twenty-four hours have passed. Second-guessing abounds. What the boxing world thought it knew, it didn't. Few expected an outcome so improbable, a shining star ground to dust, mere remnants of its whole. Miguel Cotto found himself in too deep against an opponent with nothing to lose and everything to gain. Say what you will, but you didn't see it coming, not like this.
A juggernaut stopped cold only happens in comic book movies or fantastic books written by men free with their pen. Yet the very soul of Las Vegas bore witness to the granite fists of a man in possession of a diamond chin, a man who wrote a new ending to story that seemingly had already been written.
The post-Cotto-Margarito era had been in discussion for quite some time. Would Cotto be Oscar de la Hoya's final dance partner? Or would he face Paul "The Punisher" Williams, the other man deemed to be the in line for the designation as the division's best?
That such forward thinking had occurred was presumptuous at best and disrespectful at worst to Antonio Margarito. Here is a man who, until being dethroned by Paul Williams, was the longest reigning of the recent welterweight champions, successfully defending his WBO strap seven times.
Yet Margarito garnered very little respect in the way of confidence from scribes, odds makers, or fans for that matter. Cotto by unanimous decision or stoppage was the prevailing estimation of the hour. All were wrong.
Now, with the dawn of Margarito's triumph springing forth a new landscape rife with enticing fistic scenarios, comes the critical question: Who's next?
Simple and obvious, the answer lies before us like a fruit yet to be picked. The Paul Williams-Antonio Margarito rematch is without a doubt the only welterweight matchup that matters.
Redemption is magnetic and powerful, and Margarito needs this fight exactly for this reason, as Kermit Cintron needed the second fight with Margarito, to right a wrong. That's what real fighters do. They attempt to scale a mountain that may be insurmountable, bucking a tide that has previously washed them away. As much as a Cotto victory does to heighten Margarito's profile and bolster his respect as an elite fighter, it does not make him the #1 welterweight, not so long as the man who defeated him roams unchecked on the same terrain. Bob Arum knows this, the press realizes this, and even his most ardent fans must admit this.
An Oscar de la Hoya fight is for the money. A Cotto rematch is for naught. The Williams fight is for supremacy