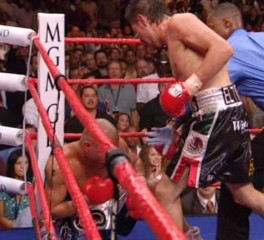 by James Slater: Antonio Margarito just keeps coming and coming in a fight. He's done it many times before, and he did it again last night against the hitherto unbeaten Miguel Cotto. Without question, the Mexican warrior is an unstoppable, never give up, heartbreaker. That's what Margarito does, he breaks fighters' hearts.
Take last night's "Battle," for example. The 30-year-old waded through Cotto's best and most accurately hurtful shots all night practically, only to win in the end. It wasn't one shot that ended Cotto's reign and unbeaten record, it was simply the overall pressure of a fighter who is beginning to look like a true modern day phenomenon. Who else could have overwhelmed an on song Cotto, who was putting on a virtual punch-perfect display for almost half a dozen rounds, the way "Tony" did? Make no mistake, what we had the privilege of witnessing last night in Las Vegas was the sight of a unique fighter doing his thing..
For years ( a losing fight to Paul Williams side – and how good does "The Punisher's" victory over Margarito look now!) the Mexican hard man was avoided. How smart do the sidesteps of men like Floyd Mayweather and Oscar De La Hoya appear to have been in hindsight of what Margarito did last night? In short, what we have with the 30-year-old from Tijuana is a throwback. A tough-as-nails, unbreakable and unyielding mother of a fighter. Willing to take a great fighter's best shots, and doing so without blinking, Margarito is a pugilist who from now on had better get used to being given the plaudits he has long deserved.
"The Most feared man in boxing," they called him – only for some fans to say such a distinction was unworthy, a product of nothing more than hype. Think again. After the minefields Margarito walked through without as much as an uncomfortable look at The MGM Grand, everyone must accept his substance. The question is, is there anyone at 147-pound or thereabouts who can beat him?
The aforementioned "Punisher," Paul Williams, and his fans will no doubt be screaming about last summer's points result that ended in favour of the lanky welter. And rightly so. But has Margarito improved since that loss? Judging by last night's breaking down of the mighty Cotto, it looks like it. And with Williams' alleged problems in getting down to 147 comfortably, who would bet that the current WBO boss would be able to repeat his win? Don't get me wrong, Williams will want the fight, and is probably right now hoping and praying he will get it. But as good as he is, would Williams be capable of dragging himself through the kind of hell 12 rounds against Margarito brings for a second time? Maybe, but I wouldn't bet on it – as much as I like and admire Williams.
What I would bet on is "Tony" making a lot of well deserved money in the coming months. He doesn't figure to lure either Mayweather or De La Hoya into a fight with him, but the man with today's most astonishing chin is a dead cert to take away the heart of any other welterweight who gets in the ring with him.
That's what Margarito does; he takes an opponent's heart. And as long as he continues to do so we boxing fans will be treated to the spectacle of an unassuming, yet supremely gifted warrior going about his business. It's way past time Antonio Margarito became the celebrated combatant we always knew he was.