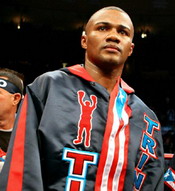 by James Slater – For quite some time now, Felix Trinidad's name has been bandied around as a possible choice for Oscar De La Hoya's very last pro opponent. Oscar, as we know, will box what he says will be his final fight this coming December, and the only question was who would the bout see "The Golden Boy" swapping punches with. All along, this writer ( and without a doubt many other people also) had the feeling it would be Felix Trinidad who got the call. Well, it looks as though this may actually be the case – the fight is up right now on BoxRec, anyway.
In this article, I give my reasons for why a farewell fight against "Tito" makes perfect sense for De La Hoya.
Reason One: A fight with Trinidad gives De La Hoya the opportunity to gain revenge for his first ever loss..
Make no mistake about it, the controversial loss De La Hoya suffered against Trinidad back in 1999 has eaten away at Oscar ever since. He may not have shown it, but this loss, an extremely debatable one at that, has definitely nagged away at "The Golden Boy" like no other. In his mind, and in the minds of many other people, Oscar was robbed in the September '99 fight. If he had not made the decision to coast in the final three rounds of a fight he had in the bag, De La Hoya would certainly have won. Losing for the first time is bad enough; being given that first defeat in a manner that you feel is unfair is even worse. What better way for Oscar to wind up his great career than by extracting long awaited revenge over Felix Trinidad?
Reason Two: This is a fight De La Hoya can win.
Only slightly less importantly, is the fact that this is a winnable fight for De La Hoya. Forget all that talk about Oscar facing Miguel Cotto in his very last bout. That was never going to happen because such a fight would be far, far, far too risky. Why would De La Hoya want to take a fight that would very likely see him lose? No, it makes far more sense for Oscar to box Trinidad, a fighter of a similar vintage to him at age 35, ("Tito" is one month older than De La Hoya) than to jeopardize his career finale against a monster like Cotto.
Reason Three: The fight will still sell, because Trinidad remains a marquee name opponent.
Let's face it, the fans would show up for De La Hoya's very last fight no matter who he were fighting. Going up against Trinidad for a second time, Oscar will be going in with a guy who, like himself, is a true star. As such the fight will likely do huge numbers. And Trinidad, too, is still far from a shot fighter. Way past his best he certainly is, but he at the very least figures to be competitive. To the Puerto Rican's adoring fans, "Tito" will even be seen as the favourite. It's far from a genuine super-fight, but De La Hoya-Trinidad II is both intriguing and marketable.
Reason Four: Everyone loves a sequel!
Their first fight, while a huge occasion and an instant sell-out, may not have been an all-time classic, but it was a good fight nonetheless. Throw in the controversy over who really won, the fact that the rematch will give fans the final opportunity to see De La Hoya (and maybe Trinidad, too) in the ring, and you have a rematch that the fans will pay to see. Will there be a KO this time? Will Trinidad prove to be a fighter who simply has the beating of De La Hoya? Or will Oscar indeed get the revenge he so craves in fight two?
These questions and others will help see to it that the perfect farewell fight for Oscar De La Hoya, as he closes the show on a truly great career, will be one that is attended by as big an audience as possible.