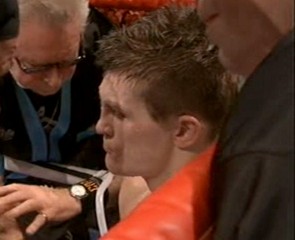 By Frank Gonzalez Jr In 2005, after retiring Kostya Tszyu after 11 rounds, Ricky Hatton was on top of the World. He was at his best. After Tszyu, Hatton fought Carlos Maussa (20-2) and won by TKO in nine. When Ricky Hatton fought Luis Collazo two years ago, he had some difficulties dealing with the technically sound Collazo. It was a close fight in many rounds. The Judges gave it to Hatton unanimously. Arguments could be made that Hatton did beat Collazo. He definitely out-hustled him. That fight was the first time I thought Hatton was past his peak.
After Collazo it was on to Juan Urango, a hot prospect that Hatton beat handily. Then, Hatton scored a TKO win over (by then dishonored) Jose Luis Castillo (failing to make weight vs. Corrales), faded and clearly there just for the payday. Hatton scored a KO 4 victory over Castillo. That was the fight that preceded the preparations for Floyd Mayweather Jr. who in the tenth round, landed a check left hook that saw Ricky lose by TKO..
Three years and six fights later, Hatton has journeyed past the peak of his abilities. Five months have passed since Hatton's devastating first loss and he was back in action on his home turf, to face Juan Lazcano, a lesser decorated, former Lightweight who hadn't fought in 15 months. At 33, Lazcano is a pretty decent fighter who's been around a long time but never did win a major title. It was a confidence builder match. A revival for the Hitman against a veteran who never lived up to his nickname but is a respectable opponent.
*
Hatton vs. Lazcano was a better fight than the match makers intended. Lazcano gave a good account, landed cleaner punches, showed quality defensive skills and if the situation were reversed and Lazcano was the big star, the fight was in Sacramento and the referee was in his pocket, the results of this fight would have reflected that dimension.
Ricky Hatton certainly won this fight in my estimate and did so by constantly pressuring Lazcano, albeit sloppily but winning the most rounds. Hatton was the aggressor most of the fight. Lazcano was mostly on defense but managed to score the kinds of punches that won him four of the twelve rounds on my score card. Also, Lazcano hurt Hatton twice in this fight. Hatton won rounds with batteries of punches but never did hurt Lazcano.
Hatton fought in the over anxious style that made him a big hit and from the cheap seats, it must have looked very impressive. In closer view, Hatton fought wildly and sloppily and though he did score often, it was rare that he scored anything flush.
To his credit, Lazcano wasn't just an "opponent," he fought like a warrior who came to win. He fought an intelligent, strategic fight. He was able to score often on the inside and discovered Hatton easy to find from a boxer vs. brawler point of view. Ultimately, he didn't do enough consistently to win many rounds. It was a steep hill for Lazcano, who was more than just an underdog on foreign soil, facing a former champion with something to prove and a referee that was as pro Hatton as could be possible. The referee, Howard Foster, took directions from Hatton's eyes, as to when to break the clinches and actually saved Hatton from possibly being knocked out in the tenth round by stopping the action to warn Lazcano for a phantom foul so as to give Hatton recovery time. He even instructed Hatton's corner to tie his shoelaces for another 20 seconds to recover.
* *
The first round was close and usually, the favorite gets the benefit of the doubt on "official score cards." I thought Lazcano did the most damage in the first round by landing the cleaner punches, one that drew blood from Hatton's nose. Though Hatton was busier, he was often the lesser effective in boxing terms. Hatton landed lots of grazing shots and excited the crowd.
The second round was also close, with both guys scoring in turns. The round ended with both guys locked in a clinch. That could've gone either way but I gave it to Hatton for being more aggressive.
The third round started with both exchanging punches at center ring, Hatton fell backwards and his glove touched the canvas on what looked like a Lazcano left to the chest. It was ruled a slip. I re-watched it a few times on tape and a Lazcano left to the face preceded the fall. The angle on the replay was Hatton's back and Lazcano's arms covered from view by Hatton's body. Several times, the referee shoved Lazcano back from Hatton, particularly on breaks. Hatton landed a left hook. Lazcano landed a left hook cleanly that rattled Hatton, who clinched. Lazcano attacked the body during inside the clinches. Hatton warned for hitting behind the head. Lazcano landed at a high rate and was the more effective.
The fourth was a sloppy round, with Hatton aggressively attacking, missing a lot. Hatton landed a left and got a left back. Hatton landed a left hook and Lazcano landed four in a row. In the clinch, Lazcano popped Hatton in the face repeatedly with little inside hooks. Hatton pressed Lazcano into the ropes and again, Hatton ran into a shot from Lazcano. Ref warned Lazcano for who knows what this time.
The fifth saw Hatton explode with aggression as he continuously threw punches, many landing and forcing Lazcano backward. A lot of this fight was in a phone booth. Hatton landed a strafing right. Hatton clubbed Lazcano into the ropes. Lazcano fought well off the ropes but was being outworked by Hatton.
In the sixth round, the ref warned Lazcano for something, tapped him twice on the face in doing so. I don't know what he was warning him for and the commentators, Wallace Matthews and Nick Charles didn't seem to know either. Matthews said, "Lazcano's been warned many times…" but for what, he didn't say. Hatton bullied Lazcano, who scored some sneaky shots during the clinches. Hatton kept throwing lots of punches, a few of which landed. They brawled against the ropes and Lazcano landed a left hook right before the bell.
Hatton landed some better punches early in the seventh. Lazcano landed a right upper cut, Hatton kept on coming. Hatton busier, more aggressive, even during clinches. Lazcano landed a combination with fading power. Ref warned Lazcano again, maybe for throwing punches back?
Hatton continued his furious aggression in the eighth, Lazcano clinched, the ref took the cue from Hatton and broke the clinch. Lot of wrestling midway. Hatton took a few shots, one to the body. Hatton was taking a pack of punches from Lazcano. Hatton resets and jumps on Lazcano but was ineffective.
It was more of the same in round nine. Hatton landed but took shots in return often. Lot of clinching and infighting, where both have moments. Hatton looks to referee to break clinches when he wants them broken. Hatton clearly did more and continued to edge Lazcano out in terms of volume.
The tenth was back to clinch and punch boxing. Ref warned Lazcano for something and indicated that a cut over Lazcano's left eye was caused by a punch. Suddenly, a lead right hand by Lazcano dented Hatton's face. Then he landed a second right to the face before Hatton clinched, then went back to hyper aggressive mode. Lazcano landed three left hooks, Hatton tried to hold, ref broke them. Hatton was holding and the ref warned Lazcano and gave Hatton time to recover. The ref pushed Lazcano away from Hatton and told Hatton's corner to tie his shoe lace! The referee earned his keep in this round, saving Hatton from who knows…maybe being knocked out?
Lazcano's corner told him to keep loading up on those shots.
Hatton held almost immediately at the start of the round but landed a nice right that pushed Lazcano back. Hatton regained his momentum in the eleventh, with aggression early but slowed a bit by the midway point. Lazcano fading, took a lot of Hatton's best shots in the eleventh round.
The twelfth was like the eleventh, often times in a phone booth as both guys clinched and punched with their free arm. With both guys tired, it was Hatton who showed better stamina late, chasing Lazcano, who clinched as soon as Hatton got close. Lazcano took a few shots to the face. Hatton landed a nice left hook. Hatton bounced on his feet with 20 seconds to go. Lazcano clinched till the bell. It was a competitive fight but Hatton certainly did more to win.
Father Time winked at 29 year old, Jr. Welterweight, Ricky "The Hitman" Hatton as he smiled to his home town fans, face swollen and bruised after winning a Unanimous Decision over former Lightweight contender opponent, Juan "The Latin Causing Panic" Lazcano. The scores were 120-108, 120-110 and 118-110. I had it 116-112 for Hatton.
Hatton had that ripened look, like the one Arturo Gatti sported after his trilogy with Irish Mickey Ward, as he took the microphone and addressed the fans, thanking them for all their support. It's the look of a fighter on the downward trajectory, just passed the peak point. Unofficially—of course.
According to Oscar De La Hoya, a co-promoter for this event, Hatton has said he wants to fight at least six more times. With careful match making, he might win five out of six. With Hatton's style of fighting, 30 is going to feel like 40 and it's his wild style of slugfest boxing that makes him exciting to watch. Will he do what Arturo Gatti did and morph his style into more of a "boxer"? What we saw Saturday may have been Hatton's last hurrah.
Hatton is now considering promoting fighters and opening a gym of his own. Whatever he does, I thank him for all the great years he's given us and wish him all the best. He certainly has been one of the great action fighters of this era.
* * *
Comments can be emailed to dshark87@hotmail.com