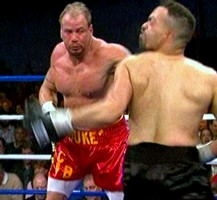 Interview by Shawn M. Murphy: Normally in my "Where Are They Now" column, I interview boxers who are retired and have been away from the game for awhile. Because of the relative inactivity over the past eleven years of Tommy Morrison, I've decided to do a column on a fighter who is currently active. Tommy "The Duke" Morrison is a former WBO and IBC Heavyweight Champion. Morrison began his pro career in 1988. He gained international popularity when Sylvester Stallone cast him as Tommy Gunn in Rocky V. Morrison lost his first bid for a title in 1991 against Ray Mercer. He rebounded and in 1993 beat George Foreman for the WBO title and in 1995 beat Razor Ruddock for the IBC title. His career was derailed by a positive test for HIV in 1996; a test Morrison insists was a false positive. For the next eleven years Morrison was rarely heard of until 1996, when he announced his comeback. He was licensed in February 2007, after a negative HIV test and KO'd John Castle in two rounds. Most recently in February, Morrison beat Matt Weishaar in Leon, Mexico..
(SM) Tommy lets go back to the beginning. How did you first get started in boxing, at what age?
(TM) After arriving in Arkansas in October 1976, my family was invited to attend some stock car races that my Uncle Freddie was participating in. On the trip over it started to rain, and it continued through the night. To make a long story short, the races got cancelled and Freddie remembered that some amateur matches were taking place at the Armory. That night I walked through the door of the building into a completely different world and never looked back.
(SM) You rolled through your first 28 opponents in the early years of your career, most by KO. What was life like in and out of the ring during this period?
(TM) Socially I was in the "Larva" stage, so I didn't venture out much. But several months later things started to turn around in a large way!
(SM) In 1990 Sylvester Stallone cast you in Rocky V. How did that all come about and did it affect your boxing career in anyway?
(TM) Actually, Sly's brother Frank is the one that discovered me. Calls were made, an audition was done and that was basically it, it was done. There was a lot more to it but you can read about it in my book.
(SM) In 1991 you ran into Ray Mercer, your first title shot, and lost by TKO. With all the highs in your life up to that point, how did you cope with your first loss?
(TM) I've has 53 pro fights, only losing three. The fights I've learned the most were always the fights I lost. I was young at the time and already knew that I needed more experience. Remember, I came form the "Tough Man" circuit. The Mercer's, the Lewis's, the Bowe's, they all came from international experience, not T-MO!
(SM) Take me back to 1993 and George Foreman. Was that the proudest moment of your career, winning the WBO title?
(TM) Well, beating a legend is a very good feeling, but internally I was processing the realization that I could compete with anyone.
(SM) A few months later you were upset by Michael Bentt, what happened?
(TM) I just walked into a good punch…shit happens!
(SM) In 1996 before a scheduled fight you were told you tested positive for HIV. What did you try and do to disprove that test?
(TM) At that time there wasn't anything I could do, this was a relatively new subject to the boxing world.
(SM) After this you fell on some hard times. What were those eleven years away from boxing like?
(TM) It was a very dark, soul searching time for me. It took a long while but I'mbeginning to piece it all back together again. It's a good feeling.
(SM) In December 2006 you resurfaced, planning a comeback after testing negative for HIV by the Arizona State Boxing Commission. At this point did you think you were back in boxing for good?
(TM) The first thing you learn in boxing is that there are NO guarantees.
(SM) Along came a figure named Randy Lang, a former agent, who insists you were still HIV positive and had Hepatitis C as well. Who is Lang and why would he have it out for you?
(TM) He was planning his own future around me and my comeback. He was a shark. After he was made and the gig was up, he went crazy in the media. Bottom line, he's just one of many mentally deranged and unstable individuals in this world. What'd ya gonna do?
(SM) Lang insists that a previous blood test submitted to labs in Phoenix and California were not your own samples. Any comments?
(TM) Like I said, he's mentally deranged.
(SM) So where is Tommy Morrison now in terms of a comeback?
(TM) This is going to be an exciting year for me, I'll just leave it at that.
(SM) What if you wouldn't have lost those eleven years in the ring? What would life be like today?
(TM) A slow train wreck.
(SM) Do you keep in touch with any fighters today and how do they support you in your comeback?
(TM) Fighters are fighters. We got each others backs in terms of support. But regarding making friends with other fighters, Johnny Tapia and many others.
(SM) Tommy is there anything else you want to tell the readers out there?
(TM) Just to catch me at www.tommymorrison.net or
Myspace.com/tommythedukemorrison.