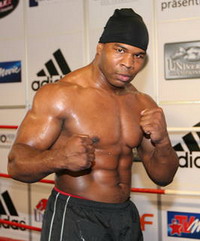 Photos by Eroll Popova / Boxing.de – The "Universum Champions Night" on May 3rd in Stuttgart is loaded with action including the first title defence of local hero Firat Arslan, who will face Darnell Wilson. Darnell 'The Ding-a-ling Man' Wilson (23-6-3, 20 KOs), who brings dynamite in both fists as his 20 KOs in 23 wins will attest, is a favorite of American TV viewers. Arslan is a pressure fighter who never takes a backward step, which sets the stage for nothing less than a collision.
For WBA world champion Firat Arslan (28-3-1 (18)) a dream came true after years of hard work when he dethroned the boxing legend Virgil Hill in November 2007 in Dresden and claimed the WBA belt. The world champion, who comes from the swabian town named Süssen nearby Stuttgart, had to wait for years for this chance to fight for a world title and he is now ready to defend this belt in front of his hometown crowd. In the Austrian ski resort of Sölden Firat Arslan will have a high altitude training camp where he will be trained by his Universum trainer duo Michael Timm and Valentin Silaghi for this upcoming challenge..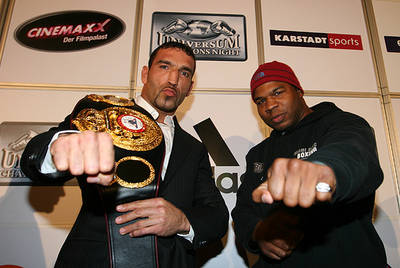 Arslan was in a great mood at the press conference saying "My first title defense is very special. But during my career I have always prepared myself equally intensely and concentrated upon every fight. The preparation with my team in Sölden was great – I feel fitter than in my fight against Virgil Hill. I have a lot of respect for Darnell Wilson. I always want to box the best, and in the cruiserweight division he is the hardest puncher in the world. The fans will want to see this fight! I'm not man of big words – I'll give everything and defeat one of the best of my weight class!"
Cruiserweight title challenger Darnell Wilson: "I prepared in Florida, running on the beach among other things. Firat Arslan is physical and a very strong boxer defensively. In the USA, we know him not only by his victory over ex-world champion Virgil Hill but by his KO victory over Grigory Drozd. Firat is a hard worker. That this fight has come about is a win for all boxing fans. My dream to take the world title will become a reality. I'm ready to go twelve rounds."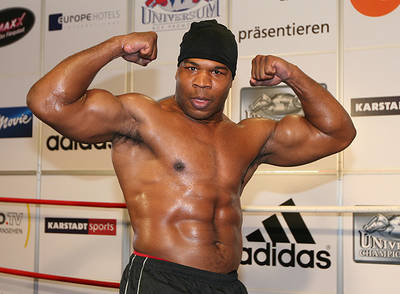 click here for Arslan -Wilson photo gallery
The opponent for the next title defence of WIBF/GBU world champion Alesia Graf (20-1-0 (8)) is the Brazilian Rosillette Dos Santos (10-2-0 (7)) who wants to impress with her great knockout record. Graf makes a quick return to the ring after a superb title defence of her belt against the Israeli Hagar Shmoulefeld Finer last weekend. She dominated the fight and not only demonstrated her excellent skills. The jr. bantamweight championess Graf is certainly looking forward to fight in front of her hometown crowd, where she will be supported by her fans and can show that she is the best in her weight class.
WIBF/GBU junior bantamweight champion Alesia Graf: "Like my last three opponents, the Brazilian Dos Santos comes with a good record to my hometown Stuttgart. But on Saturday, she will take a back seat. I want to satisfy my audience!"
Unbeaten WBO #2 ranked heavyweight Alexander Dimitrenko (27-0, 17 KOs) will take on WBO #7 ranked Derric "The Shaolin Fist" Rossy (18-1, 10 KOs) of Puerto Rico. "Sascha" Dimitrenko is coming off a dramatic TKO over Timo Hoffmann last November in Magdeburg, while Rossy defeated former world champion Ray Mercer in his last bout. The winner of this attractive heavyweight clash will be positioned for a world title challenge.
"I am glad again to be in Stuttgart, where I've had a quarter of my fights. I take Derric Rossy very, very seriously as an opponent and have been sparring with Larry Donald and Fernely Feliz, good sparring partners. With this optimum preparation, I am armed by my trainer Fritz Sdunek for a big fight." a focussed Dimitrenko said at the press conference.
His opponent Derric Rossy: "This is my first time in Europe and in Germany, and I'll meet a fighter who up to now has had a great career. I got my nickanme "The Shaolin Fist" from Asian trainers during the preparation for a fight in China. We're here with the intention to win!"
Another fight of a local favorite will include Asiye Ozlem Sahin (5-0-0 (3)). The junior flyweight from Ludwigsburg will open the night against Nataliya Bermas (0-1-0 (0)) of the Ukraine.
Coming from Venezuela to Stuttgart: Jefferson Montanez (3-0-0 (2)), Juan Ruiz (3-0-0 (2)) and Nehomar Cermeno (14-0-0 (9)). Middlweight Montanez faces the French Karim Reksi Boukeroui (6-7-1 (3)), Ruiz will be in action in an super welterweight bout against Zakaria Attou (1-1-0 (0)) and Cermeno battles the Mexican Marco Antonio Hernandez (13-4-1- (8)) in a bantamweight clash.
Another South American fighter on the undercard is Nilson Julio Tapia (8-1-1 (7)) of Columbia. In a super welterweight bout he challenges Mehdi Azri (12-5-0 (2)) of France in a six rounder.
The boxing fans in Stuttgart will have another exciting "Universum Champions Night" on May 3rd from 6.30 pm at the Hanns-Martin-Schleyer-Halle.
Final tickets for this event are still available at:
Universum-Hotline: +49-40- 69 65 59 59
Easy-Ticket: +49-711-25 55 555
CTS-Eventim Hotline +49-1805 – 570 000 or at all known ticket shops or at www.boxing.de