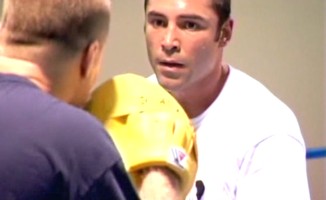 29.04.08 – by James Slater: Some years back (1991, to be exact) when mega-movie star Mickey Rourke decided to embark on a boxing career, an article in a famous boxing magazine stated how the fight offered nothing much more than a chance for the fans' curiosity to be satisfied. Could a regular fighter – one who also had a manual day job – beat up a movie star? Well, it came as no surprise who the majority of the fans wanted to see win – movie star Rourke's opponent, one Steve Powell.
The reason I bring this up (Powell lost, by the way – on points over 4 rounds) is because it seems a whole lot of regular fight fans now look at Oscar De La Hoya in a not altogether different way to how they viewed Rourke. Do the fans these days simply watch an Oscar De La Hoya bout to see if a regular fighter can beat up a mega-millionaire business man who now spends most of his time wearing expensive suits, as opposed to boxing trunks?
There was a time when Oscar was, without doubt, the most popular boxer in the world – to both blue collar workers as well as white. But is this the case anymore? Do the regular Joes hope to see De La Hoya win today, or do they find the mega-star simply impossible to get behind and cheer on? I think Oscar is now in a very similar position to the one "Sugar" Ray Leonard found himself towards the end of his career. Once a hugely popular fighter, Leonard came to be looked upon as something of a spoilt and pampered athlete – one who was able to pick and choose way too much for the fans' liking. And while Oscar is not as unpopular as Leonard appeared to become as he approached his last few bouts, it is clear De La Hoya is no longer a hero to the man on the street. How can the hard working members of the general public, the people who work damn hard each week for their pay check, get behind someone who is as filthy rich and has no need to fight anymore such as "The Golden Boy?" (a nickname that sounds more and more derogatory these days, don't you think?).
The little guy loves a fighter they can relate to; a Marvin Hagler or a Julio Cesar Chavez, for example – boxers from harsh backgrounds who had no money and no hope apart from what their fists could do for them. Fighters that the people with nothing can liken themselves to, in other words. And yes, Oscar was born poor and his wealth is self-made, but these fans simply cannot get behind him anymore – at least not in the way they once did a long time ago when Oscar genuinely had something to fight for. Today, the fans have had enough of a fighter they see as greedy (for both more money and further glory) and they wish he would let some other up-and-coming fighters get a chance to stand in the spotlight he has enjoyed for too long. Take his upcoming fight with the much smaller Steve Forbes, for instance. Hands up, who would love to see huge underdog Forbes pull off the upset win? I'd guess the majority of fans would celebrate a Forbes upset.
The problem for Oscar right now is, he doesn't have the fans' sympathy or affection. De La Hoya no longer comes across as anyone approaching an authentically regular guy. Floyd Mayweather is pretty much the same. People with tough and mundane jobs cannot get behind this guy, how could they? When he throws his money around (literally) like there's no tomorrow, the feeling of dislike for the fighter who even goes as far as calling himself "Money" is palpable. And yes, once again, Floyd is a guy who came up the hard way. But today, with the millions they have, neither he or De La Hoya's earlier existence makes a bit of difference to the hard working fight fans who are expected to shell out good money to see them perform. I wouldn't go as far as saying Oscar goes as far, or has ever gone as far, as Mayweather does when it comes to showing off. Oscar prefers to adopt the casual, even humble approach. But it seems the fans now see through this "act," and are deserting him in vast numbers as we speak. Both men, to a large degree at least, are also guilty of hand-picking their opponents these days. This factor too, serves to turn off the regular, shall I say REAL, fight fans.
Oscar is another example of a once idolised prize fighter becoming less and less popular due to his career dragging on for way too long. Had he retired a few years back, the fans would have neither grown tired or resentful of him. It could be argued, and no doubt will be, that De La Hoya's three-fights-then-out game plan is an admirable one. But it depends on who Oscar fights. It seems the real fans care not one jot about who will win when Oscar and Floyd hook-up again later this year in an altogether pointless (money aside) rematch. The Forbes fight is seen as nothing more than a tune-up for Oscar – one that was still audaciously given a Countdown show by hype machine HBO, however. And Oscar's "farewell" fight in December, if it's not against either Miguel Cotto or at least someone his own size (why do I have this overwhelming feeling it will be little Ricky Hatton?) then who cares?
Without a doubt, Oscar De La Hoya has pushed both his luck and the loyalty of the fans by carrying on with his career in the; boxer, now promoter, boxer, now businessman, now a boxer again approach he has adopted over the last few years. Could it be that when the final bell eventually rings on the very last round of his career, the majority of fans watching will be booing him? That's what happens when the fans lose their respect and admiration for you.